Hungarian Stuffed Cabbage Rolls (Töltött Káposzta)
You put the meat in the cabbage and stuff it all up!
When I made my Keto dumplings by replacing the flour wrappers with cabbage I had no idea I was late to the party.  The Polish and Hungarians were doing this already.  It was a bit of deja-vu when I was making this recipe. Töltött Káposzta or stuffed cabbage rolls is however more than just some meat wrapped with cabbage. This dish is absolutely wholesome and nutritious. It's got layers of flavours and textures and it's a hearty soup like preparation. It does take a bit of work but trust me it's totally worth it.
One of the things I realized while doing my research on this dish is that everyone in Hungary makes it slightly differently. As with more recipes a dish like this allows you to really play around with the layers and the flavours. So I took a few liberties since there was no way mine was going to 'authentic' as no matter what I did, someone would have their own way of making this which would be the right one. So here is my take, a Keto version of Töltött Káposzta.
Use everything!
What I love about this recipe is that we use everything. All parts of the cabbage are used in my version. Right from the stems to the remainder of the cabbage leaves etc etc. In fact if you have lots of extra cabbage you can make my Cabbage Sabzi recipe. You can use any left over cabbage stock to make my Keto spinach soup or the mushroom soup even.
If you don't eat pork you can use beef or chicken mince. You can skip the sauerkraut if you don't get it where you live. You can also skip the bacon completely. Normally people use Hungarian sausage which I think you can even replace with some chorizo was a different flavour. There are so many options. Go nuts!
Nutrition Info (Per serving)
Calories: 521
Net Carbs: 6g
Carbs: 10g
Fat: 41g
Protein: 28g
Fiber: 4g
This recipe makes 8 servings. Get this recipe on myfitnesspal. The macros do not include any sour cream that is used for garnish. Add that separately.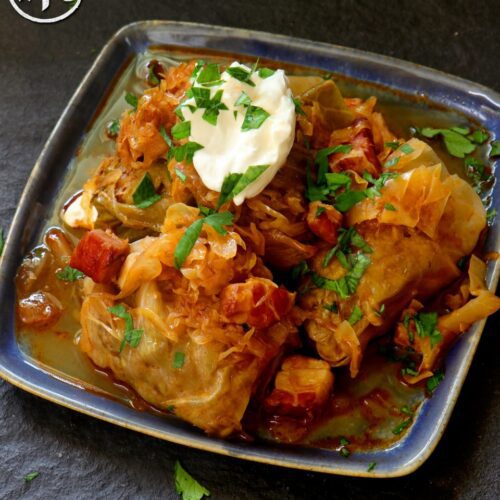 Hungarian Stuffed Cabbage Rolls (Töltött Káposzta)
A delicious low carb version of a Hungarian classic
Ingredients
1

Kg

Ground Pork

1

Kg

Cabbage

1

Egg

200

grams

Cooked Cauliflower Rice

2

Tsp

Paprika

Buy Online

1

Tsp

Caraway Seeds

Buy Online

1

Tsp

Salt

1

Tsp

Pepper

150

grams

Saurekraut

200

grams

Smoked Bacon Cubes

60

grams

Onion

1

Tbsp

Butter

3

Cloves of Garlic

1

Green ChillI Pepper
Instructions
In a mortar and pestle crush the caraway seeds and then in a large mixing bowl add the ground pork, cooked cauliflower rice, salt, pepper, 1 tsp paprika, the crushed caraway seeds and one egg. Give everything a good mix and set it aside.

Get a large pot of boiling water on the stove and add salt to it. Once it comes to a boil core the cabbage and add it to the pot. As it cooks the outer leaves will start separating. Using a point of tongs keep removing them as they cook. Finally once you have enough leaves you remove the remainder of the cabbage. Strain and save the water aka cabbage stock for later.

Prep the leaves by removing the middle part which is the firm white vein. Chop and set that aside to use later. If the leaves are too big then split them in half. Also chop the reminder of the cabbage core that is left.

Now take small portions of the ground pork and wrap them in the cabbage leaves and set them aside.

In the same pan add the smoked bacon cubes and cook on a low heat till the bacon fat renders out and the bacon starts to crisp up. Then remove half the bacon with a slotted spoon and add in the onions.

Fry the onions till translucent and then add the chopped cabbage stems and fry till the onions start to brown. Add the butter and the garlic and cook till the garlic starts to brown.

Add one tsp of paprika and cook for a minute or two. Then deglaze the pan with about 1/2 cup water. Then add some of the chopped cabbage and sauerkraut to create a layer. On this place your cabbage rolls.

Layer the top of the cabbage rolls with more fresh cabbage, sauerkraut, some bacon cubes and then place the next layer of cabbage rolls. Top with the green chilly.

Finally cover with cabbage leaves and pour in about 500ml of the cabbage stock. Cover with a lid and cook for 60 minutes.

After that turn the heat off and serve the cabbage rolls with some sour cream. Also drink the broth that is in the pot. Don't waste it. That's delicious.