This won't blow your head off unless you want it to
Hey folks I'm back and we're picking up where we left off and that's curry week. After last times delicious Kerala style prawn curry, I'm cooking up the legendary Pork Vindaloo. This is my first time making pork vindaloo and I'm also making the paste from scratch. When I made my vindaloo pork ribs I had used a store bought paste. So this time I get to make it completely Keto friendly and also it's not going to be too spicy as I get to control how hot the final dish is. Serve this up with some delicious cauliflower rice and you have a perfect Keto meal.
Truth is even if you are just doing low carb or even if you aren't on the keto diet, you'll love this recipe.
Cooking the pork
For this recipe we're going to use a fattier cut of pork and the shoulder is the perfect cut. It has the best meat to fat ratio, I find belly to have too much fat and too little meat and pork leg cooks too fast and dries out. You want to cook this low and slow for about 45-50 minutes for a kilo of pork. However you need to keep checking and stirring it around in the pot so it doesn't burn or stick. You want to really reduce that sauce down to a nice thick gravy. A handy tip is don't over season it as when the sauce reduces down the salt flavor gets concentrated. So salt it minimally while cooking and once right at the end if you need it. Bon Appetite.
Keto Pork Recipes
There are tons of Keto recipes using pork on my website. So whether you have pork shoulder, boneless pork chops or pork tenderloin there are free recipes here for all. These low carb pork recipes make for a perfect meal and you can serve them along with a ride of vegetables. Anything from broccoli to mushroom to asparagus or even green beans.
One of my fav is my mustard sauce pork chop recipe. Pork goes really well with herbs like thyme, Italian seasoning and fresh parsley. Use some heavy cream to make a delectable sauce. It really is a versatile meat. I have another Keto pork chops recipe inspired by Gordon Ramsay that I am sure you will love. All it takes is a pan or any large skillet really.
I've also got oven recipes where you can just bake the pork low and slow. You could even try a slow cooker for pulled pork so that you have tender and juicy meat. It's all about packing in flavor using simple ingredients like garlic, pepper,  butter and so on.
Then you've got bacon which is something I love using in a lot of my recipes to just kick things off. Whether it's my Keto chicken wrapped in bacon or my shrimp and grits, bacon is a a power packed ingredient filled with flavor. So use it wisely.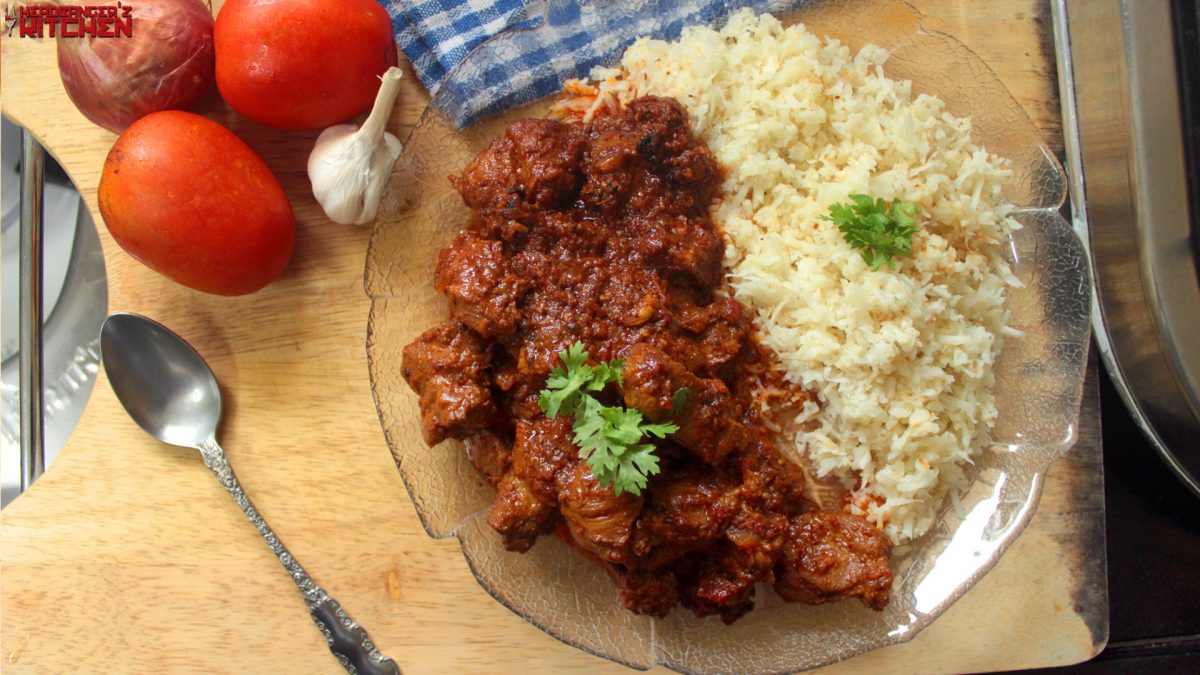 Nutrition Info For Vindaloo Paste (Per serving)
Calories: 98
Net Carbs: 4g
Carbs: 4g
Fat: 9g
Protein: 1g
Fiber: 0g
This recipe makes 3 serving. Get this recipe on myfitnesspal.
Nutrition Info For Pork Vindaloo (Per serving)
Calories: 377
Net Carbs: 4g
Carbs: 5g
Fat: 28g
Protein: 27g
Fiber: 1g
This recipe makes 4 serving. Get this recipe on myfitnesspal.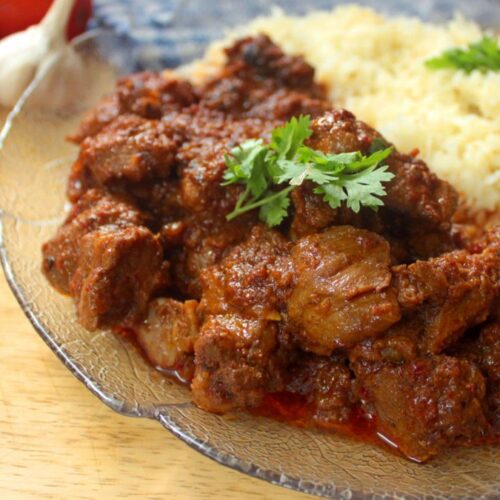 Keto Pork Vindaloo
A traditional pork vindaloo recipe
Ingredients
For Pork Vindaloo
1

Serving

HK's Vindaloo Paste

500

grams

boneless pork shoulder (cubed)

100

grams

Onion

100

grams

Tomato

10

grams

garlic

2

tbsp

Coconut Vinegar

Try this one

2

tbsp

Coconut Oil

Try this one

1/2

Tsp

Tumeric Powder

Try this one

Salt to Taste

Stevia to taste

Try this one
Instructions
For Vindaloo Paste
Toast the chillies and spices on a frying pan till aromatic

Blend the spices together with the chillies till a powder is formed

Add in the ginger, garlic, oil and vinegar and blend to a smooth paste.

Add water as needed

Use to make Vindaloo
For Pork Vindaloo
Season the pork with salt and marinate in the vindaloo paste overnight.

Heat the oil in the dutch over/large saucepan and fry the onions and garlic.

Once the onions start to brown add in the tomatoes and tumeric and cook.

Add in the pork and 1 cup of water and mix well.

Cover and cook for 60 minutes or till the pork is tender

Make sure you check the vindaloo every 10 minutes to ensure it's not sticking to the pan

Taste for seasoning and add in the salt, stevia and vinegar to balance the flavours.

Serve with cauliflower rice.