Keto Essentials – Chicken Oil & Chicken Crackling
Chicken Fat – The Unsung Hero
In most parts of the world, people eat their chicken with skin. It's only once fat got a bad rap did people start eating more skinless chicken breast and avoiding the skin. In India, the skin was always wasted or thrown away. Very few places sold chicken with skin and fewer restaurants had dishes with it on. With the growing popularity of the Keto diet and new research we now know that 'fat' is no longer the enemy.
And what better fat source than that from animals? That's the most natural source of it. So why waste chicken skin and fat when we can get some of the best tasting and healthy fat from it? There is a Thai dish that uses chicken fat and it inspired me to explore how to make it.
During my research I also learned that the Jewish people make Schmaltz. Which is basically rendered down chicken fat. So today we're making chicken oil, or Schmaltz along with some delicious crispy chicken skin crackling.
Where do you even buy chicken skin from?
Chicken skin isn't something you find on the supermarket shelves. It's something that you have to get from your butcher. Most of the time they will give it to you really cheap. In my country, India, my butcher gave me a kilo of chicken skin for just Rs.40/- which is like 75c US. Don't be shy about asking for it. Ask him to also make sure there is some 'fat' on the skin.
Most people are buying skinless and boneless meat these days so this stuff goes cheap and your butcher will be happy to sell it to you.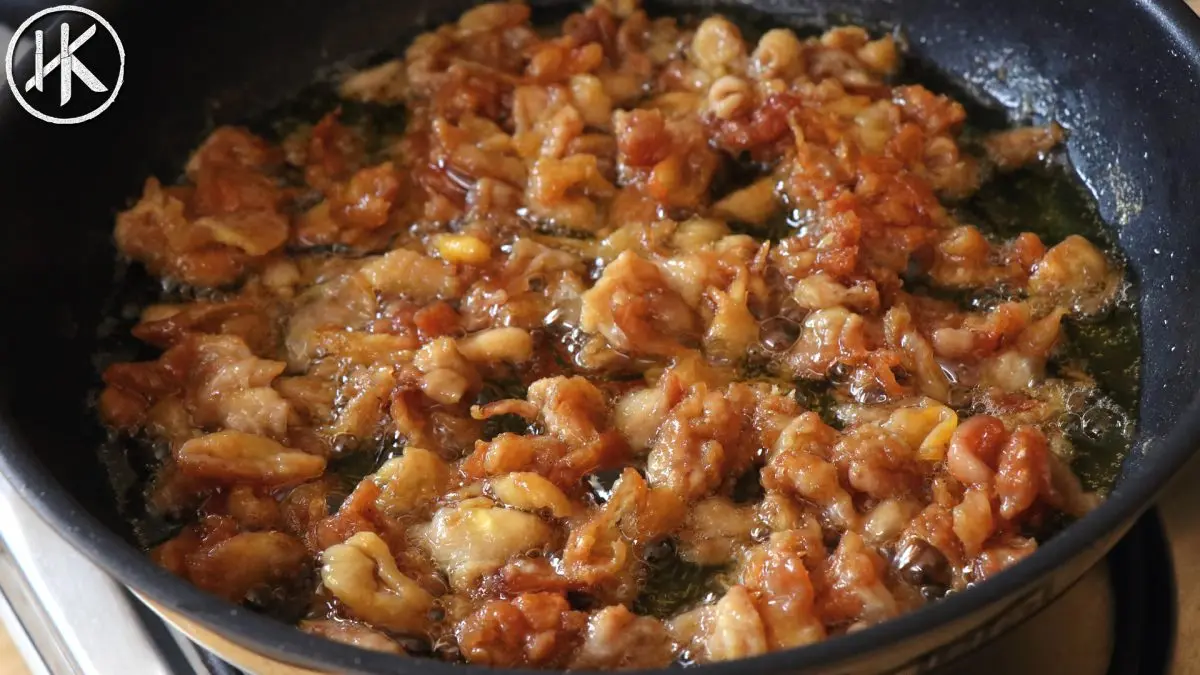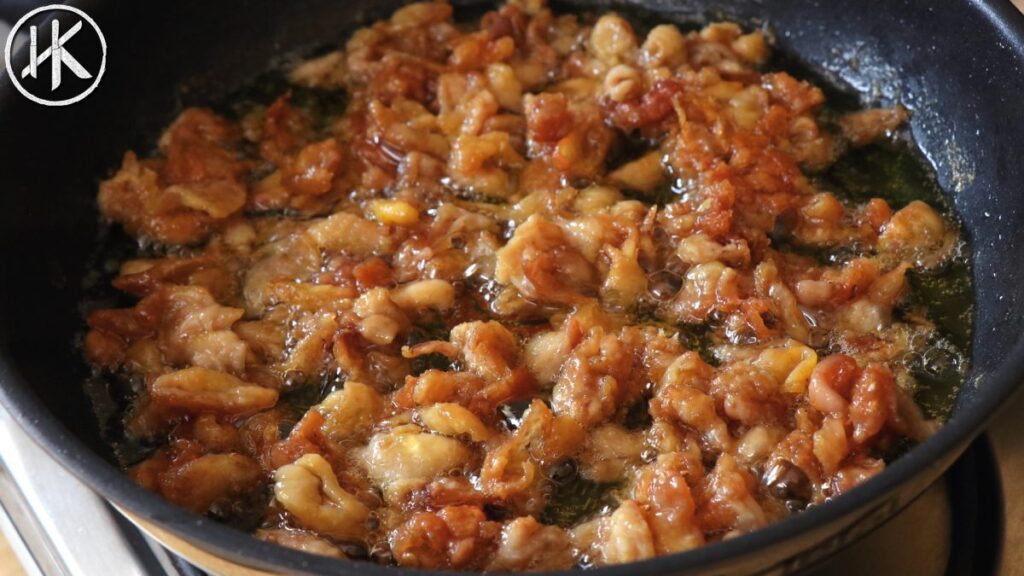 Sticky Skin!
When you cook the skin like this, the pieces can sometimes stick together. I remember making crispy chicken skin in the oven where you lay it flat and then pop it in. It just renders out the oil and the skin is one single crispy piece. That's also a great way to do it but you'll spend a lot more time doing that to get the oil out. So when you make this just keep separating the pieces during the frying process.
Now in the video I used a splatter screen to prevent oil exploding out of the pan and making the counter top messy. This splatter screen is also a great tool when frying bacon. Click here to order it.
Keto Essentials - Chicken Oil & Chicken Crackling
Delicious Chicken oil & crackling
Ingredients
1

Kg

Chicken Skin with fat

1

Tsp

Sea Salt

2

Tbsp

Water
Instructions
Cut the skin into small pieces after washing it thoroughly.

Add them to a cold non stick pan and turn the heat on to low.

Season with the salt, add the water and then cover and cook undisturbed for 15 minutes.

After that remove the lid and continue cooking uncovered. This process will take 45-60 minutes. Keep the heat on low.

Keep stirring the skin around every 5-10 minutes to avoid it burning or sticking.

The skin will slowly turn golden brown and start crisping up. Once it's fully crispy and crunch remove with a slotted spoon.

Strain the chicken fat form the pan and store in jar.

Both are good on the counter top for some time in air tight containers. However the chicken fat can be kept in the fridge for a month or even longer in the freezer. The skin is fine on the counter for a few days, but to store longer keep in the fridge. You can reheat in the oven.