Still got them BBQ shoes on
Well it seems that it's now Barbecue week on Headbanger's Kitchen given that we made a Keto BBQ sauce and I used that for my bacon bomb and I had plenty left over. So today we're making BBQ Chicken wrapped in some delicious Parma ham that I had. I'm also whipping up a blue cheese dip to go with it. If you recall, about a year ago I made some garlic parm chicken wings. In that video I had served the wings with a blue cheese dip. There was a promise made to share that recipe in the future, so better late than never. Hope you folks like it.
Parma Ham can also be Bacon
The only reason I actually used Parma Ham in this recipe was because I had some at home. Someone had given me some (like an aunt who went abroad), since Parma ham is super expensive in India I almost never buy it. I would have used bacon in place of it and I would have wrapped the chicken in the bacon right from the start. The process largely remains the same. You can also try this recipe with fish or prawns and I think it would be quite good. The cooking time would vary though since they cook much faster than chicken on the bone. Cheers!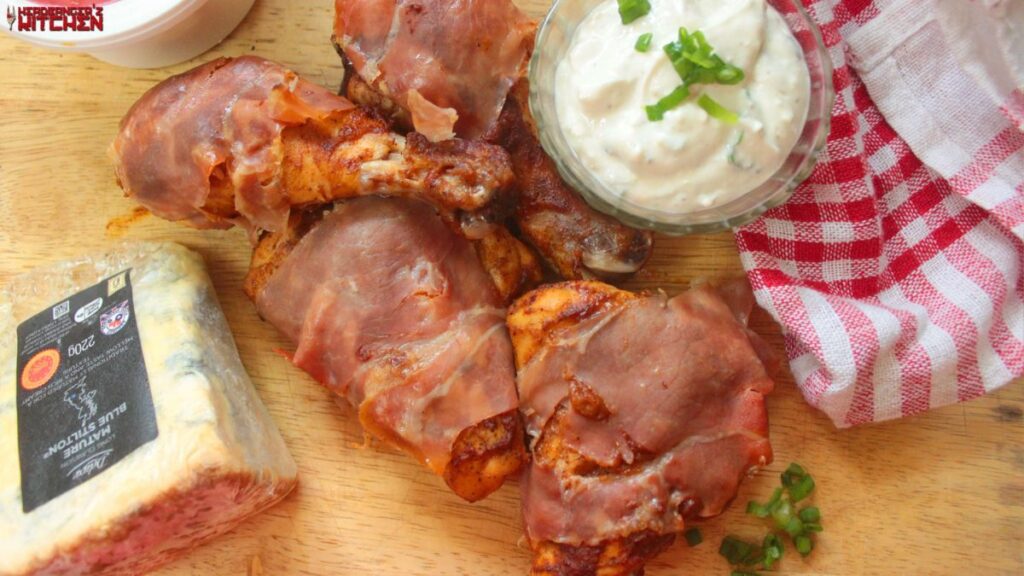 Nutrition Info For BBQ Chicken (Per serving)
Calories: 295
Net Carbs: 2g
Carbs: 2g
Fat: 19g
Protein: 31g
Fiber: 0g
This recipe makes 2 servings. 1 Serving is 1 full leg, drumstick and thigh. Get this recipe on myfitnesspal.
Nutrition Info For Blue Cheese Dip (Per serving)
Calories: 46
Net Carbs: 2g
Carbs: 2g
Fat: 3g
Protein: 2g
Fiber: 0g
This recipe makes 2 servings. It could be 4 as well depending on how much you eat. Get this recipe on myfitnesspal.

2

Full

Skinless Chicken Legs

(Drumstick & Thigh)

4

Strips

Parma Ham

4

tbsp

HK's BBQ Sauce

(1/4 Cup/60 ml) Get the recipe here

1/2

tbsp

Black Pepper

I recommend this

1/2

tbsp

Cayenne Pepper/Chilly Powder

Try this one

Salt to Taste

1

tbsp

Lemon Juice
3

tbsp

Yoghurt

1

tbsp

Sour Cream

1

tbsp

Blue Cheese

Spring Onion Green

Salt & Pepper to taste
Separate the chicken legs into drumstick and thigh and score the chicken on all sides

Marinate with salt, pepper, chilly powder and lemon juice for 15 minutes.

Marinate with the BBQ sauce and leave for 2 hours at least

Bake in the oven at 200C for 15-20 minutes

Remove and wrap in Parma ham and put back in the oven till fully cooked.

Serve with HK's Blue Cheese Dip.
Mix all the ingredients together in a bowl

Season with salt and pepper

Serve with wings of any kind.