Garlic Parmesan Chicken Wings
The ever-versatile chicken wings
Chicken Wings are an all time favourite pretty much all over the world. Most of the time, though, these crispy chunks of joy come with a sticky, sweet bbq sauce or glaze that makes them NSFK (we're calling dibs on Not Safe for Keto). But, never fear, ideas are here. During one of my many kitchen experiments, I stumbled upon garlic parmesan chicken wings, which combines two of my favourite flavours. It's perfect for the ketogenic diet as it doesn't use carby BBQ sauce or hot sauce. They're also twice baked for that perfect crunch. Hurray for keto chicken wings!
Oh and I finally got the recipe for that Blue Cheese dip up!!!
Balancing Fat and Protein
Now, chicken is very high in protein. And since most people prefer eating lean breast meat or 'white meat', it's not adding much to their fat macros. Chicken wings, though, brings a great balance of fat and protein because it's almost never eaten without the skin (which is where a lot of the fat is). A sign of a well-done wing is one that has crispy skin on top and is moist and juicy when you bite into it.
Baking these wings gives you as good a crunch as deep frying them. You can always use the deep fryer if you prefer. But, for me, using the oven is just a less of a hassle: you pop it in and chill while they cook. Frying gets messy and I never know what to do with the leftover oil.
The parmesan adds an additional bite to the wings as it melts and crisps up in the oven. You can always substitute the parmesan with a sharp cheddar if you like, because parmesan (the good stuff) can be expensive and sometimes hard to come by (depending on where you live). The parsley and garlic is a perfect combination that elevates the wings and almost makes them 'gourmet'. I hope you enjoy making these twice baked low-carb chicken wings. Tell me how your dish turned out and if you have any tips additional tips I could use. And if you're still not convinced about the versatility of this dish, our keto butter chicken wings will settle that debate.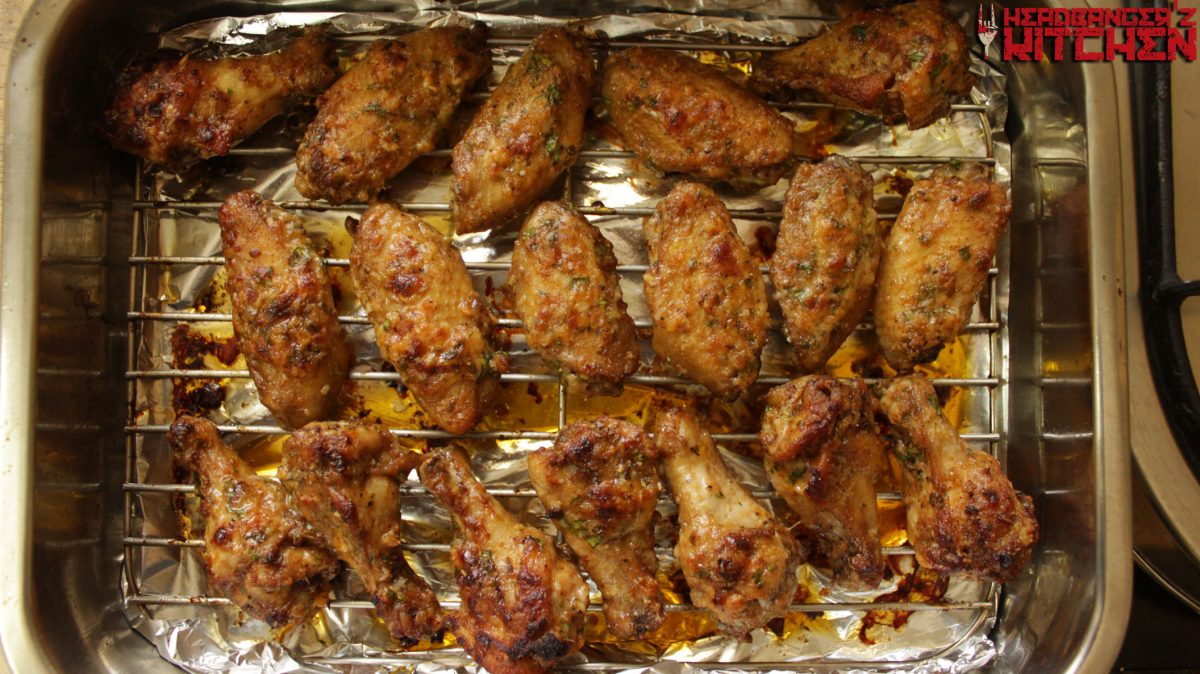 Nutrition Info (Per Serving)
Calories: 263
Net Carbs: 1g
Carbs: 1g
Fat: 12g
Protein: 35g
Fiber: 0g
This recipe makes 9 servings. 1 Serving = 1 Full chicken wing (wing and drum). Get this recipe on myfitnesspal.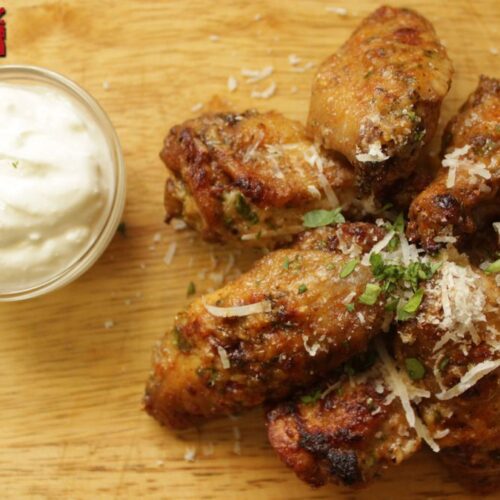 Baked Keto Chicken Wings
Crispy, cheesy chicken wings that bring together three unbeatable flavours – parmesan, garlic and parsely.
Ingredients
9

Full Chicken Wings

drums & flat

1

Tbsp

Butter

melted

1

Tsp

Salt

1/2

Tsp

Pepper

1

Tsp

Dried Oregano

Try this one

1

Tsp

Smoked Paprika

Try this one

1/2

Tsp

Cayenne Pepper

I recommend this one

1

Tsp

Lemon Juice

1

Tbsp

Hot Sauce

I use Sriracha

10

Grams

garlic

minced

1

Tsp

Fresh Parsley

50

Grams

Parmesan cheese

grated
Instructions
Separate the wings into drums and flat. Season the wings with salt, pepper, cayenne, paprika, oregano, butter and lime or lemon juice.

Bake in the oven at 190C (375) for 20-25 minutes.

Mix wings with hot sauce, garlic, parsley and Parmesan cheese.

Bake in the oven for 10-15 minutes at 200C (390 F)

Serve with a cheesy dip.
Notes
After your first round of seasoning, the chicken wings are ready to go in the oven immediately. But you can also leave in the fridge for an hour for the flavours to marinate better.