Keto Breadcrumbs | Keto Fried Chicken
We made KFC – Keto Fried Chicken (and keto breadcrumbs)!
Ever since the day I whipped up keto bread, there was potential for keto breadcrumbs. When I devised the 2 minute microwave mug bread recipe, it became even easier. Over time, I made them a couple of times and even used them in some dishes, like fish cakes (which I haven't made on the show yet). However, after much coercion by my wife Deepti, I finally got around to making it for our 'Keto Essentials' series. Since I was making breadcrumbs, it seemed only fitting to make the much loved fried chicken along with it.
For this recipe, I decided to give the keto fried chicken an Indian twist and marinate it with some spices like red chilli powder, tumeric, cumin and coriander powder. For the bread crumbs I actually used a mixture of two different breads – a couple of slices of my coconut flour bread and one portion of the almond flour microwave mug bread.
Use your favourite keto bread to customize your breadcrumbs
These keto breadcrumbs can be made from pretty much any low carb bread. Coconut flour bread, peanut butter bread or almond flour bread, they will all work just as well. However, the flavour profile will vary across the board. These can be used to coat all kinds of meat, like chicken, fish, beef. You can now fry up your favourite foods like schnitzel, fried chicken or pork chops. You can even use this for stuffing perhaps or on top of a keto mac and cheese for a crunchy texture and, heck, it could even be used in my upma recipe instead of cauliflower to make bread upma. I've got one request pending from my wife though – keto jalapeno peppers. Gotta go work on that!
 
Cooking the chicken correctly!
Now, in this recipe video, I have used boneless leg meat, as I prefer that myself. However, for the recipe and macros calculation, I've used chicken breast, as it's more easily available and the more preferred meat by most people. I've also chosen to pan fry the chicken in this video, and I found that despite using leg meat, which takes longer to cook than breast meat, I was able to cook it perfectly without burning the breadcrumbs. Unlike regular breadcrumbs, I feel these keto crumbs tend to brown much faster, so it's preferable to not cook it on a very high flame.

Nutrition Info (Per serving)
Calories: 358
Net Carbs: 1g
Carbs: 2g
Fat: 20g
Protein: 43g
Fiber: 1g
This recipe makes 4 servings.  Get this recipe on myfitnesspal.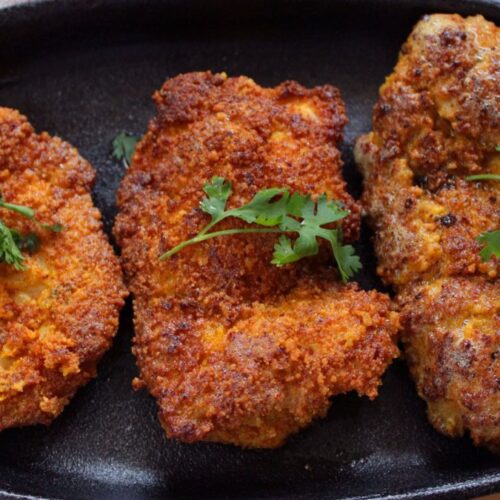 Keto Fried Chicken
A ketogenic fried chicken recipe made with an Indian twist and breaded using our 2 Minute Keto Microwave Mug bread recipe.
Instructions
Slice up the microwave mug bread into slices and bake in an oven at 120C/ 250F for 60-120minutes till the bread is dry

Allow the bread to cook and then blitz in the food processor to create keto breadcrumbs

Marinate the chicken breads with the salt, tumeric, chilli powder, coriander powder, cumin, ginger garlic paste and egg for 20-60 minutes

Coat the chicken with the bread crumbs and pan fry or deep fry in ghee

Enjoy your delicious KFC