Who doesn't love a cup of hot chocolate on a cold day?
Summer is done and dusted in most of the northern hemisphere. And as the days get longer and nights get colder, there's nothing that quite warms the cockles of the heart like a warm cup of cocoa. This Keto hot chocolate is easy, rich, filling and, dare I say it, even better than regular cocoa. Mostly because it's just all silken cream. This Keto hot chocolate is almost like drinking chocolate ganache, and frankly, could that ever be a bad thing?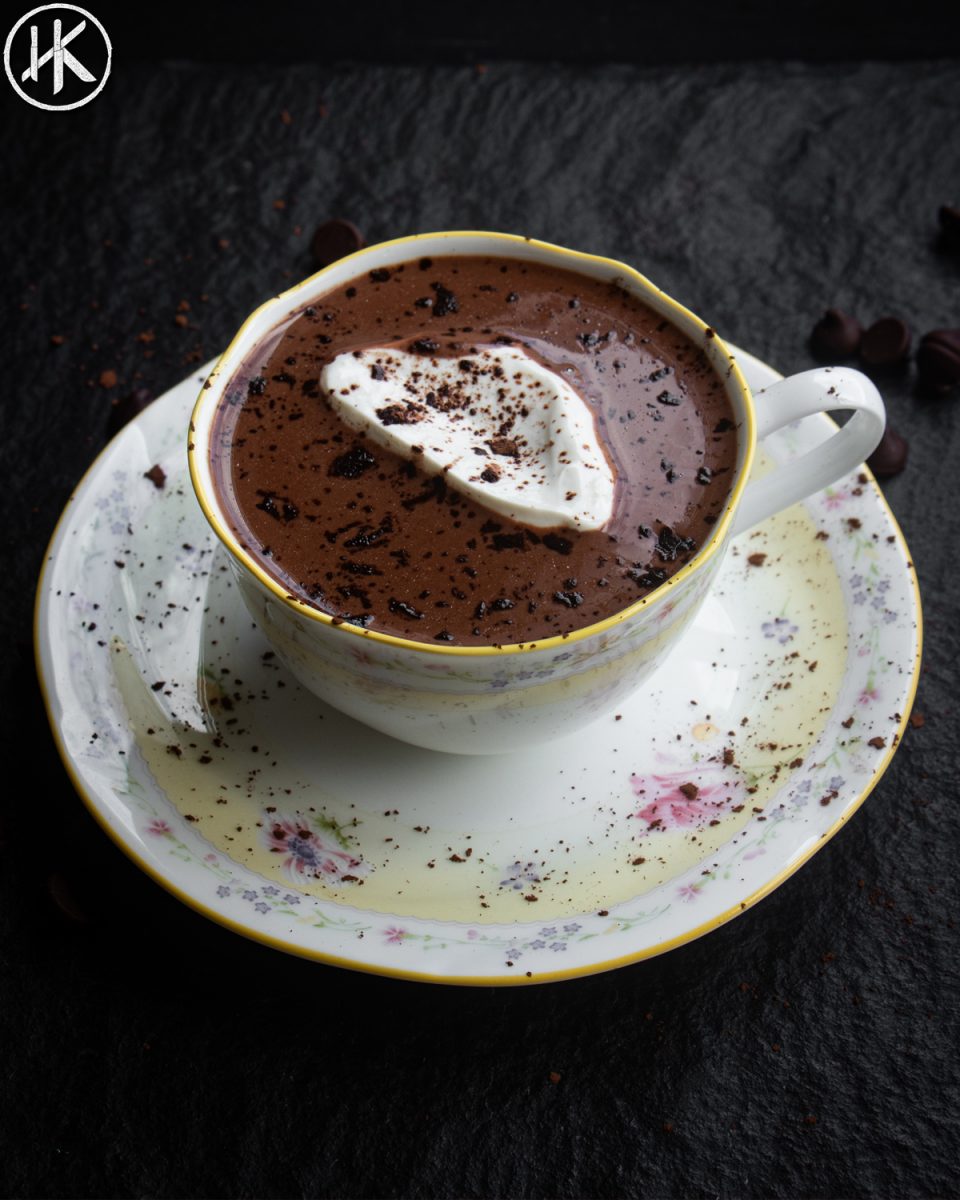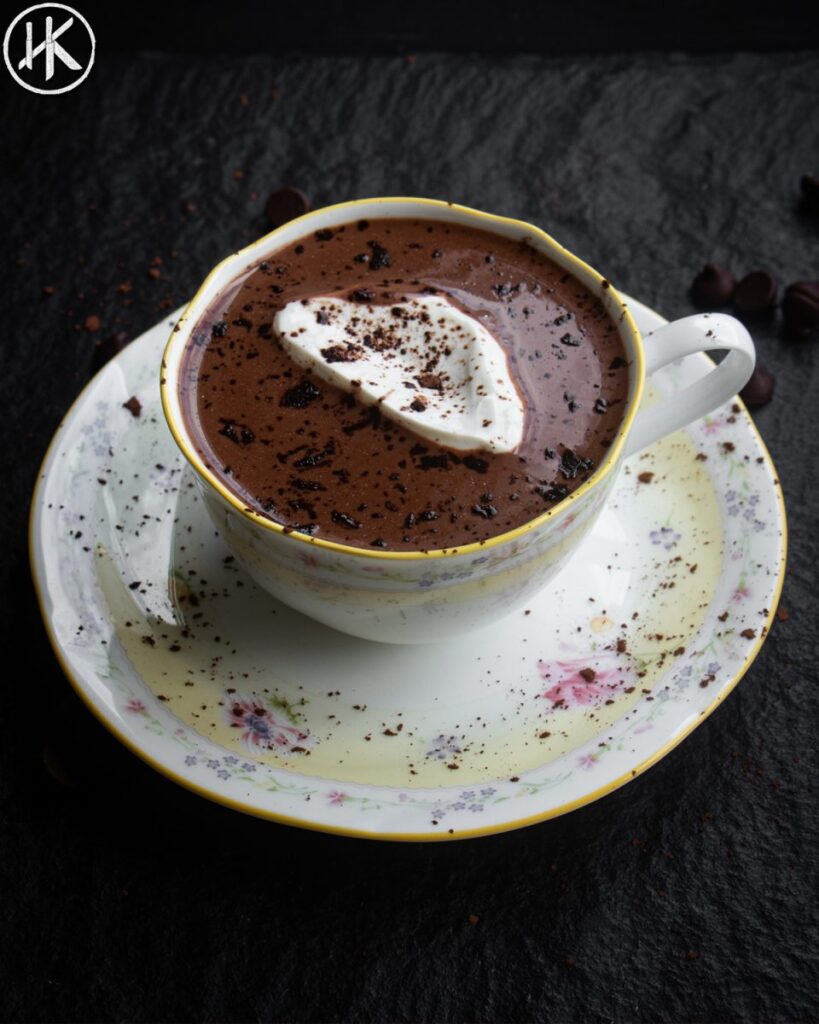 Of course, this hot chocolate is also crazy versatile. Feel like you're missing out on the flavours of Autumn? A pinch of pumpkin spice powder will turn into the perfect Fall drink. You want to fancy it up for the holidays? Steep the cream with a stick of cinnamon and star anise and a sprinkle of nutmeg. Masala-chai more your cuppa? Add in cloves, peppercorns, cardamom, cinnamon. You could kick up the heat with a pinch of chilli powder, give it a Jaffa-cake twist with a bit of dried orange peel, you could even be naughty and add in a bit of whiskey or sugar-free hazelnut liquor. It's really your gateway to flavour town.
Fat bomb, fat bomb, you're my fat bomb…
Needless to say, this also makes an excellent fat bomb if you're looking to up your fat intake. Plus it makes an excellent dessert. If you prefer to keep all the fat calories in without thinning it out with a bit of water like I did, feel free to do so. You want to keep the richness without the thickness, consider subbing a nut milk instead of the water, like almond milk.
For those who are dairy-free, you couldmake it entirely with a nut milk. I couldn't honestly tell you about the substitution of coconut cream for actual cream – to me, coconut cream always has this greasy mouthfeel that I'm not a fan of. But if you do try it and if it tastes delicious, let me know in the comments!
If you're looking for more warm drinks to spice up your winter evenings, do give my Vietnamese egg coffee a go – it's like a marriage of eggnog and coffee and several kinds of delicious. If you're not a chocolate fat at all – how?! – give my Keto strawberry and mint smoothie a whirl. Or how about a simple Keto iced tea, or three, for some tasty daily hydration?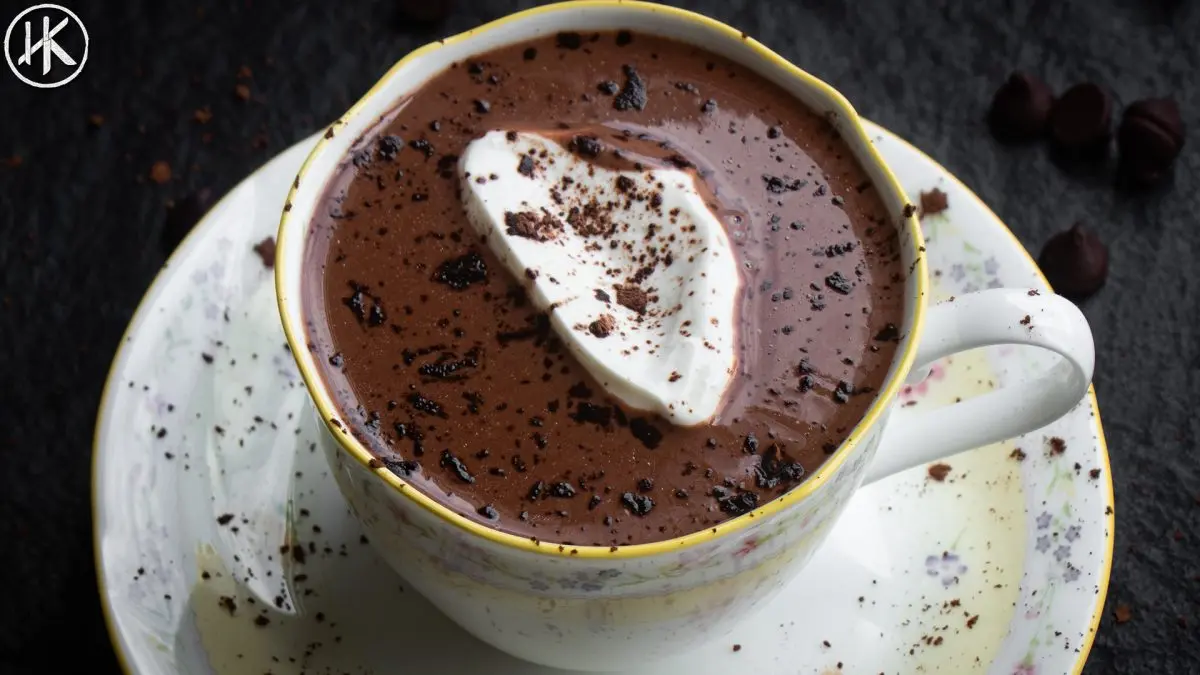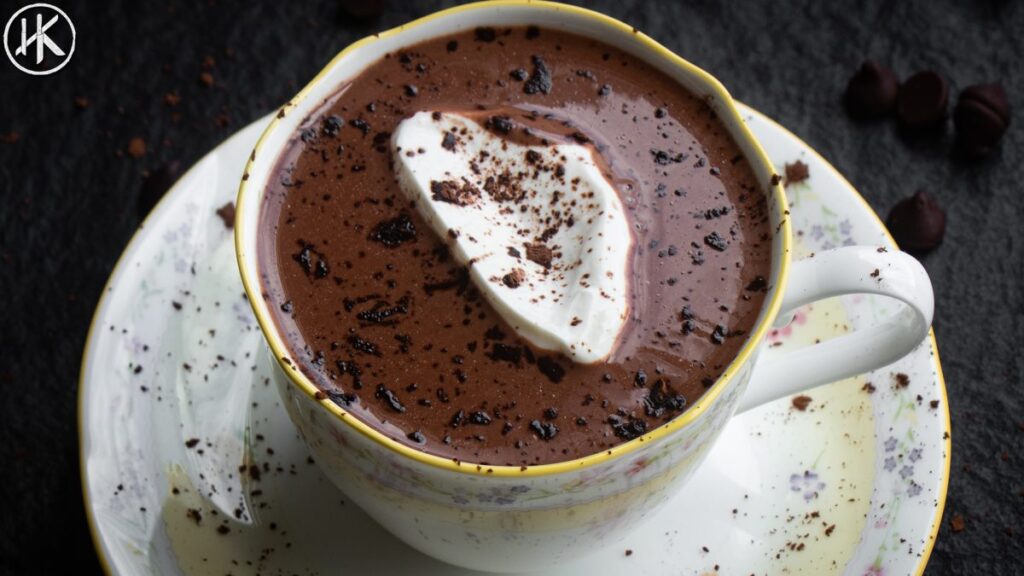 Nutrition Info (Per serving)
Calories: 219
Net Carbs: 4g
Carbs: 7g
Fat: 24g
Protein: 1g
Fiber: 3g
This recipe makes 4 servings. One serving will be around 125ml approx. Remember this is a SMALL portion because it's SUPER calorie dense and very fat heavy. So it's best to not drink more than a serving in one sitting. Treat it like a dessert more than a drink. Get this recipe on myfitnesspal.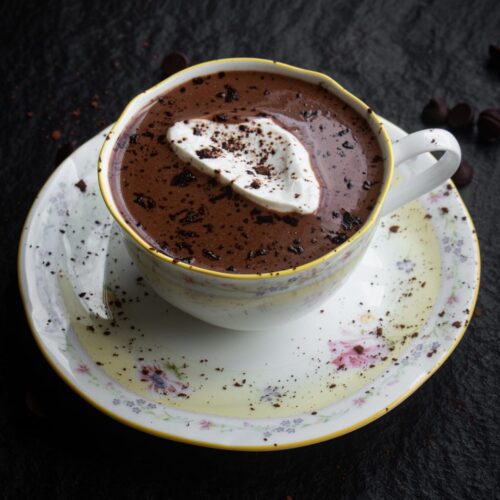 Keto Hot Chocolate
A decadent Keto chocolate drink. Could be a dessert as well.
Ingredients
For the hot chocolate
200

ml

Heavy Cream

250

ml

Water

2

tbsp

cocoa powder

50

g

Keto sweetener 1:1 sugar substitute

42

g

lily's stevia sweetened chocolate chips
For the whipped cream topping
100

ml

Heavy Cream

1

tsp

Vanilla Extract

2

tsp

Keto sweetener 1:1 sugar substitute
Instructions
To make the whipped cream topping for the hot chocolate, add your chilled heavy cream to a bowl, add in the vanilla extract and sweetener of choice, and whip the cream until soft peaks form. Store in the fridge while you make your hot chocolate.

For the hot chocolate, add 200 mils of heavy cream to a small saucepan and get it on the stove on low heat.

Sift in the cocoa powder and whisk it into the warming cream till it's a homogenous mix. At this point, I want to thin out the cocoa a bit, so I'm adding 250ml of water to the cream and cocoa mixture. You can add more or less depending on how thin you like it.

For added richness, throw in the sugar-free chocolate chips and let them melt into the cream. Add in your sweetener as well and give it all a good mix.

Add a pinch of salt to your chocolate mix - trust me, this will really amp up the flavour of the chocolate.

Continue cooking the hot chocolate mix till it just starts to bubble around the edges. Give it a final stir, then pour into mugs. Top it with the whipped cream from the fridge and serve with a few shavings of sugar-free chocolate or a dusting of cocoa on top. Enjoy!