Thai Inspired Keto Kebabs
Keto Kebabs!
My Thai food month finally ends! And what a month it's been. I made the Thai chilli paste Nam Prik Pao and I wasn't sure what to make with it. I was contemplating ribs or wings but those are the obvious choices. Then I stumbled on an Instagram video of a meat kebab being made using a plastic bottle and then rolled in fried cheese. I just knew them what I was making. So here is my Thai inspired Keto kebabs. These are pefect! A blend of ground chicken with pork and then seasoned with the Nam Prik Pao and then wrapped in crispy cheese. Does it get more delicious? I think not!
Viral Videos!
As I discovered with actual practice that a lot of these 'internet' techniques used in cooked are absolute rubbish! I remember first using a Tasty recipe and making a Keto meat cake and in that quick and easy video they don't show you all the trouble spots. It's the same with this kebab video. That bottle trick is absolute useless!! I'd rather use my hands and shape the kebabs. Don't fall for these 'viral' videos. But it's always good to try them and see how they turn out. That way you don't have to.

Nutrition Info (Per serving)
Calories: 200
Net Carbs: 1g
Carbs: 1g
Fat: 15g
Protein: 15g
Fiber: 0g
This recipe makes 8 servings. 1 serving = 1 kebab. Get this recipe on myfitnesspal.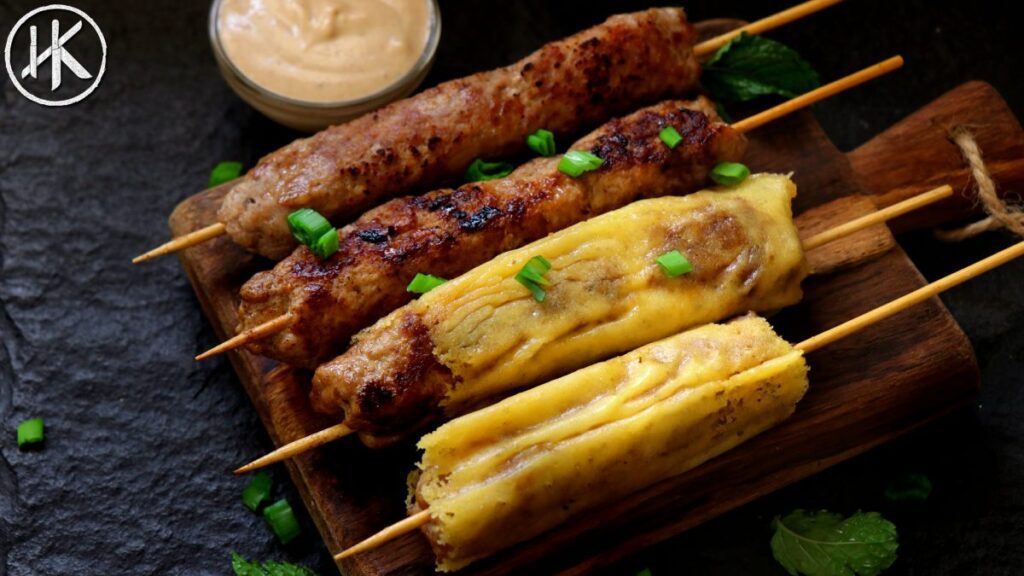 Thai Inspired Keto Kebabs
A Thai inspired Kebab that's packed with flavour.
Ingredients
For the kebabs
250

grams

Ground Pork

250

grams

Ground Chicken

30

grams

HK's Keto Thai Chilli Paste

Get The Recipe

1

Tsp

Salt

120

grams

Cheese

About 15 grams per kebab. You can also use slices to make it easier.
Instructions
In a large bowl mix together the ground pork, ground chicken, Thai chilli paste and salt.

Then divide the mixture into 8 equal portions and shape them into kebabs. You can either shape them over skewers or just free hand in the same of a sausage. You can also make them as meat balls or burger patties.

Then pop in the freezer for 10 minutes to firm up.

Heat some oil on a frying pan or a grill pan and then cook the kebabs. You want to cook for 4 minutes approx on each side (all 4 sides) and make sure it's cooked through and got a nice crunch crust on the outside.

Once done clean the pan and then place the cheese directly on the pan. Once it melts place the kebab on one corner and once the cheese gets a nice crust using a spatula roll the kebab in the cheese (watch the video for directions).

Once cooked set aside. For the dipping sauce just mix all 3 ingredients in a bowl and whisk together till you get a nice smooth mixture.

Serve the kebabs and dipping sauce together.