Chicken Coconut Stew
We're making a Keto chicken stew today. It's a Kerala style chicken coconut stew. This is definitely one of my personal favourite dishes. It's a mild stew, almost like a soup that's flavoured with curry leaves and it has onions and green beans and carrots. YES! It has carrots, but more on that later. This is a dish I love making for my family as well. It's a one pot dish and it's a perfect weeknight meal. it's also great to make a big batch for your meal prep.
So enough jibber jabber, let's cook!
Not one got fat eating carrots
Look, I get it, carbs are important on Keto. However, having said that not all carbs are bad. We've had this talk many times. Whole foods, vegetables, meats, dairy, eggs are all good. Yes this might be a higher than usual carb meal. However no one got fat eating carrots. These few carbs will not hamper your weight loss. There is a lot of nutritional value to carrots. If you are adamant you can always just leave them out.
The green chillies I've used are Indian chilies and I don't know if they are available everywhere in the world. If you can't find them feel free to use a couple of red chilies or even jalapenoes (the fresh ones). Remember you can totally make this stew spicy if you like.
If you can't find coconut cream you can use coconut milk but just remember that will have less fat in it so adjust your meal accordingly. When it comes to eating this stew I would recommend you eat it with some cauliflower rice or a Keto dosa.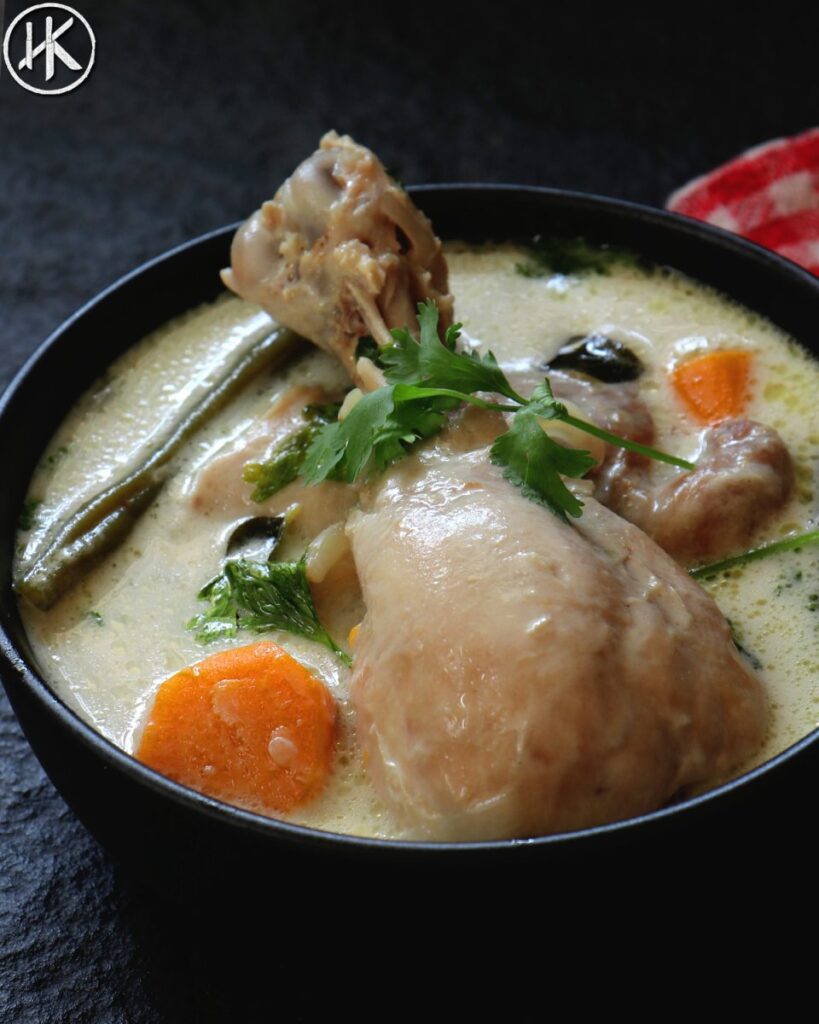 Nutrition Info (Per serving)
Calories: 339
Net Carbs: 15g
Carbs: 17g
Fat: 18g
Protein: 27g
Fiber: 2g
This recipe makes 8 servings. Get this recipe on myfitnesspal. I've divided this into 8 servings so the 4 full chicken gets get split up into thighs and drumstick and 1 serving = 1 piece of chicken plus the stew liquid. I could have divided it into 4 but that makes it a very calorie dense meal. Either way if you are hungry just eat more than 1 serving. Also to reduce the carbs just remove the carrots or replace the carrots and beans with other vegetables of your choice. I know 15 grams is a lot of carbs but if you are doing Keto for weight loss it's the overall calories that matter. So you can have a few extra carbs from the vegetables, I doubt it will be an issue. Cheers!
Keto Chicken Stew
A Kerala style Keto Chicken Stew
Ingredients
4

Full Chicken Legs

Drumstick and Thigh

400

ml

Coconut Cream

300

ml

Water

100

grams

Sliced Red Onion

100

grams

Chopped Carrots

150

grams

Green Beans

5

grams

Ginger

5

grams

Curry Leaves

10

gram

Coriander

3

Cloves

8

Whole Black Peppercorns

3

pods

Green Cardamom

1

Tbsp

Olive Oil or Coconut oil

2

Green Chillies

Salt to Taste
Instructions
Heat the oil in a large heavy bottom saucepan and add in the cloves, peppercorns and cardamom. Fry them till the oil gets hot and they start to sizzle. Add in the sliced red onions and mix well. Once they start to turn translucent add in the two green chillies and ginger and sautee. Then add the curry leaves and continue to satuee.

Once the onions are just getting a slight bit of colour you want to add in the chicken and continue sauteing. You don't want to get any colour on the chicken you just want it to start cooking. So keep the heat on medium. Season the chicken generously with salt. When the chicken turns colour from pink to white then add in the 300ml of water.

Bring the water to the boil and turn the heat down to medium, cover with a lid and cook for 10 minutes.

Then add in the carrots, green beans and coconut cream. Give everything a good mix. Bring it back up to a boil, turn the heat down to medium and cook for another 10 minutes.

After 10 minutes the chicken should be done, vegetables should be tender and it's almost ready. If you want the stew slightly thicker you can cook it without a lid for another 5-8 minutes. You can also use xanthan gum.

Finish the stew with some fresh coriander. Serve with cauliflower rice or Keto dosa.