85 Dollar Fish Sandwich (Viral Fish Sandwich)
Recreate LA's viral $85 Fish Sandwich right at home! It combines the rich taste of cod with the elegance of caviar, and encompassed in a soft brioche bun, this sandwich showcases wonderful flavors. And it takes less then 1 hour to make!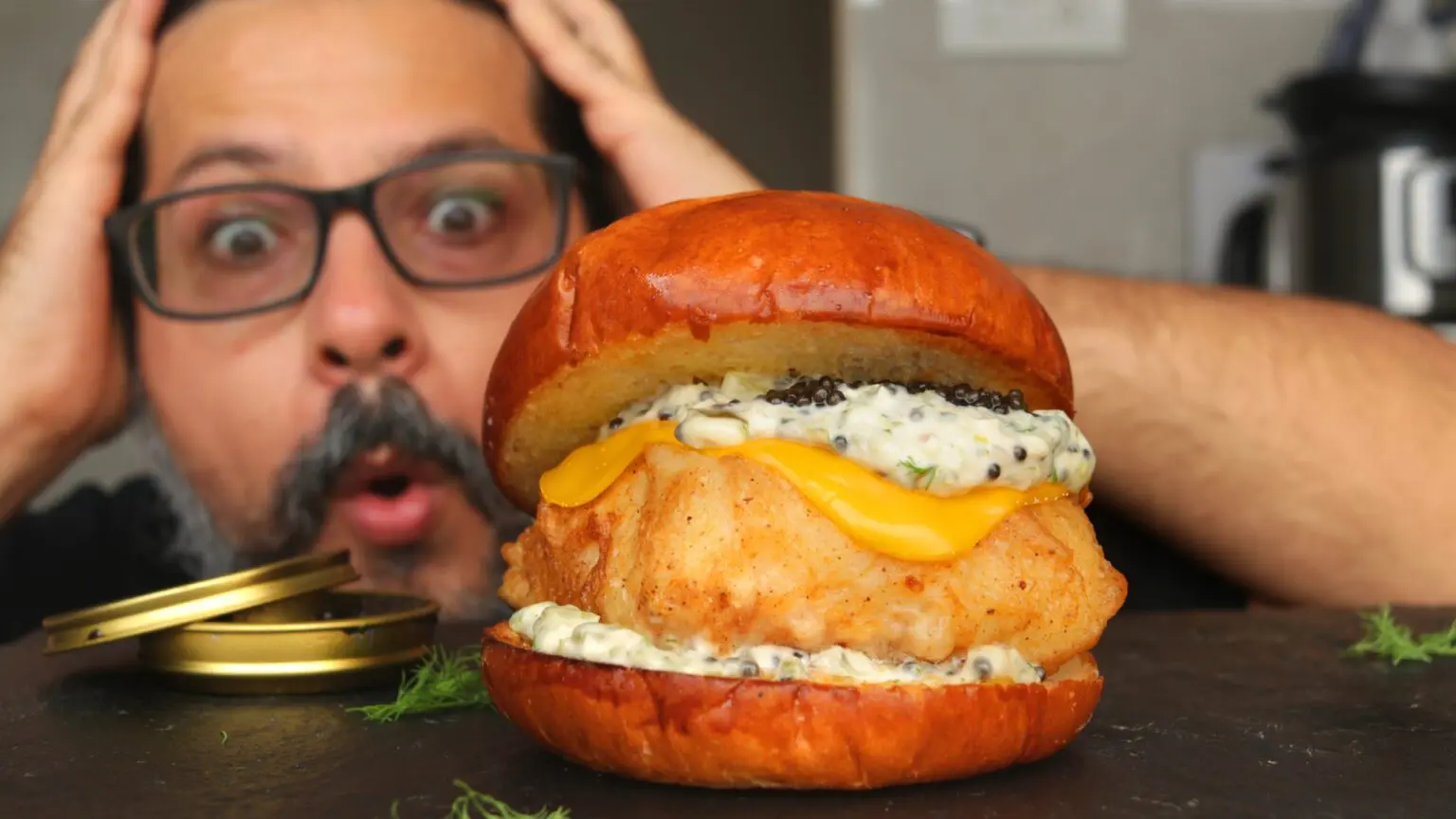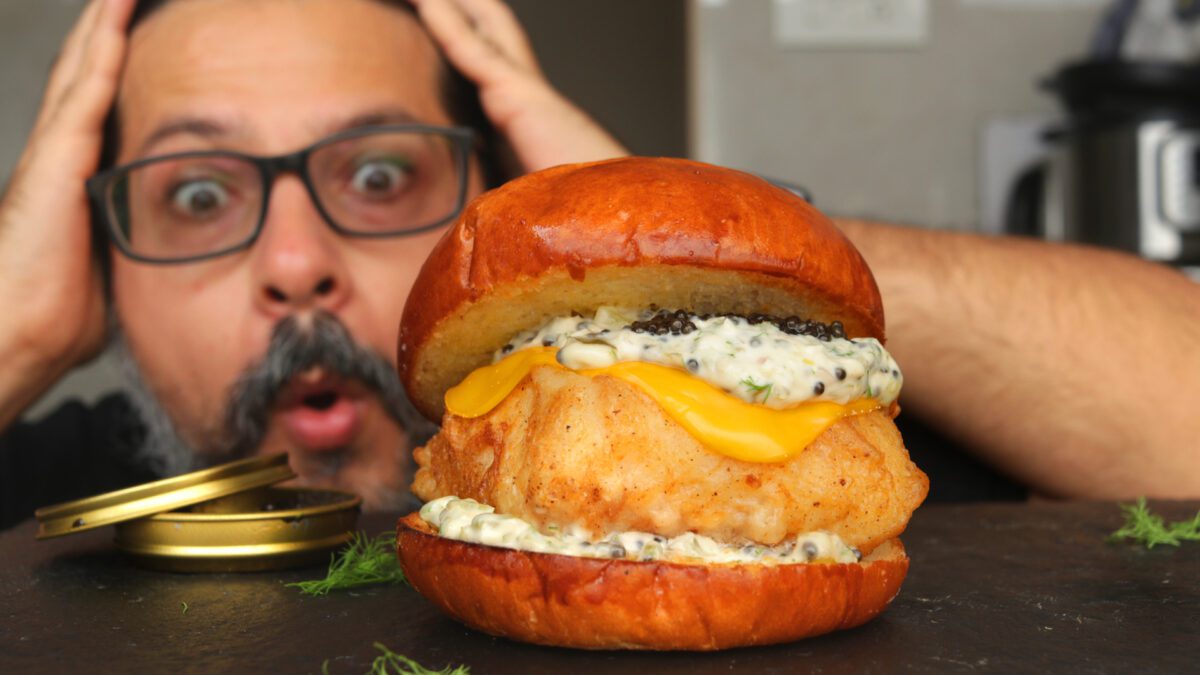 Step by Step Recipe Video
Ingredients
Cod Fillets: Fresh cod works best for this recipe, but feel free to substitute with other white fish like haddock or pollock.
Tartare Sauce: This homemade version brings freshness with capers, gherkins, and dill. If short on time, you can use a store-bought version and enhance it with the provided ingredients.
Caviar: While it adds a luxe touch, if caviar isn't accessible or is beyond the budget, consider using fish roe or simply omitting it.
Beer Batter: This batter provides a crisp, golden coat to the fish. The beer not only imparts flavor but its carbonation makes the batter light. If you're looking to avoid alcohol, carbonated water or club soda can be used, though the taste may slightly differ.
Seasoning/Rub: The choice of seasoning or rub is up to you! Consider blends like Old Bay, lemon-pepper, or even simple salt and pepper. The key is to enhance the fish's natural flavor without overwhelming it.
Brioche Bun: Known for its light and tender crumb, the brioche bun adds a sweet contrast. Alternatively, you can use another soft bun.
American Cheese: It provides a creamy melt, but Swiss or cheddar are viable substitutions.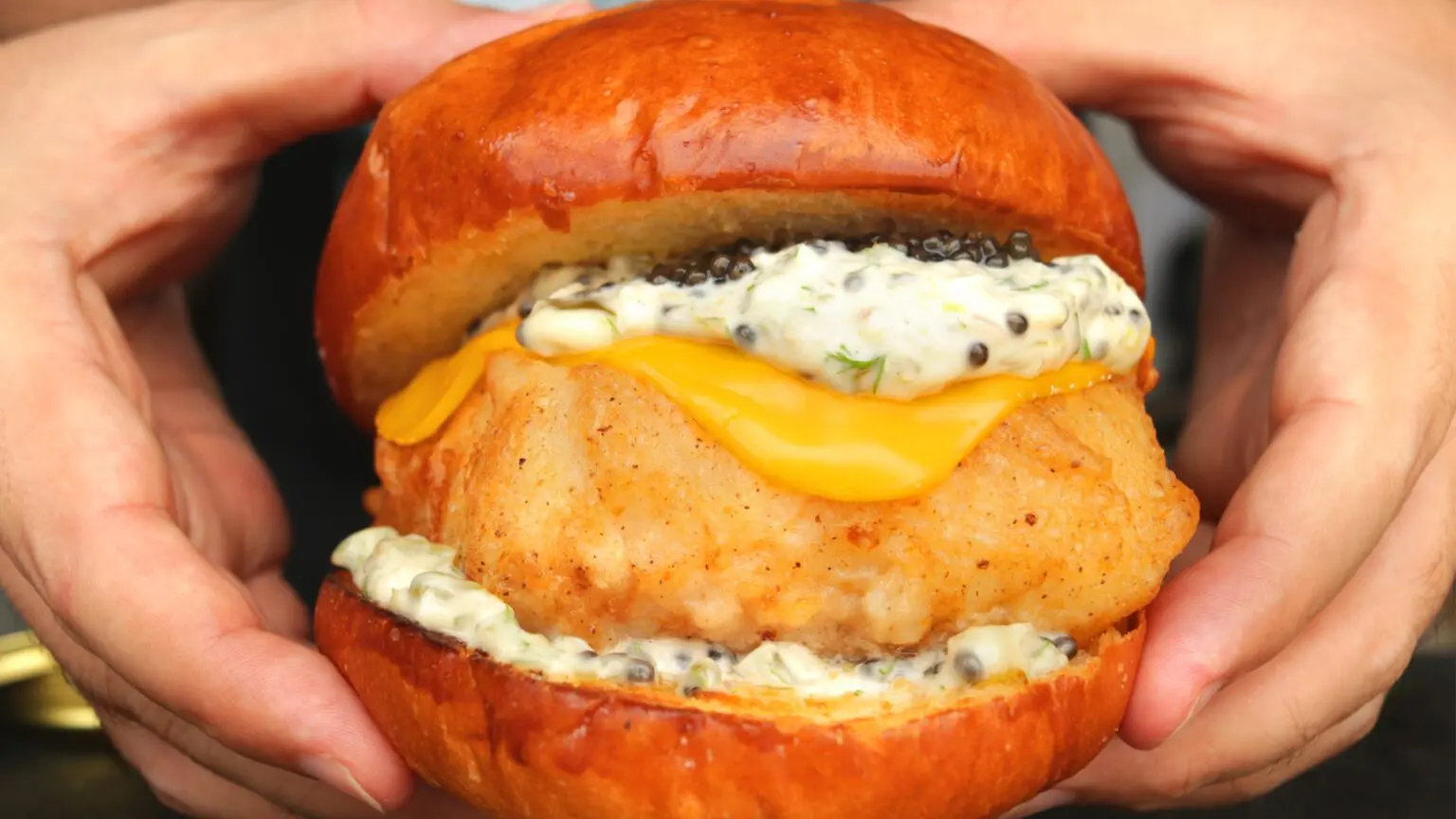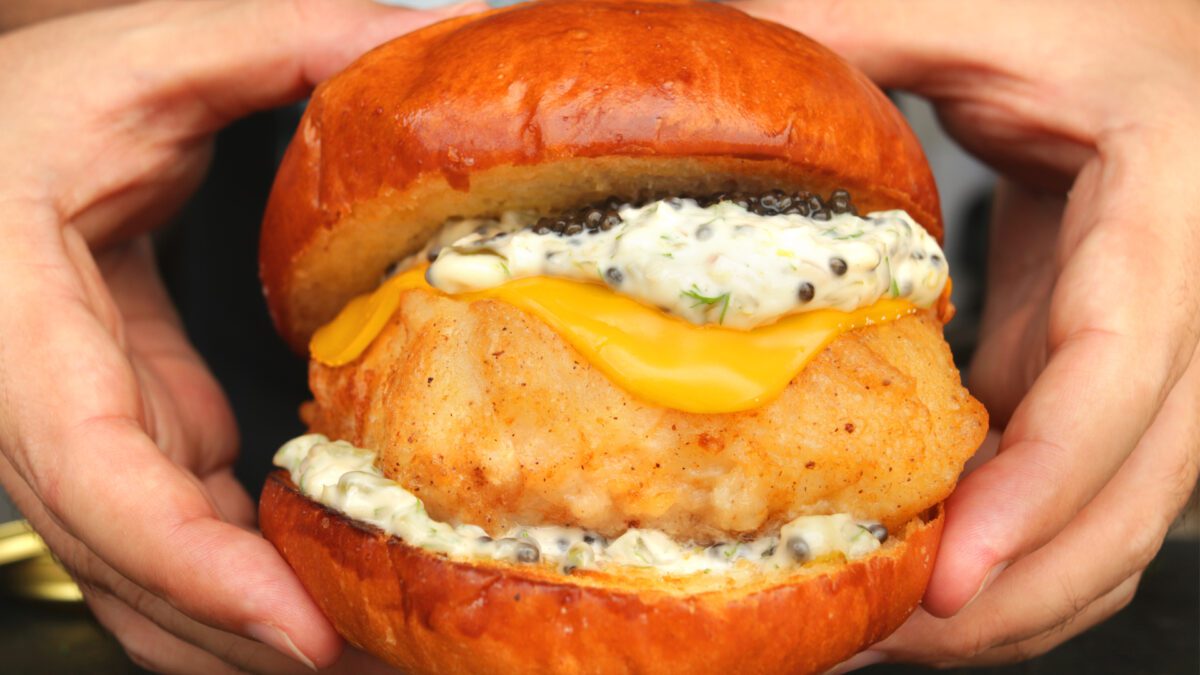 Expert Tips
Achieving the Perfect Fry: The oil's temperature is crucial for that golden-brown perfection. Aim for around 350°F to 375°F. Too hot, and the batter will brown before the fish is cooked through; too cold, and you'll end up with a soggy fillet. Using a kitchen thermometer can help keep things precise.
Batter Consistency: When preparing the beer batter, aim for a pancake batter-like consistency. If it's too thick, it can become doughy when fried. Conversely, if it's too thin, it might not adhere well to the fish.
Resting the Fish: Allowing the salted cod fillets to rest for 20 minutes not only seasons the fish but also draws out excess moisture. This ensures a better adhesion of the batter and results in a crispier finish after frying.
Storage and Leftovers
Place any remaining cod fillets in an airtight container and refrigerate for up to 2 days. The tartare sauce can be stored in a sealed container in the fridge and should be used within 3 days for best flavor.
To reheat the fish you can use either an air fryer or an oven. For the air fryer, preheat it to 375°F, then place the fish inside for about 4-5 minutes or until it's heated through and the exterior is crispy.
If using an oven, preheat it to 375°F, place the fish on a baking sheet, and bake for approximately 10 minutes or until hot and crispy.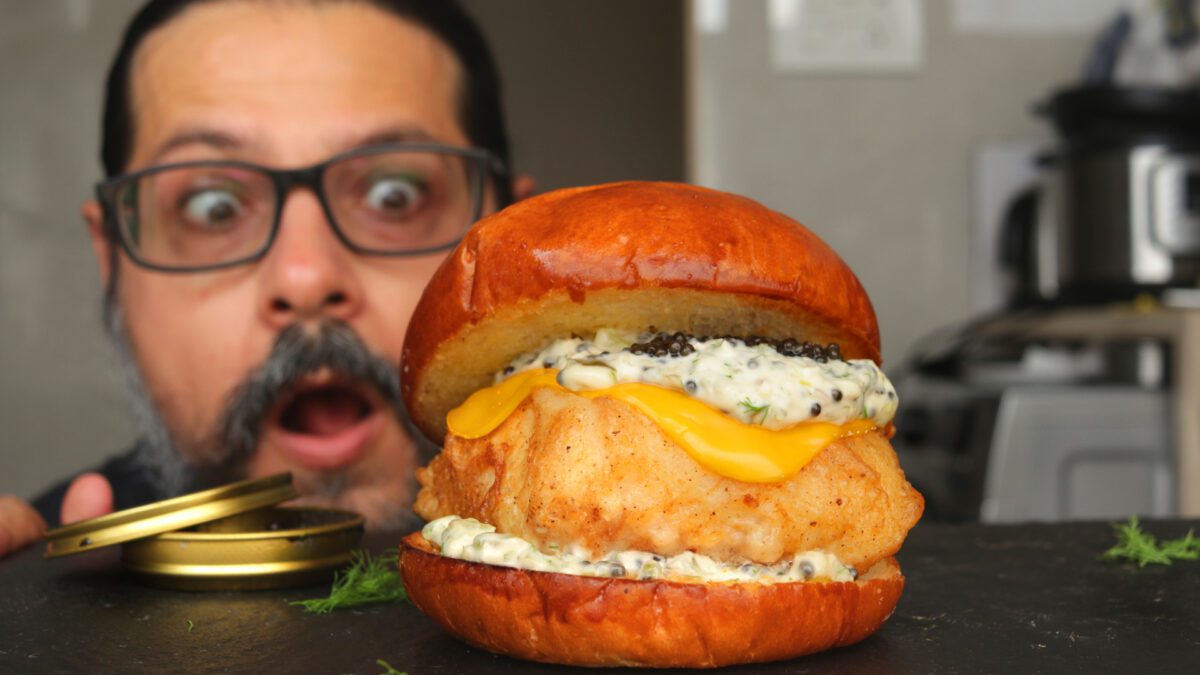 FAQs
Can I make this sandwich without caviar?
Absolutely! The caviar adds a touch of luxury and a unique flavor, but the sandwich will still be delicious without it.
What side dishes go well with this sandwich?
Classic sides like French fries, sweet potato fries, seasoned potato wedges, or a mixed green salad complement this sandwich well.
Is the beer in the batter essential?
The beer adds carbonation and flavor, making the batter light and airy. If you prefer not to use beer, you can replace it with sparkling water, although the taste will be slightly different.
Recipes You May Like: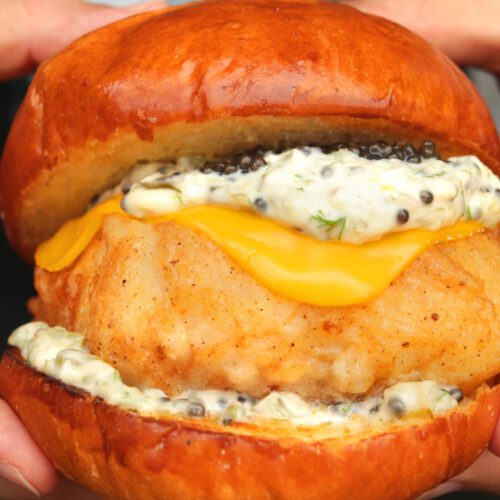 85 Dollar Fish Sandwich
Recreate LA's viral $85 Fish Sandwich right at home! It combines the rich taste of cod with the elegance of caviar, and encompassed in a soft brioche bun, this sandwich showcases wonderful flavors. And it takes less then 1 hour to make!
Ingredients
300

g

Cod Fillets

150g each

4

Tbsp

Tartare Sauce

see below for preparation

20

g

Caviar

2

Brioche Bun

halved

2

Slice

American Cheese

Butter

Salt

to taste

Oil

for frying
Tartare Sauce:
4

Tbsp

Mayo

60g

1

Tbsp

Onions

15g

1

Tbsp

Capers

15g

1

Tbsp

Gherkins

15g

½

Tbsp

Dill

5g

½

Tsp

Lemon Juice

adjust to taste
Beer Batter:
All-Purpose Flour

1 cup total, for dredging and batter

Seasoning/Rub of choice

½

Bottle of Beer

Baking Powder
Instructions
On a wire rack, place the cod filets. Pat them dry, season both sides with salt, and let them sit for 20 minutes.

In a bowl, combine mayo, onions, capers, gherkins, dill, and lemon juice. Incorporate a tablespoon of caviar into the tartar sauce. Adjust seasoning with additional lemon juice if necessary.

On a plate, mix the all-purpose flour with your chosen rub. Dredge the cod filets in this flour mixture and return them to the wire rack.

In a mixing bowl, combine seasoned flour, additional flour, salt, and rub. Gradually whisk in the beer until the batter reaches a slightly thick consistency.

In a large pot, preheat enough oil for deep drying. Dip each cod filet into the batter, ensuring they're fully coated, then fry in the hot oil for 3-4 minutes or until golden and crispy. Return the fried filets to the wire rack and top each with a slice of American cheese.

In a pan, melt some butter. Toast both sides of the brioche bun until golden.

To assemble: On the bottom half of the toasted brioche, spread a generous layer of the tartare sauce mixed with caviar. Place the battered cod filet on top, followed by more tartare sauce and a teaspoon of caviar. Cap off with the top half of the brioche bun. Serve and enjoy!
Nutrition
Calories:
909
kcal
Carbohydrates:
60
g
Protein:
46
g
Fat:
54
g
Saturated Fat:
21
g
Polyunsaturated Fat:
14
g
Monounsaturated Fat:
8
g
Trans Fat:
0.5
g
Cholesterol:
310
mg
Sodium:
1406
mg
Potassium:
715
mg
Fiber:
1
g
Sugar:
1
g
Vitamin A:
1239
IU
Vitamin C:
3
mg
Calcium:
331
mg
Iron:
4
mg