Turning my green chutney dip into a marinade
On the last episode I cooked up some tandoori chicken wings and made a creamy green chutney dip to go with it. I polished off the wings but there was still a good amount of the green chutney dip left. As you know, I hate wasting food and I could either make more wings to finish the dip or I could find some clever way to use it. We have very many different kinds of kebabs in Indian cuisine and we have one that is green in colour (which I don't eat often) but I figured this dip would make a good marinade for a kebab. So fast forward to this recipe. I used the chutney to create some Keto chicken skewers and since these are quite mild in flavour I decided to make a rich butter hot sauce dip to go along with it.
A kebab a day keeps the hunger at bay
I personally love kebabs. I think they are really easy to prepare, easy to reheat and perfect to dip into some butter and eat as a Keto snack. I've previously made Chicken Tikka on the show as well as Reshmi kebab. When I'm not making that home I generally avoid chicken tikka or the spicier kebabs and stick with malai kebabs or reshmi tikka. What's your favourite Kebab? I'd love to know.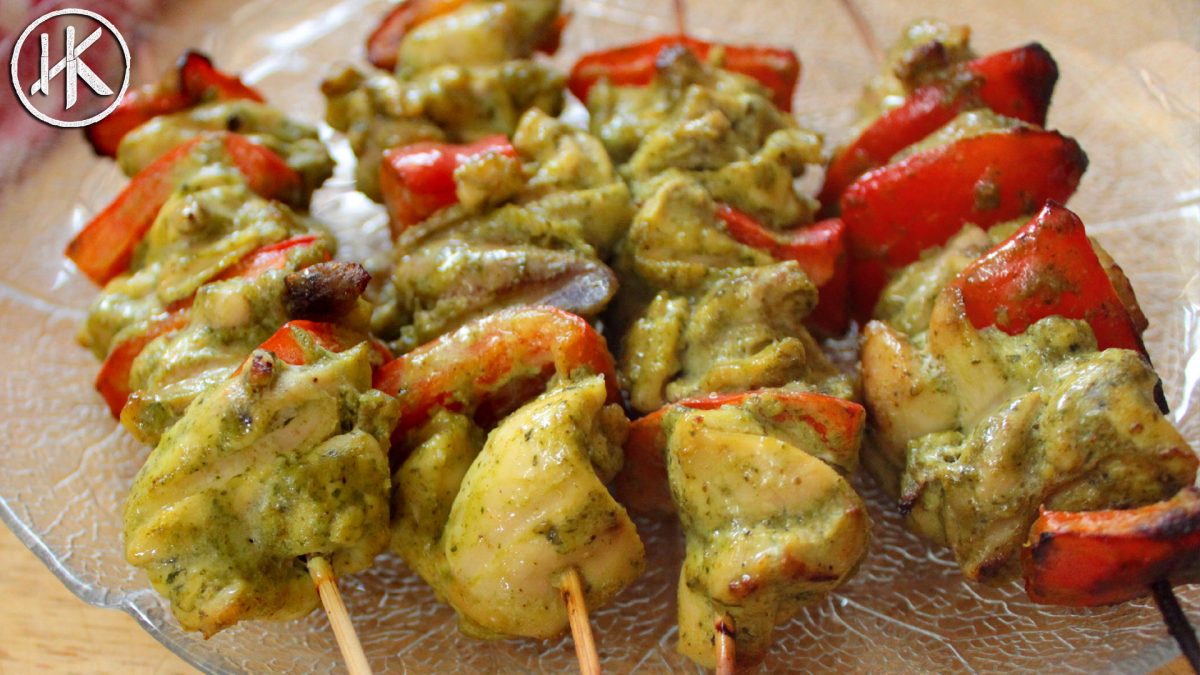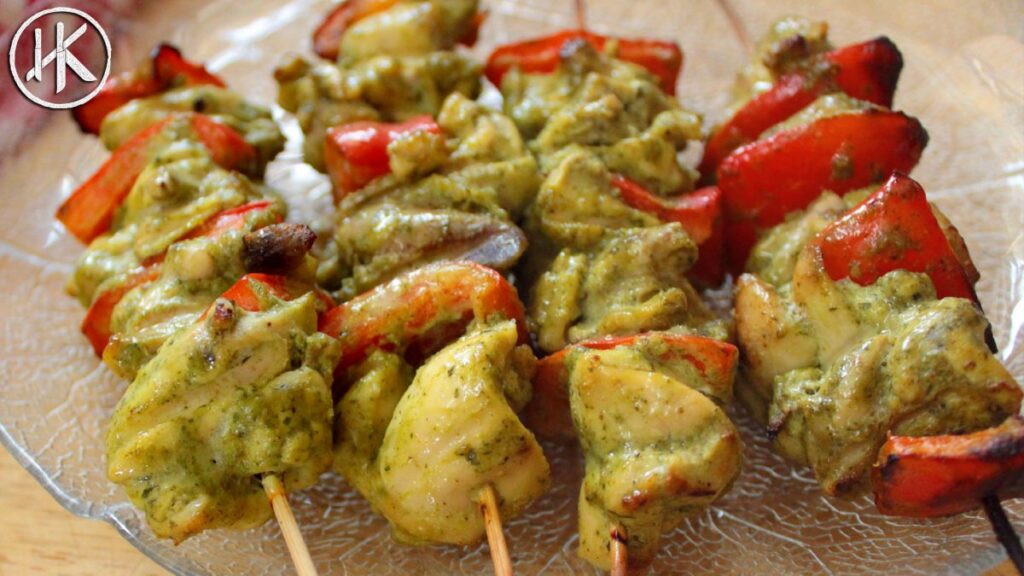 Nutrition Info (per serving for the Kebabs)
Calories: 446
Net Carbs: 5g
Carbs: 7g
Fat: 27g
Protein: 42g
Fiber: 2g
This recipe makes 2 servings. Get this recipe on myfitnesspal.
 
Nutrition Info (per serving for the dip)
Calories: 84
Net Carbs: 1g
Carbs: 1g
Fat: 8g
Protein: 1g
Fiber: 0g
This recipe makes 4 servings. Get this recipe on myfitnesspal.
Keto Chicken Skewers
Mint and Coriander marinated chicken cooked with bell peppers on skewers
Ingredients
For the chicken skewers
300

grams

Boneless Chicken Leg and Thigh Meat

2

servings

HK's Creamy Green Chutney Dip

Get the recipe here

100

grams

Bell Peppers

Use any colour that you like

30

grams

Cheese

Use any that you like

1

Tsp

Coriander Powder

Try this one

1/2

Tsp

Garam Masala Powder

Try this one

1/2

Tsp

Black Pepper

Try this one

1

Tsp

Salt

1

Tsp

Butter for brushing
Instructions
For the chicken skewers
Mix the chutney dip with salt, pepper, coriander powder and garam masala powder in a bowl.

Chop the chicken and bell peppers into bite size pieces and add to the marinade and leave for as long as possible.

Skewer the chicken and peppers on to wooden skewers (make sure you soak the skewers in water for 30 minutes)

Place on a wire rack and cook in the oven on highest temperature for about 15-20 minutes till the chicken is fully cooked.

Serve with the hot sauce dip
For the Hot Sauce Dip
Microwave the cream cheese and butter for 30 seconds

Add the sriracha sauce and yogurt (optional) and mix will

Serve with the chicken skewers