Healthy Macaroni and Cheese

We call Macaroni and cheese 'Cheese Macaroni'
I grew up eating macaroni and cheese except that we called it 'cheese macaroni'. But I loved it as a child and I love it as an adult. I mean what's not to love? It's pasta and cheese? But it's not the most nutritious of food and it's largely carbs and fat. Which is why I decided to make this healthier version of macaroni and cheese. We're going to drop the fat content a bit and we're also going to add in some chicken so we can get sufficient protein. And we'll also add in some vegetables for nutrition and fiber.
So anyway enough jibber jabber, let's get cooking!
My little secret
So for this recipe I use 1 cup of milk to make the béchamel instead of the usual 2. Adding the 1 cup of water dilutes the milk and saves us a few calories. Also adding the beef stock cube gives us a lot more flavour to the mac and cheese. The main calorie restriction comes from limiting the amount of cheese we add which is 100g only. That is the most high calorie part of this dish.
But truth be told at 339 calories you could easily add that full cup of milk and some more cheese if you have a higher calorie requirement. But I would recommend just eating a larger serving. For me these portions are sufficient. I don't have the biggest appetite. I use 250g of raw pasta which makes me 5 meals. So that's only 50g pasta per serving (raw weight). This serving size with the meat and veggies is more than sufficient for me.
You could of course substitute the pasta with some lower calorie version and then eat a much larger serving. The choice is yours. If you want you can always try my Cauliflower mac and cheese which is richer and more delicious (just being honest) because it swaps out the pasta for healthy fats. Anyway whatever you choose, enjoy!

Nutrition Info (Per serving)
Calories: 339
Carbs: 42g
Fat: 14g
Protein: 13g
Fiber: 0g
This recipe makes 5 servings. Get this recipe on myfitnesspal. These macros are for JUST the mac and cheese. It doesn't include the chicken and vegetables. You can add that individually based on how much you use. I would recommend about 100g of chicken breast and about 100g of mixed vegetables. You could also just have a side of say steamed broccoli or carrots. The idea is to create a balanced meal.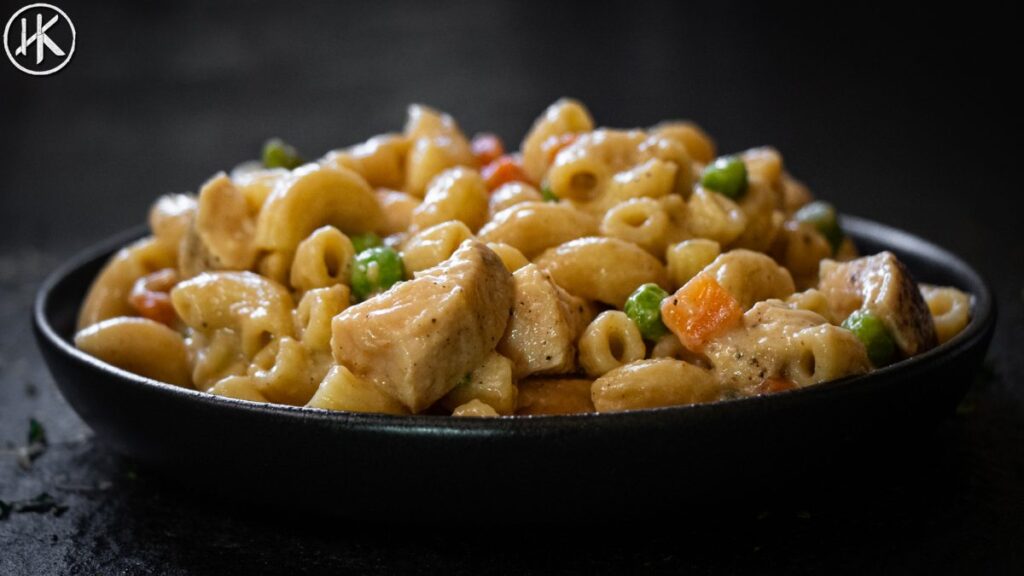 Healthy Macaroni and Cheese
Super healthy and delicious macaroni and cheese
Ingredients
250

grams

Elbow Macaroni

50

grams

Cheddar Cheese

50

grams

Emmental Cheese

30

grams

Butter

30

grams

All purpose flour

225

ml

Milk

that's 1 cup

225

ml

Water

also 1 cup

1

Beef Stock Cube

1

Tsp

Nutmeg
Instructions
Start by mixing 1 cup of water with 1 cup of milk and the beef stock cube in a pot or pyrex dish. Heat/warm the liquid and stir till the cube dissolved and your liquid for the roux is ready.

In a large pot boil the pasta in salted water according to the packet instructions and strain and set aside once cooked. Reserve a cup of the pasta water if needed for later.

In a large saucepan melt the butter and add the flour and whisk well. Cook this mixture for about 2 minutes. We want to cook out that raw flour taste.

Add in the nutmet and mix well and then slowly add in the liquid mixture while whisking constantly. You want to make sure you don't have a lumpy roux. So add the liquid in slowly as you keep whisking.

Once all the liquid has been poured in and you have a lump free sauce add in the cheese and whisk till it's melted and fully incorporated.

Then add in the cooked pasta and mix well. And your macaroni and cheese is ready.

For this serving I would recommend just pan frying about 2 chicken breasts or 300g of chicken breast after seasoning with just salt and pepper and then chopping it into squares. Add in about 250g of mixed frozen vegetables after cooking them and making sure they are tender.

And that's your healthy mac and cheese ready!!!