Continental Style Goat Heart
Goat heart cooked in a creamy cheesy gravy
I'm one of those people who believes we should eat all parts of the animal and waste nothing. So eating offal isn't really a big deal for me and I find it quite tasty. I think from all the offal, hearts are my favourite. As a child I used to fight with my brother for the chicken heart but we never really ate goat heart. With me getting back into cooking regularly and visiting various butcher shops I finally picked up goat heart when I saw it was available and boy of boy was it ever so delicious. I cooked it in 2 different ways, one an Indian tawa fry style and the other this continental style in a creamy cheesy sauce with bell peppers. Needless to say, this one is my favourite.
Cooking with heart
Goat heart doesn't take very long to cook. It's best pan fried in my opinion. There is are some rubbery ends that you need to trim off but apart from that it's really tender and you can cook it like a steak. The longer you cook it (after it's cooked through) the more it will dry out. If you've cooked chicken hearts then it's almost the same except you cook it a bit longer since it's a much bigger piece of meat. I personally prefer to chop it up into small bite size pieces and cook it as compared to cooking the whole heart.
Nutrition Info (Per serving)
Calories: 582
Net Carbs: 6g
Carbs: 7g
Fat: 45g
Protein: 37g
Fiber: 1g
This recipe makes 1 serving. Get this recipe on myfitnesspal.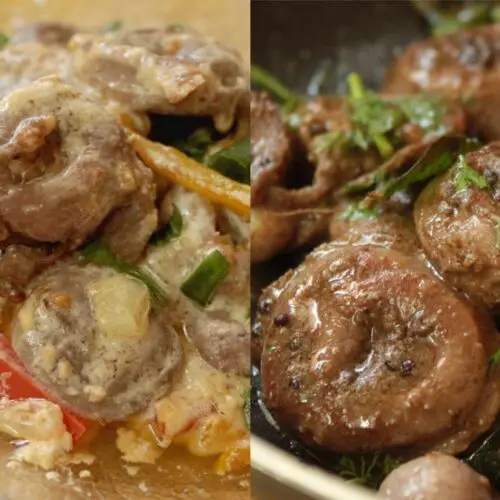 Continental Style Goat Heart
Goat hearts cooked in a creamy cheesy gravy.
Ingredients
180

grams

3 Goat Hearts

50

grams

Fresh Cream

28

grams

Red/Yellow Peppers

20

grams

Spring Onion

2

Cloves fresh garlic

15

grams

Parmesan cheese

1

tbsp

olive oil

I use this one

5

grams

Butter

Try this one
Instructions
Chop and marinate the hearts with olive oil, salt, pepper and the Parmesan cheese and set aside for 15 minutes

Heat the remaining olive oil in a frying pan with the butter

Fry the garlic

As the garlic starts to brown throw in the hearts and stir fry

Add in the peppers and spring onions

Once the hearts are cooked add the cream and mix in

Garnish with the spring onion green.

Serve!