Dal khichdi – Lentils and rice cooked together
Dal khichdi is Indian comfort food. It's something you want to eat when it's a cold and rainy day or you are sick. When you want something 'light' to eat but still nutritious, dal khichdi it is. So it actually is a great everyday meal. I personally like the flexibility of the dish. For me a chicken dal khichdi hits the spot. It not only has the added protein from the chicken but also the flavor that the chicken gives the lentils is amazing. 
While this is normally a one pot dish I have decided to fancy it up a bit. When you eat a dish like this in a restaurant it's not just the extra butter or ghee that makes it taste better. It's also some of the techniques used to give you the best eating experience. So armed with my instant pot I decided to try and make a restaurant style dal khichdi. You have the super smooth lentils plus a well cooked rice which still holds it shape and flavorful chicken. 
No Instant Pot? No problem! 
You don't need an instant pot to make this dish. You can easily do it in a pressure cooker. You follow exactly the same steps but in your pressure cooker. Now cooking times vary a bit but ask your favorite aunt how many whistles for dal and rice. Most Indian mom's who cook dal and rice don't do it by time in the pressure cooker it's normally by the number of whistles. You can also do this without a pressure cooker at all. 
Just boil the rice, I've done a couple of recipes (like my Thai basil chicken recipe) where I have shown how to cook rice. The lentils just simmer on the store for 30 min or so till tender. And then follow my instructions for the chicken as in the video. I just use the Instant pot because I have it and it just makes life easy. In my recipe I could have easily done the chicken in the IP as well but I just prefer using that kadai I have for some reason. Plus it looks better when I shoot. 

Nutrition Info (Per Serving)
Calories: 342
Protein: 36g
Fat: 8g
Carbs: 38g
This recipe makes 5 servings. Get the recipe on myfitnesspal.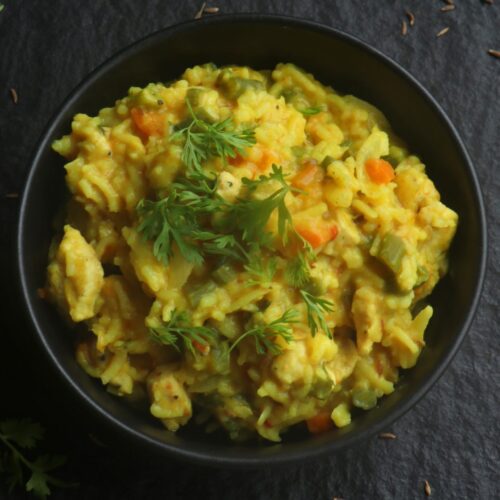 Instant Pot Chicken Lentil Curry Rice (Chicken Dal Khichdi)
An Indian comfort food
Ingredients
450

grams

Chicken Breast

120

grams

Basmati Rice

50

grams

Yellow Moong Dal

50

grams

Toor Dal

50

grams

Red onion

100

grams

Tomato

100

grams

Carrot

100

grams

Green Beans

15

grams

Ginger Garlic Paste

2

Tbsp

Ghee

1

Beef/Chicken Stock Cube

Salt to Taste

1/2

Tsp

Black Pepper

180

ml

Water

For cooking the rice

500

ml

Water

For cooking the dal

1

Tsp

Turmeric

1

Tsp

Cumin Seeds

1

Bay Leaf

1

Tbsp

Cilantro/Coriander
Instructions
Start by washing the rice and the lentils in separate bowls till the water runs clear. Soak for 30 minutes.

Slice the chicken breast into small cubes and marinate with the ginger garlic paste, black pepper and 1 tsp of salt. Let it marinate while you cook the rice and lentils.

First cook the rice by adding the drained rice into the instant pot along with some salt and some water. I like to use a 1: 1.5 ratio of rice to water for this recipe. Pressure cook for 3 minutes with a natural release for 9 minutes and then you can pop the pressure nozzle.

After cooking the rice remove it and set aside. In the same pot add your drained lentils, 1 stock cube, the tomato roughly chopped, the turmeric and the 500ml water.

Pressure cook on high pressure for 10min with a natural release of 10 minutes and then pop the pressure nozzle.

Once the lentils are done use a whisk to smoothen it out. Alternatively you can strain the whole mixture getting a silky smooth consistency and getting rid of the tomato skins.

In a pan or in the instant pot itself using sautee mode, heat up the ghee and add in the cumin seeds & bay leaf. Once they are sizzling add in the chicken, carrots and green beans and stir fry.

After the chicken has turned white and looks cooked from the outside add in the lentils and mix well. Cook for about 2 minutes before adding in the rice. Cover and cook for a further two minutes.

Now taste for seasoning and also adjust the thickness to your liking. If it's too thick and you want it thinner add water, if it's too soupy then turn up the heat and cook off some of the water.

Once it's the consistency you like just turn off the head and finish with fresh coriander.

Enjoy