The king of Mumbai's street food
India is home to a lot of amazing food. Street food is a big part of our culinary heritage and Mumbai is a city with an extremely vibrant array of street food to sample. People will always war over what street food is the best and if you bring other cities into the mix, the rivalry is hot. I'm not going to get into a debate about these titles but instead I want to showcase what is definitely one of Mumbai's favourite and most popular dishes. It's called Pav Bhaji.
If I have to literally translate it, pav means bread and bhaji means vegetable. If I had to compare this to something a non Indian would be able to reference it to, I would compare this to a Chilli Con Carne (I have a Keto one too) but made with vegetables instead of meat.  It's a base of potato with green peppers, tomato and other vegetables that are slow cooked into a nice spiced mash. This is further cooked with butter, onions and more spices. The key to the most delicious pav bhaji is normally the copious amounts of butter used.
Of course we're making ours today without the potato and instead of serving it with pav I will serve it with a version of my 90 second Keto bread.  Remember, cauliflower is the new potato.
Vegetable carbs are good carbs
Just as it is true that not all fats are good, it's the same with carbs. Not all carbs are equal, some are more equal than others. Vegetables are good for most people (before the carnivores attack me) and honestly most of them have a fairly low GI as well. I was expecting this recipe to be rather carb loaded but it's not. At 8grams net carbs this is definitely something you can fit into your day's macros. To up the fat even more just add another tablespoon of butter, that will enhance the flavour even more.
When it comes to choice of vegetables I stuck with the very basic ones however you can add things like spinach, cabbage and even mushrooms to this mix. There are many versions of pav bhaji and one that would be particularly good on Keto would be cheese pav bhaji, so just grate some cheese over this and you are good to go.
As a food lover I don't discriminate against food. It can be vegetarian, vegan, pescatarian or even carnivore. My interest is with the taste. I like good tasting food. Life is too short to not have it filled with good food. It makes no sense to deprive yourself of something tasty. So enjoy!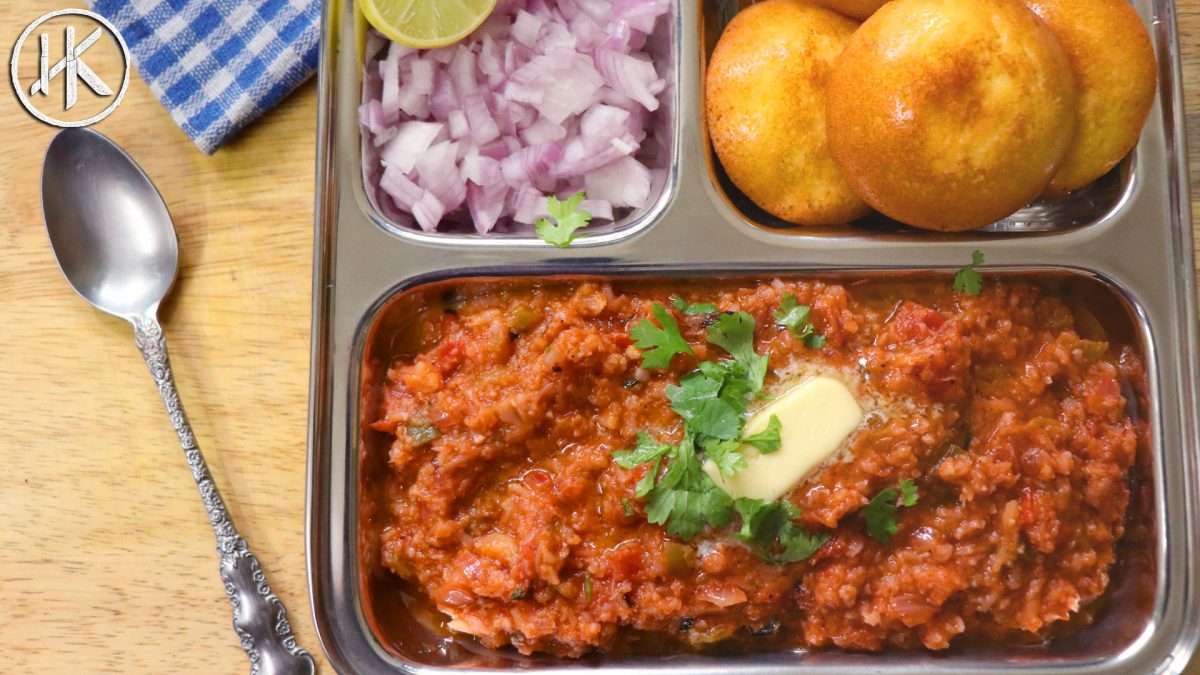 Nutrition Info (Per serving)
Calories: 330
Net Carbs: 8g
Carbs: 13g
Fat: 30g
Protein: 4g
Fiber: 5g
This recipe makes 4 servings. Get this recipe on myfitnesspal.
Keto Pav Bhaji
A delicious dish of mashed vegetables cooked in butter
Ingredients
500

grams

Cauliflower

200

grams

Tomatoes

150

grams

Green Bell Pepper

100

grams

Onions

150

grams

Butter

Try this one

10

grams

Ginger Garlic Paste

Try this one

2

Tsp

Pav Bhaji Masala

I recommend this one

1

Tsp

Kashmiri Red Chilli Powder

I use this

1

Tbsp

Cilantro/Coriander

Red Food Colour

I use this

Salt to Taste

Juice of half a lime
Instructions
Cut the cauliflower into small pieces and add to a frying pan along with about a cup of water and cook for about 10 minutes till the cauliflower is nice and tender.

Add in your tomatoes, green bell peppers, ginger garlic paste, 1 tsp of the pav bhaji masala, salt to taste and 50 grams of the butter. Give it all a good mix and cook for another 5-10 minutes

Use a potato masher and mash everything into a nice mushy paste almost and cook till all the water dries out. Then transfer and set aside.

Head the remaining butter in the same pan along with the onions, coriander, kasuri methi, 1 tsp of the pav bhaji masala and cook till the onions turn translucent. Add the food colouring as well (optional)

Then add in the cauliflower mash mixture and cook together for 3-4 minutes.

Add some more water in and give it all a final good mash in the pan and then depending on how thick or thin you like it you will add water or cook it out further. Make sure you squeeze in the lime juice at this point.

Finally once it's ready top it with a knob of butter, a little chopped onion and fresh coriander.

Serve with Keto bread.