Keto stuffed Mushrooms
Today we're doing a stuffed mushroom recipe. It's not only quick and easy, but Keto friendly and delicious.  This recipe was originally part of Week 3 of my Keto for Beginners series. This is a great dish not just for vegetarians but even meat eaters. I promise you will have them licking their plates. While I've stuck to white mushrooms due to limited availability of alternatives, you can definitely experiment with different varieties.
Anyway I hope you enjoy the recipe and do let me how your dish turned out.
The Best Stuffed Mushroom Recipe
Look, you can always make a complex recipe for stuffed mushrooms. Mix different kinds of cheese, oven baked it, use some nuts and fancy ingredients. This one is just simple. It works because butter and garlic are a match made in heaven. When you cook mushrooms in that butter and garlic it takes it to the next level. Instead of using fancy melted cheese we just put on some creamy feta that's already nice and salty. Then we finish it up with a flavourful herb like basil. It just works.
You can definitely experiment with different kinds of cheese. You can also swap out the fresh basil and throw in some chopped parsley when you fry the garlic and butter. There are many different ways you can personalize this recipe. I'd love for you to share some of your own tips, tricks and recipe hacks in the comments.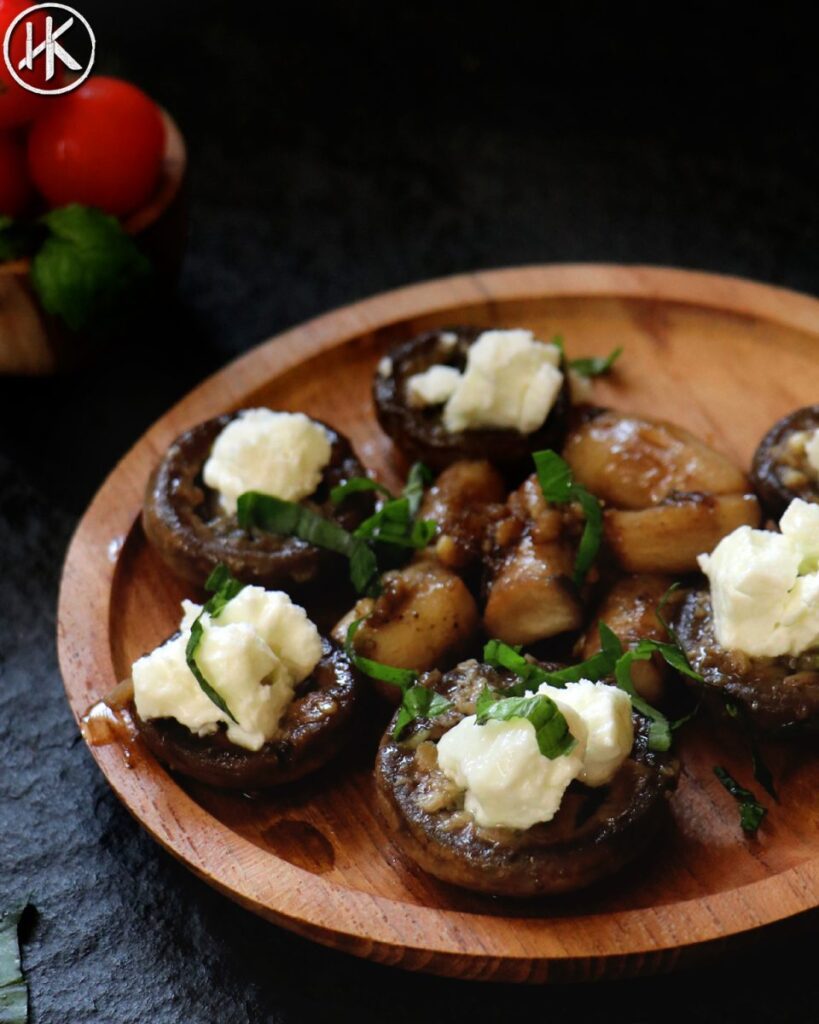 Nutrition Info (Per serving)
Calories: 216
Net Carbs: 4g
Carbs: 5g
Fat: 19
Protein: 8g
Fiber: 1g
This recipe makes 1 serving. Get this recipe on myfitnesspal.
Keto Stuffed Mushrooms
The easiest stuffed mushroom recipe
Ingredients
100

grams

White Mushrooms

5

grams

garlic

1

grams

Butter

Try this

30

grams

Feta Cheese

Fresh Basil for garnish

Salt & Pepper to taste
Instructions
Separate the mushroom caps from the stalks. Heat the butter in your frying pan and once it melts add in the garlic and cook till it starts to turn golden brown.

Add in the mushrooms, season with salt and pepper and pan fry. The mushrooms will release their water and you want to cook that out completely till the mushrooms start to caramelize and get some colour.

Once done remove from the pan and top/fill with the feta cheese and garnish with chopped basil.