Holy Basil Chicken – Incredible Thai chicken dish!
I love Thai food and the holy basil chicken is one of my fav dishes. It's a protein packed dish that's extremely tasty. Use a lean meat like chicken or turkey to keep the fat down. Most lean meats tend to lack flavour because of the lack of fat. But what you can in fat here you make up in flavour from the delicious garlic, chilies and basil. The sauces as well add another layer of flavour. Serve this with some white rice and a serving of vegetables for a well balanced meal.
Can I use regular basil?
Finding Thai basil or Holy basil (both different varieties) isn't always easy. But you can also use Italian basil to make this dish. Sure the flavour of each of these basil leaves is vastly difference but they work non the less. So make it either way.
Now the three sauces we use are soya sauce, oyster sauce and fish sauce. You can make this dish even if you are missing 1 of the three. You can add a bit of sugar if you to like to counter the spice from the chilies. I chose to skip that because the oyster sauce is plenty sweet. This dish also needs no salt because soya sauce and fish sauce and oyster as well are all salty.
I am using a dark soya sauce in this recipe because it gives a great colour and has a rich flavour. You can try different kinds of soya sauce to see which one you like best. But what you want to do is buy a good quality soya sauce, one that doesn't have added sugar and stuff.

Nutrition Info (Per serving)
Calories: 230
Carbs: 5g
Fat: 14g
Protein: 23g
Fiber: 0g
This recipe makes 4 servings. Get this recipe on myfitnesspal. These macros are for JUST the chicken. I would recommend serving this with some plain boiled white rice. Also add a serving of vegetables for a well balanced meal. Alternatively you can serve this in lettuce leaves if you don't want to eat rice.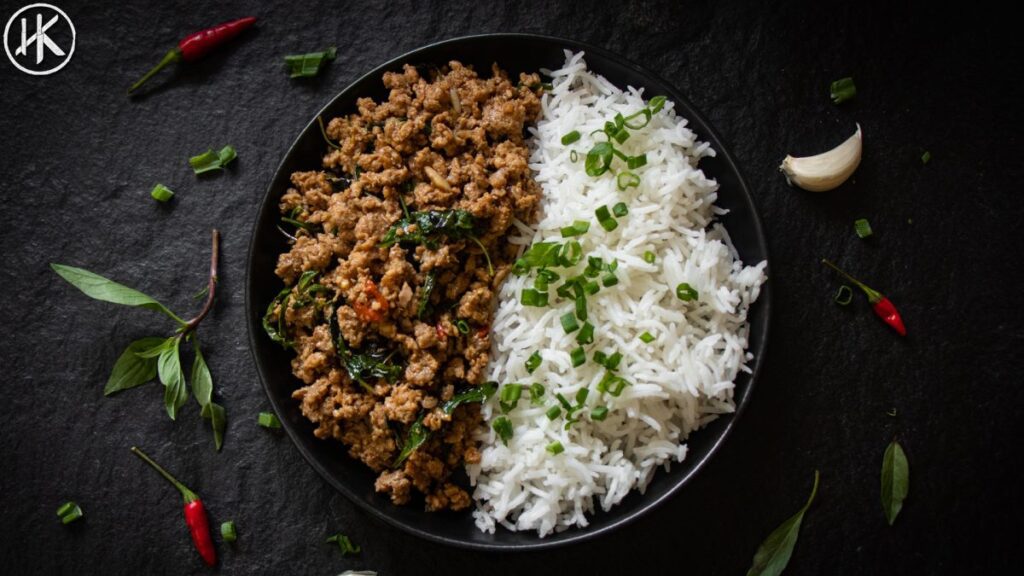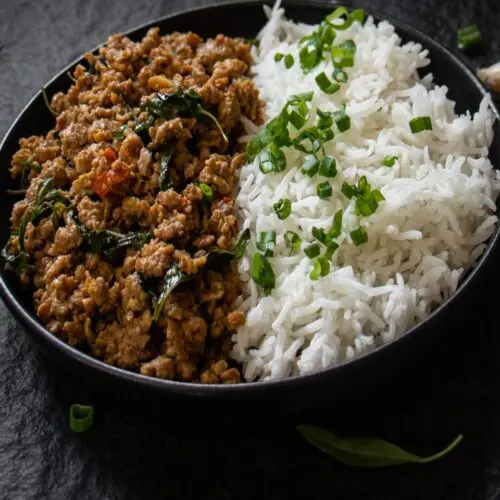 Thai Basil Chicken
Delicious Thai Basil Chicken
Ingredients
500

grams

Ground Chicken

25

grams

Thai Basil

10

grams

garlic

10

grams

Thai Bird's Eye Chilies

1

Tbsp

olive oil

or any cooking fat

1

Tbsp

Oyster Sauce

1

Tbsp

Dark Soya Sauce

1/2

Tbsp

Fish Sauce

1/2

Tsp

White Pepper
Instructions
In a mortar and pestle crush the garlic and chilies to make a rough paste from it. You can also just chop both very very finely.

Heat the oil in your wok and once it's hot add the garlic and chili mixture.

Satuee till fragrant and the garlic is just starting to brown.

Add in the chicken mince and keep sauteeing and stirring till the chicken is cooked.

Season with the soya sauce, fish sauce, oyster sauce and the white pepper.

Mix everything well and now cook till everything is well mixed. You can add some water to make a bit of 'sauce' or reduce it and dry it up depending on how you like it.

Finally add in the basil and turn off the heat and give everything a good mix.

Serve with white rice.