Elevate your sandwich game with this Chicken Avocado Sandwich. Not only is it quick to make (less than 30 minutes), but it also combines the creaminess of avocado, the rich flavors of smoked cheese, and the tender juiciness of chicken thighs.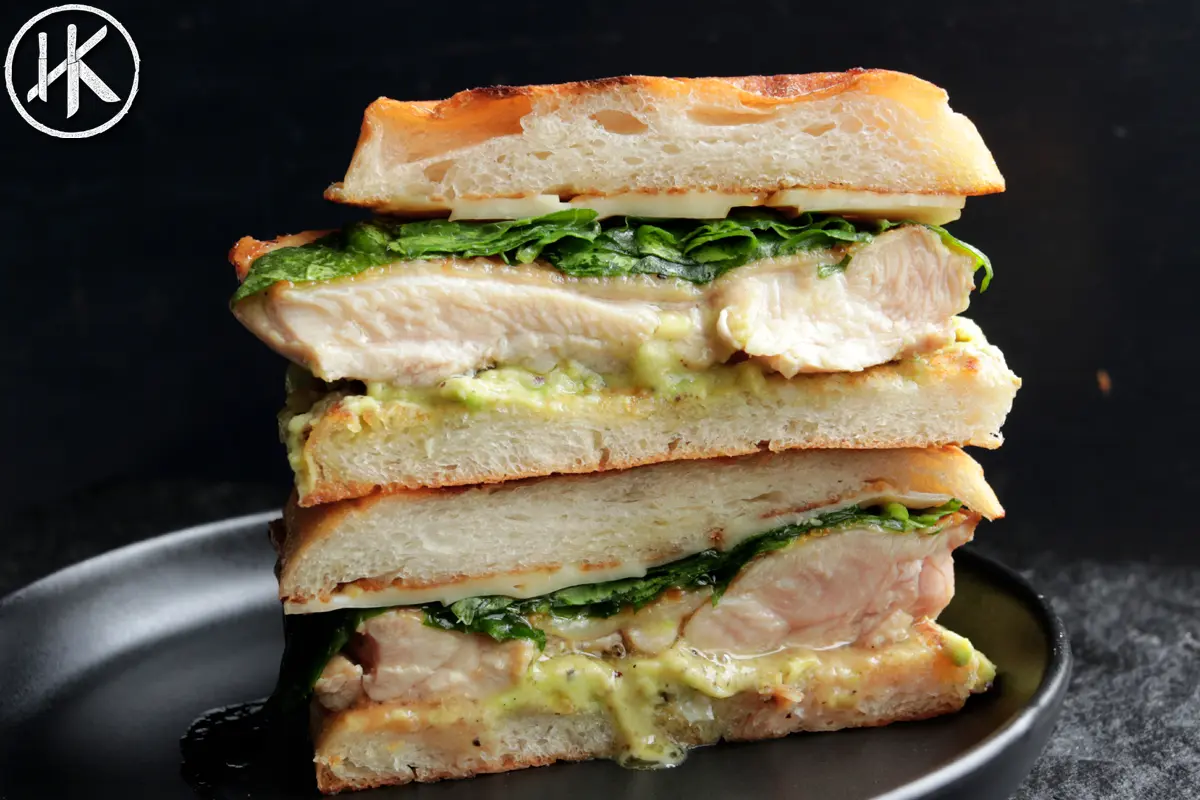 Ingredient Notes
Avocado: A core component of the spread, ensure your avocado is ripe by checking for a slightly darkened skin and a softness that yields to gentle pressure.
Lemon Juice: Freshly squeezed lemon juice offers the best flavor and zing. If you don't have fresh lemons on hand, bottled lemon juice can be a suitable substitute.
Smoked Sea Salt: This gives a unique, smoky depth to the spread. If unavailable, regular sea salt will work, but you'll miss out on that distinctive smoky flavor.
Hummus: Use your favorite brand of store-bought hummus, or you can even use homemade hummus.
Ciabatta: Look for a loaf with a crisp exterior and soft, airy interior. This Italian bread's texture complements the sandwich's other elements perfectly.
Extra Virgin Olive Oil: Use a good quality oil for toasting the bread. It adds to the ciabatta's flavor.
Smoked Gouda or Smoked Cheddar: The smoky notes of these cheeses add depth to your sandwich. Ensure the cheese slices are thin to help them melt effortlessly during the toasting process.
Chicken Thighs: Opt for boneless thighs chicken thighs. They're juicier and more flavorful than chicken breasts.
Avocado Oil: While this is used for cooking the chicken, its mild, nutty flavor complements the avocado theme of the sandwich. If unavailable, you can use other high-smoke point oils like grapeseed or canola.
Arugula: With its peppery kick, arugula (or rocket) adds a fresh bite to the sandwich. Choose fresh, bright green leaves without any yellowing or wilting.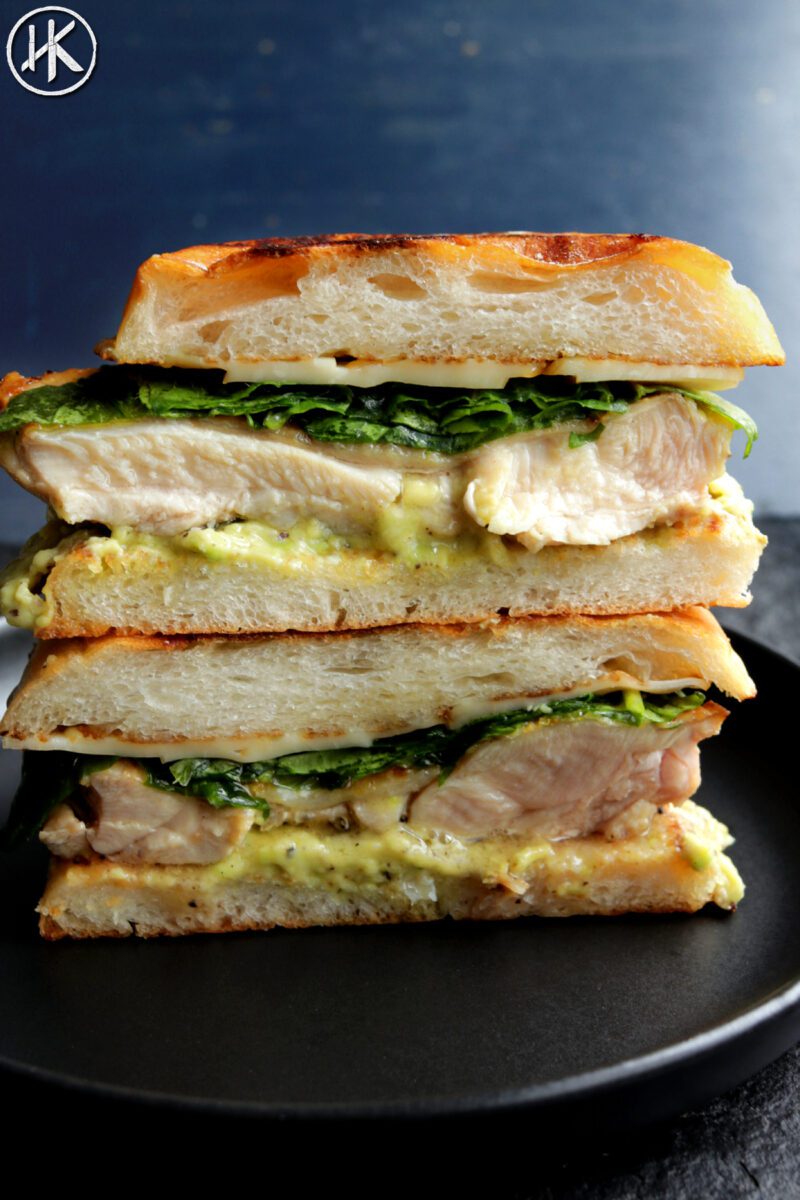 Expert Tips
Toasting the Ciabatta: Keep a close eye on the bread as it toasts. The line between golden-brown perfection and over-toasting can be thin.
Chicken Cooking Tip: Allowing the chicken to rest post-cooking ensures the juices redistribute, enhancing the sandwich's overall moisture and flavor.
Avocado Preservation: If you're not using the entire avocado, keep the seed in place, brush the cut surface with lemon or lime juice, and press plastic wrap directly against the flesh before sealing it in an airtight container. This will prevent the unused half from browning quickly.
Storage and Leftovers
Pre-Assembled Ingredients: Store components like the avocado-hummus spread in airtight containers in the refrigerator for up to 3 days.
Assembled Sandwich: If you've already made the sandwich, wrap it tightly in plastic wrap or place it in an airtight container. Refrigerate for up to a day. This sandwich can be enjoyed cold or at room temperature.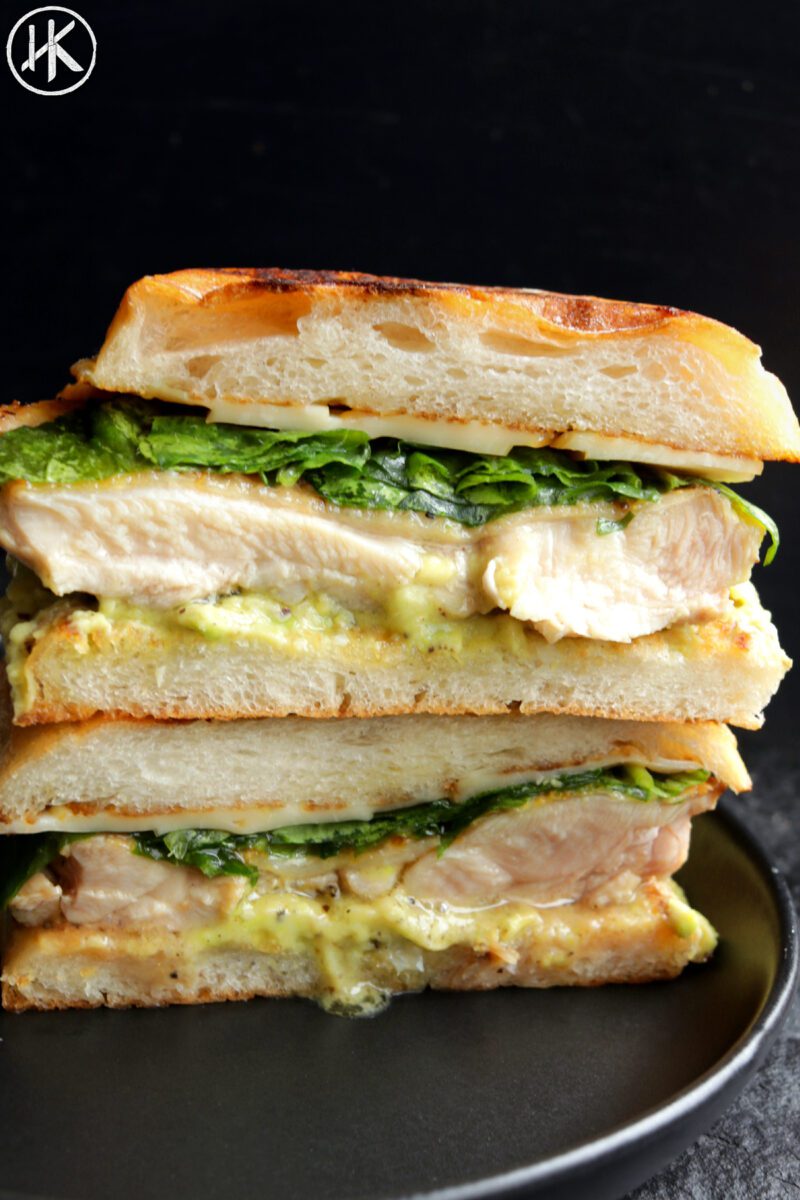 FAQs
How do I tenderize the chicken?
To tenderize chicken, place it between two sheets of plastic wrap or in a zip-top bag. Use a meat tenderizer or a rolling pin to gently pound the chicken to an even thickness. This not only ensures uniform cooking but also makes the meat more tender and succulent.
Can I use chicken breasts instead of thighs?
Absolutely! While chicken thighs are juicier and offer a richer flavor, chicken breasts are leaner and can be a healthier alternative.
Can I use other types of bread instead of ciabatta?
Yes, while ciabatta offers a unique texture, you can also use sourdough, baguette, or even whole grain bread. The choice depends on your texture and flavor preference.
More Recipes You May Like:
Chicken Avocado Sandwich
Elevate your sandwich game with this Chicken Avocado Sandwich. Not only is it quick to make (less than 30 minutes), but it also combines the creaminess of avocado, the rich flavors of smoked cheese, and the tender juiciness of chicken thighs.
Ingredients
For the Avocado-Hummus Spread:
½

Avocado

Lemon juice

to taste

Smoked sea salt

to taste

200

g

store-bought hummus
For the Ciabatta and Cheese:
1

Ciabatta

halved

Extra virgin olive oil

as needed for toasting

30

g

Smoked gouda or smoked cheddar

sliced
For the Chicken:
2

Boneless chicken thighs

tenderised

1

teaspoon

Avocado oil

Salt and pepper

to taste
For the Arugula Dressing:
50

g

Arugula

Lemon juice

to taste

Salt and pepper

to taste
Instructions
In a large mixing bowl, mash together the avocado, smoked sea salt, and lemon juice. Add in the hummus and combine until well-incorporated.

Preheat a cast iron pan over medium heat. Drizzle extra virgin olive oil on both inner sides of the ciabatta halves. Place them sliced side down in the pan and toast until golden brown. Flip and toast the other side.

Once toasted, arrange slices of cheese on one half, sprinkle a bit of water into the pan, and cover with a lid. Once the cheese is melted, remove the ciabatta from the pan and set aside.

In the same pan, add avocado oil. Once heated, place the chicken thighs skin side down. Season with salt and pepper. Cook until the skin turns golden brown, then flip to cook the other side. Continue cooking until the chicken reaches an internal temperature of 72°C (165°F). Once done, transfer the chicken to a plate and let it rest.

In a mixing bowl, combine arugula, lemon juice, salt, and pepper. Toss well to ensure even seasoning.

Assemble the sandwich by spread a generous amount of the avocado-hummus mixture on the non-cheese side of the toasted ciabatta. Layer on the cooked chicken, followed by the dressed arugula. Top off with the cheese-topped half of the ciabatta. Serve immediately.
Nutrition
Calories:
751
kcal
Carbohydrates:
55
g
Protein:
38
g
Fat:
44
g
Saturated Fat:
11
g
Polyunsaturated Fat:
9
g
Monounsaturated Fat:
19
g
Trans Fat:
0.1
g
Cholesterol:
126
mg
Sodium:
938
mg
Potassium:
807
mg
Fiber:
11
g
Sugar:
1
g
Vitamin A:
935
IU
Vitamin C:
9
mg
Calcium:
199
mg
Iron:
4
mg