Have you ever tried Persian food?
In Mumbai where I live, Persian or Iranian cuisine was brought in by early Zoroastrian migrants who developed their own style of food that fused Indian and Iranian flavors – in fact, Irani cafes in Mumbai are their own genre of food and restaurants. But the food they serve has only vestiges of what original Persian or Iranian food actually is. In fact, it's only recently that the cuisine has really made inroads here in Mumbai, with a lot of new restaurants popping up. My introduction to authentic Iranian food has been through the kabab koobideh, and let me tell you, it was love at first bite.
Kabab koobideh – or kebob or kebab, depending on where you live – is a skewer of spiced, minced meat served as long, flat kebabs, smoke kissed and lightly charred on the grill. It's usually made of finely minced lamb or beef, mixed with grated onion, then fashioned on these long, flat metal skewers that are unique to this style of kebab (and the Turkish adana kebab). It's grilled on charcoal and flavored with saffron butter, so it has that gorgeous caramelised exterior and juicy interior.
Can you make kabab koobideh without a charcoal grill?
That was the biggest challenge of this recipe for me. The flavor of a charcoal grill  is difficult to replicate at home on a gas stove or in the oven. Moreover, the flat skewers used for the kebab are simply not available here. But hey, what is life without a bit of improvisation! For the smoking I fell back on the Indian style of dungar or coldsmoking with a piece of charcoal. While for the skewers, I fashioned one out of small wooden skewers and aluminum foil – call me Sahil MacGyver!
The other thing you really want to do with this kebab is not be afraid to get your hands dirty. Really get in there and squeeze the onion juice out so you're left with as dry a mince as possible. (Fun fact, onion juice is used on the hair and scalp in India; people swear it promotes hair growth). You also want to massage the ground meat really well till it comes together and is almost tacky.
Use ground meat that has minimum 20% fat – the fat is what will keep your kebabs juicy. If you're cooking it in the oven, keep a close eye on it so it doesn't overcook and dry out.
Honestly, it sounds a lot tougher than it actually is. I promise you, you make this once, you'll want to keep going back to it again and again. Normally it is served with Persian rice and grilled vegetables. However you can eat it over cauli rice, turn it into a wrap with one of my keto naans, or just eat it straight up with veggies on the side. Any way you eat it, it's going to be delicious!

Ingredients and alternatives
Ground Meat – For my recipe I used a meat mixture of ground beef and ground lamb which I believe is what most people use. However you can make this with just ground beef as well. If you're someone who doesn't eat red meat then you can make a chicken version too. It is my opinion however that this dish is tastes better with red meat.
Spice – The flavor of kabob koobideh is meat, onions, salt and black pepper. That is the basic recipe for it. But as always everyone has their own versions and I've seen some with turmeric and even with sumac. Some recipes even use garlic but I felt I didn't want to add that in. Don't get me wrong I love garlic but just didn't think it was needed. There are recipes that add a saffron water or oil to the meat as well. Some even use paprika.
Vegetables – Grilled tomato, onion and green chili peppers are served along with the koobideh kebabs. And of course saffron rice which we will skip because of Keto. Parsley is used mostly for decoration so I skipped it completely. Feel free to serve it with other vegetables of choice. You can also make a cool yogurt dip. Something like my green chutney though that's not authentic for sure.
Onion – For this recipe one large onion should suffice. However this depends on where you live. For me about 100g of onion is a large onion and that's what I use. You want to main sure you drain all the water after grating the onion. You can also chop it using your food processor.
Cooking Fat – I used olive oil to fry my kebabs in the pan and I brushed it with the saffron butter. If you have been or lamb fat and you can fry it in a bit of that you will get a meatier flavour.
Cooking Methods
This is normally cooked on an open flame over charcoal. If you have a gas grill you can use that as well. I cooked it in the oven and also on the stove and if I'm being honest the stove one tastes better. My oven didn't have a broil setting but if yours has one it will be handy to get some colour on the meat.
Shaping the kebab is pretty important as well. You want to make indentations in the meat using your hands. You would put your thumb and index finger together while shaping it on the skewer and press down at regular intervals. Make sure you keep your meat in the refrigerator for a while before doing this. Forgive me if my instructions are a bit unclear I am honestly still a novice and learning how to master the skewering of the meat.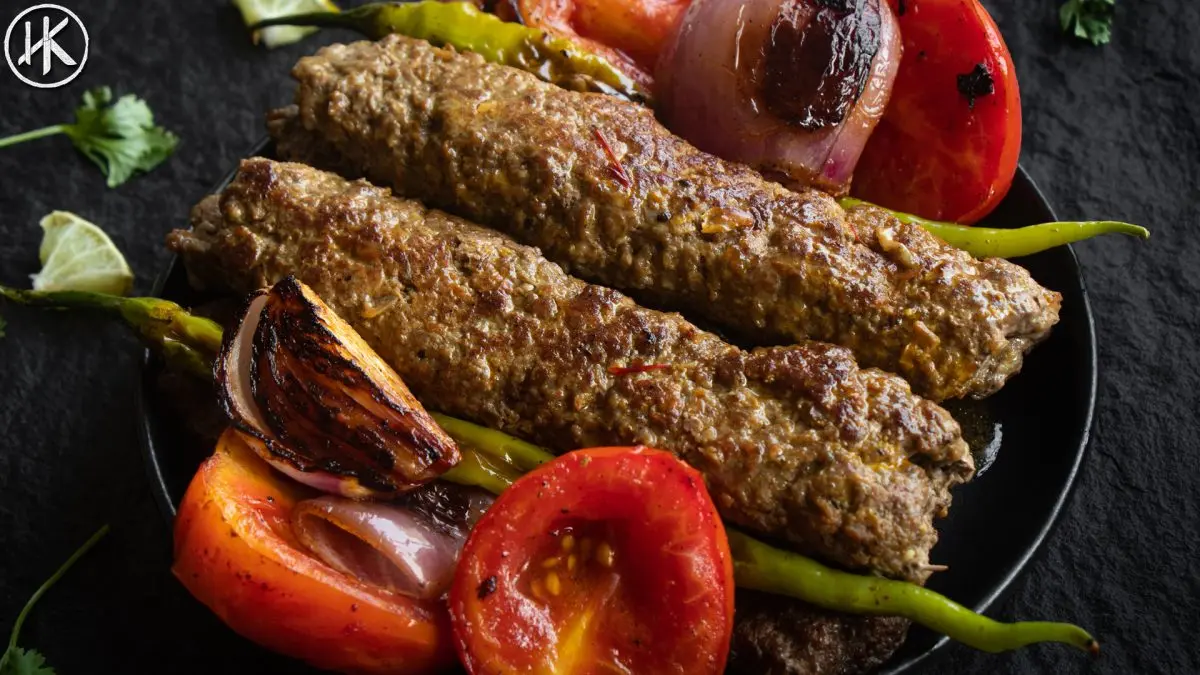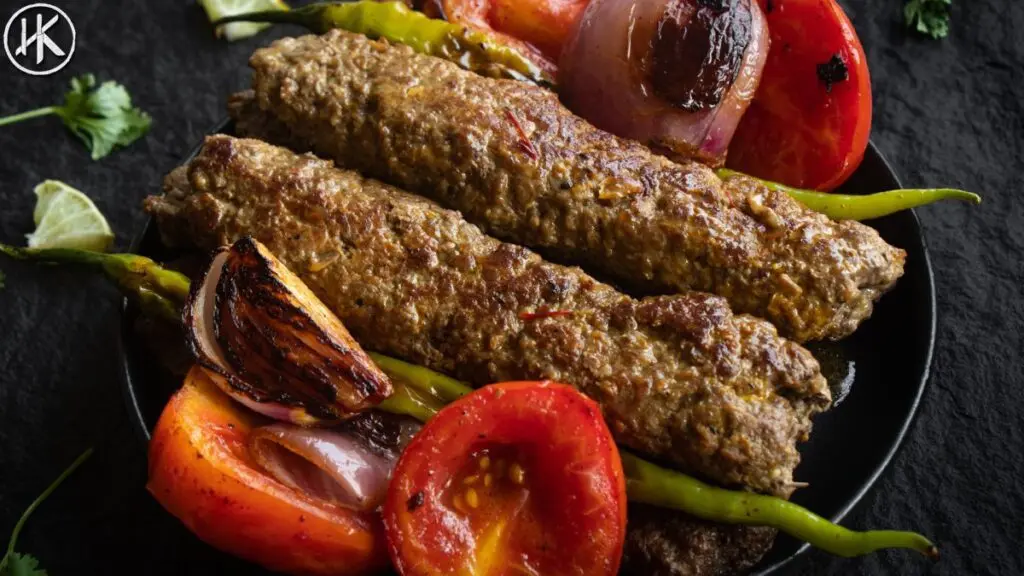 Nutrition Information (Per serving)
Calories: 238
Net Carbs: 1g
Carbs: 1g
Fat: 18g
Protein: 17g
Fiber: 0g
This recipe makes 8 servings.  1 serving = 1 Kebab. Get this recipe on myfitnesspal.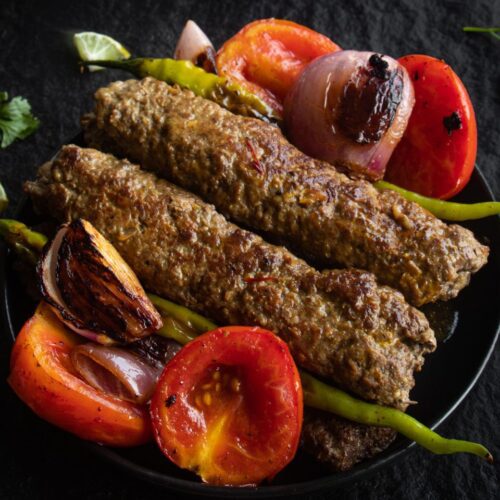 Kabab Koobideh
Juicy, smoke-kissed lamb and beef skewers
Ingredients
15

grams

Butter

1

pinch

Saffron

250

g

Ground Lamb

20% fat 80% lean

500

g

Ground Beef

20% fat 80% lean

1

Onion

around 100g

1 1/2

tsp

Salt

1

tsp

Black Pepper

1/2

tsp

Turmeric

optional

1/2

tsp

sumac

optional

2

Tomatoes

halved (as an accompaniment)

2

chilies

as an accompaniment

1

Onion

quartered (as an accompaniment )

1

tsp

Butter or ghee for smoking
Instructions
Making the meat mixture
Start by making the saffron butter. Add the butter to a ramekin and microwave for about 30 seconds until it's melted. Add in the pinch of saffron, give it a good stir, and let it infuse while you make the kebabs.

Grate the onion into a large mixing bowl. You can also use a food processor to do this. DO NOT chop the onion with a knife, you want to almost turn it into a paste.

Squeeze the grated onion until you get all the juice out - you want it as dry as possible. You can also strain it using a cheesecloth or a strainer and press till all the water runs out.

Add the ground meat to the grated and strained onions. Season the meat well with salt, pepper, turmeric (optional) and sumac (optional) and mix all of it well for a good 3-4 minutes. You want to mix it till the meat has an almost tacky, pasty consistency to it and all the ingredients are completely incorporated into it.

Once it's all well mixed, place a steel or oven-proof ramekin right in the centre of the meat mixture. Heat a piece of charcoal over a naked flame, till it's red-hot and glowing. Place the charcoal in the ramekin while still red hot and quickly pour about a teaspoon of melted butter or ghee over it. As it begins to smoke, place a heat-proof lid quickly on the mixing bowl. The idea is to trap all the smoke inside the bowl and let it infuse into the meat for about 20 minutes. Then chill the mix to make it easier to shape.
If using the oven
Preheat the oven at this point to the highest temperature, which in my case is 230C/450F (no fan).

If you're not using skewers, simply shape the meat mixture into an even square about an inch thick, then use a knife or spatula to separate them into individual rectangular kebabs. Use your thumb to thumb to make indents every few centimetres so it resembles the shape of traditional kebab koobideh.

Place it in the oven with the parchment paper and let it cook. Halfway through cooking, baste the kebabs with the saffron butter. Give it another few minutes, then flip it over and baste again with the saffron butter. Let it cook for the full 12-15 minutes.

Take it out of the oven and if you want more colour outside, hit it with a blowtorch like I did.
For the stovetop version
If you don't have flat metal skewers, improvise them by wrapping a pair of chopsticks or four wooden skewers with tape and then with aluminum foil and flattening it out.

If you're using the skewers, grab a handful of the meat mix and proceed to shape it around the skewer till you have a rough log. Flatten it out and use our fingers to make indentations by gripping it lightly. (This is best explained via video).

Get a cast iron skillet on the stove and add some avocado oil. Let it get nice and hot, then place the kebabs in the pan.

After about 3-4 minutes on high heat, flip them over. Baste the kebabs with the saffron butter

After about 3 more minutes, flip the kebabs and baste the other side with the butter and take them off the pan.

To the still hot pan, add in the halved tomatoes, onion quarters and chillies, season them with a bit of salt and let them just char in the skillet.

Baste the veggies also in the saffron butter and cook till just softened and charred.

Place the kebabs on a plate with the charred veggies, pour the remaining saffron butter over it and serve!