The perfect fat bomb
Mayonnaise is an essential item on the keto diet – it's high in fat, packs a flavour punch and brings your salads to life. So here is how you make a keto mayonnaise at home, from scratch. That's not all, for my pure vegetarian or egg intolerant Keto friends I've also done an egg free Keto mayonnaise recipe.
What is mayonnaise? 
Let's start right at the top. What is it? What are the ingredients in it? Is it Keto diet and low carb friendly? I'll answer all these questions and more. 
Mayonnaise or mayo is a condiment made used by emulsifying eggs with oil. Now there are some recipes where the whole egg is used while others use just egg yolks. For example in the Japanese Kewpie mayo it's just the yolk. Additional ingredients like dIjon mustard, lemon juice, vinegar, salt, apple cider vinegar etc are added. 
How do you make it?
As I mentioned above it's an emulsification.  In the olden days a simple whisk was used and even today there are people who still make it by hand. But being honest that is a tedious way to do it. With the technology we have today a food processor makes it much easier. My fav way which I sadly haven't done myself yet is using an immersion blender. 
What oil is used in mayo?
For your standard store bought brand it's anything from canola oil to soybean oil to sunflower oil. This varies from brand to brand. While these oils are mostly neutral tasting (that's why they are used, they are generally avoided on Keto. Of course in an ideal world you want these neutral oils because they add no flavor to the oil. If you made your mayo with coconut oil or olive oil you'd get that flavor in it. 
Why can't I just buy it in the store?
If you are going to be eating mayo on a regular basis, it's best to make yours at home. Why? Most, if not all store bought mayonnaise has some amount of sugar but even worse is the oil they use to make the mayo. On Keto we try and make sure we consume the best quality fats like olive oil, avocado oil, animal fat, butter, ghee etc etc. We definitely try and avoid the hydrogenated vegetable oils, which is what most mayo will use. Now if you eat 1 or 2 tablespoons of mayo every few days it won't kill you for sure, but if it's your staple then it makes sense to get the best. You might be able to find a sugar free, good fat using mayo in your supermarket, in which case, go ahead and pick it up. Just check the price tag though.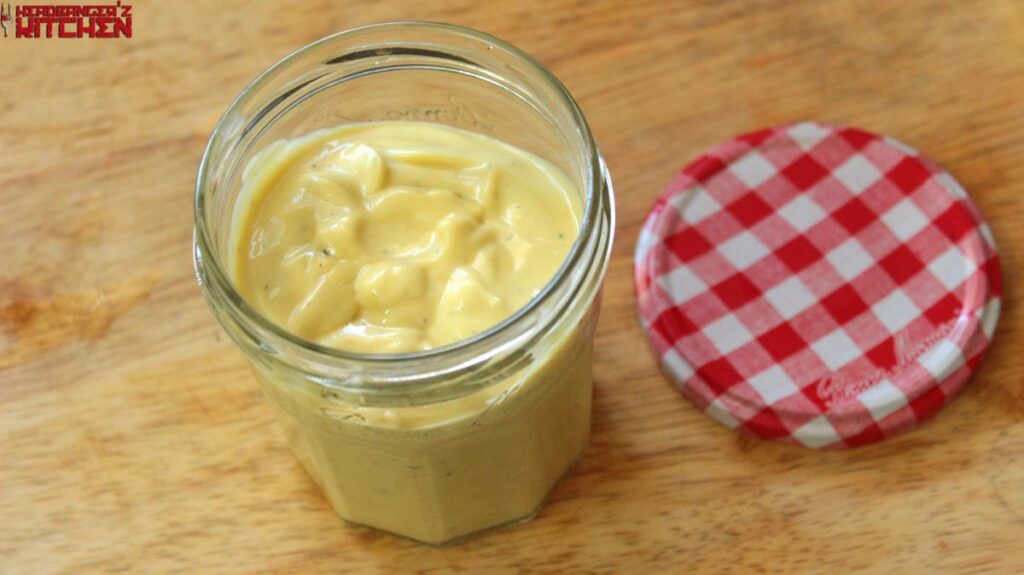 Update 2022 – Store bought Keto Mayo
Back in 2017 when I started my Keto journey there weren't many if not any Keto products. However Keto has exploded and calmed down as well. Today you can find many brands of Keto mayo that use fats like mct oil and avocado oil. Of course homemade keto mayo is always best but not for convenience you have options. 
The Primal Kitchen mayo is by far the most popular brand I've seen online. Now you might be tempted by brands like Hellmann who sell real mayonnaise but they use soybean oil. Which I personally feel in moderation is not a big deal but most Keto folk want to stay far away from it. 
Whatever you choice, mayo is the perfect condiment for so many dishes. Whether you use it for salad dressings or burger sauce or even the outside of a grilled cheese, it's delicious. The taste is amazing and it's the perfect vehicle for flavor.
Nutrition Info (Per serving)
Calories: 166
Net Carbs: 0g
Carbs: 0g
Fat: 19g
Protein: 1g
Fiber: 0g
This recipe makes 12 servings. 1 Serving = 1 Tablespoon. Get this recipe on myfitnesspal.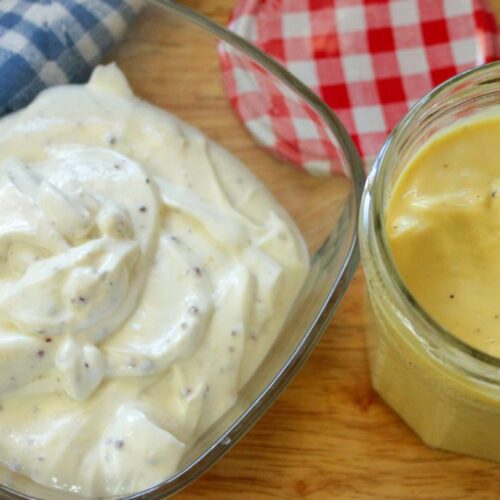 Keto Mayonnaise
A keto mayonnaise
Instructions
Blend everything except the oil with a hand blender or food processor

Add the oil in 1/3rd at a time and blend till a nice creamy mayo has been formed.

Store in the fridge
Notes
You can use mustard powder as well in place of mustard.