Gordon Ramsay's Pork Chops with Sweet and Sour Peppers
A Keto version of the legendary Gordon Ramsay recipe
If it isn't obvious already, I love to eat good food and I enjoy cooking good food too. Over the years many chefs have inspired me and one of those has been Gordon Ramsay. While he might be famous more for his cursing, he's not one of the best chefs in the world for nothing. His pork chops with sweet and sour peppers is the stuff of legends. This recipe is extremely simple, it's literally just a few ingredients of top quality, treated perfectly for maximum flavour. I hope I've done Gordon proud and I hope you folks enjoy this recipe.
A whole lot of porky goodness
Since I didn't get the perfect bone in pork chops, I filleted mine and cooked up just the eye or the loin part of it. I plan to use the bones to make a stock and at the end I cooked up the other meat trimmings for a tasty snack. Couple of tips to keep in mind is to cut the fat side of the pork chop with the knife so it doesn't curl up when cooking and it cooks more evenly. Also once done cooking make sure you save the residual oil in the pan and it can be used for plenty of things in the future. Make sure you also eat that crispy garlic.  Anyway, enjoy the recipe.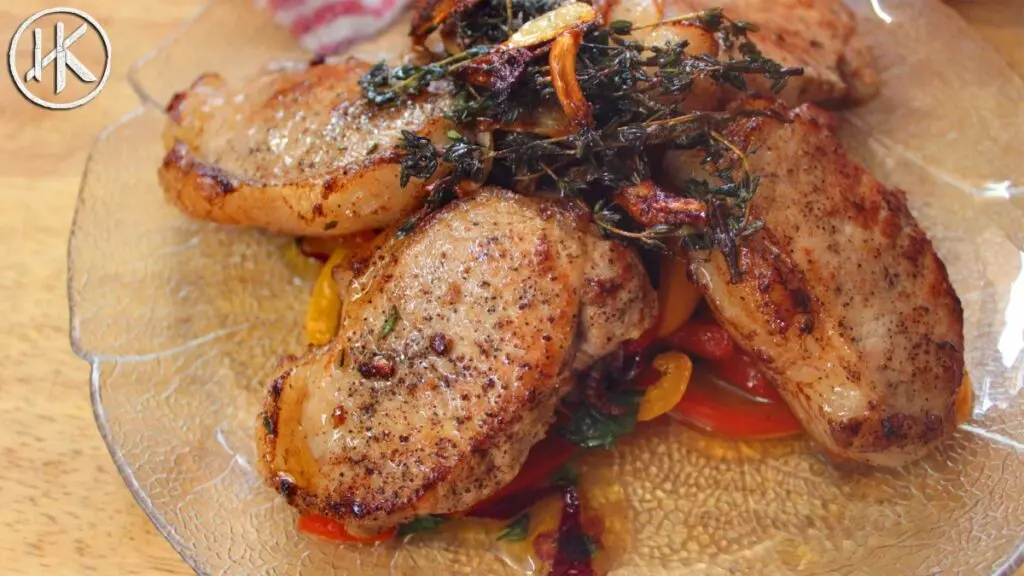 Nutrition Info (Per serving)
Calories: 519
Net Carbs: 5g
Carbs: 6g
Fat: 33g
Protein: 49g
Fiber: 1g
This recipe makes 2 servings. Get this recipe on myfitnesspal.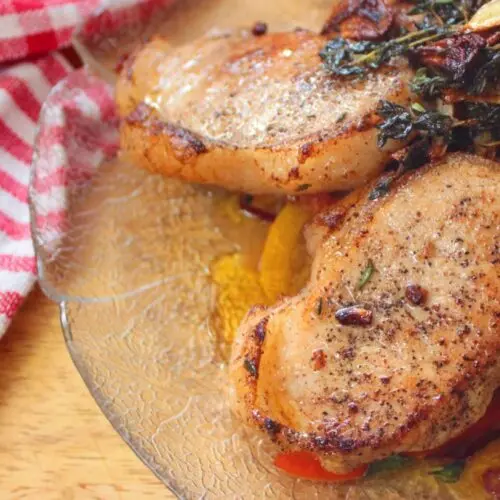 Gordon Ramsay's Pork Chops with Sweet and Sour Peppers
A keto version of this classic Gordon Ramsay dish
Ingredients
500

grams

Pork Loin Chop

50

grams

Red onion

100

grams

Bell Peppers

I used half a red and half a yellow one

1

Tbsp

Butter

I recommend this one

2

Tbsp

olive oil

I use this one

10

grams

garlic

1

Tbsp

White Wine Vinegar

Try this one

2

Tsp

Erythritol

Try this one

Fresh Basil

Fresh Thyme

Salt & Pepper
Instructions
Chop the red onion and the peppers

Heat some olive oil in a pan and sautee the peppers and onion. Season with salt and pepper

Add the Erythritol and cook for 1 minute

Add in the white wine vinegar and some good extra virgin olive oil and sautee for 2 minutes

Chop and add some fresh basil and cook for 1 minute more and transfer to a bowl

Season the pork chops with salt and pepper and fry in the same pan with some olive oil

While the chops cook on 1 side add some fresh thyme and garlic to the pan

Add in some butter and turn over the pork chops

Baste the pork chop with the butter in the pan

Turn the pork chops on the fat side to crisp up and render some of the fat

Once cooked, set aside and save the residual oil from the pan

Serve the pork chop together with the peppers and the crispy garlic from the pan