Keto Pork Chops in Mustard Cream Sauce
Keto Pork Chops
Totally unplanned episode. My dad went to the butcher to get some mutton kebabs for me and called me from there to tell me the pork chops looked great. So I said get some. He did. I said let me make a few for lunch and why not film it. So I did and they turned out great. Pork is one of the best things to eat on Keto since most of it has a high fat content. You can use ground pork to make my famous bacon bomb recipe.  Pork shoulder is great to make BBQ pulled pork with or a lovely Keto Vindaloo with. Either way, enough porking around. Enjoy the recipe.
Chicken, Fish and even Steak
This recipe is pretty flexible. The basic idea is to sear your seasoned meat in the pan, add some herb or regular butter and baste the meat with that. Then just deglaze the pan and add in everything else to create the sauce. It's more technique here than recipe. The recipe is just a guide for you to create the most incredible seared meats with a rich creamy Keto sauce to go along with it. You can replace mustard with HK's Keto Pesto (In fact try my Pesto chicken) or you could even use some hot sauce to spice it up. Go ahead, experiment and have fun cooking.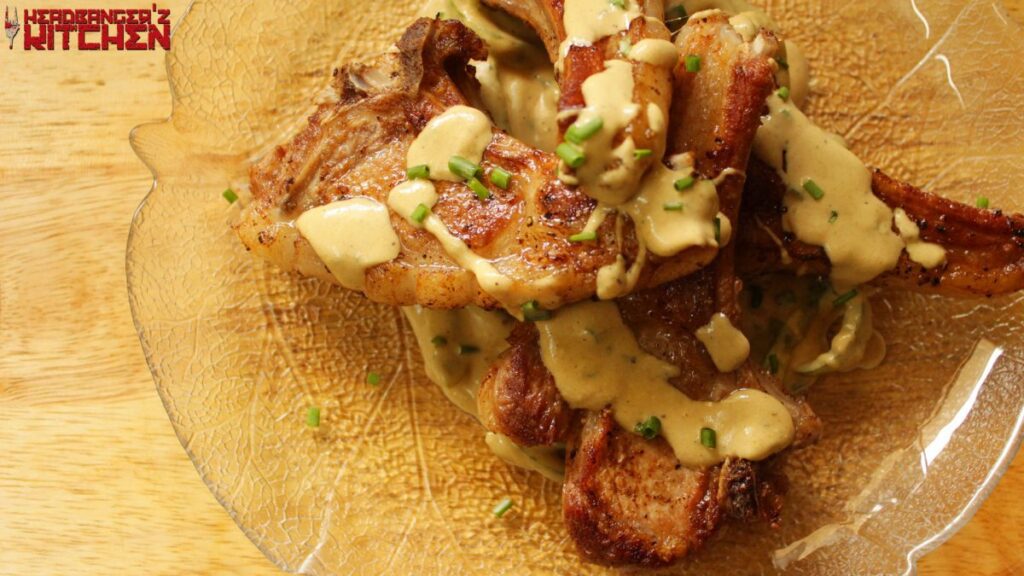 Nutrition Info (Per serving)
Calories: 423
Net Carbs: 1g
Carbs: 2g
Fat: 30g
Protein: 33g
Fiber: 1g
This recipe makes 4 servings.  Get this recipe on myfitnesspal.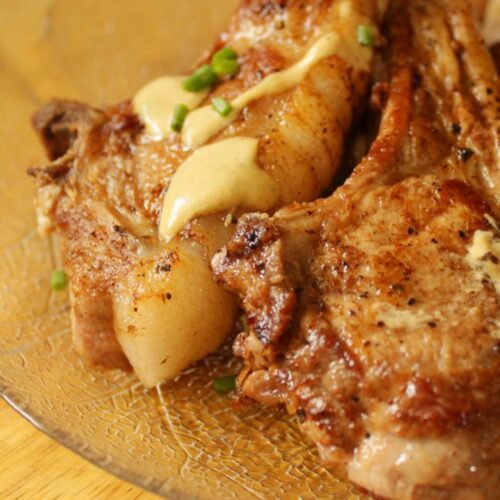 Pork Chops in Mustard Cream Sauce
Delicious pan seared pork chops in a creamy mustard sauce
Instructions
Score the outer side of the fat on each chop. Season generously with salt, pepper and cayenne pepper

Heat some olive oil in a pan and when smoking hot add in the pork chops and cook on 1 side for 2 minutes.

Then cook on the fat side for 2 minutes

Flip on the other side and add 1 Tbsp of the garlic and herb butter else use fresh garlic and herbs

Baste the pork in the melted butter and once cooked remove and set aside.

Drain excess oil from the pan and sautee the bell pepper

Deglaze with water

Add the mustard and stir well, also add the resting juices from the chops.

Add some cream and mix well, also add in the cheese and let it melt.

Sprinkle on the spring onion greens to finish.

Serve the pork chop doused in sauce.
Notes
If you don't like bell peppers you can skip them or you can use a trio of red, green and yellow. You can even just use an onion instead. It's pretty flexible.