The BEST Keto Chili (No Bean Chili)
Another Keto Chili
I love chili, Keto chili, regular chili, low fat chili, any chili. It's a comfort food, it's rich, warm and homely. I've done a Keto chili recipe where I used bacon, spinach and mushrooms to fill the void left by the beans. Since beans are not Keto friendly all my chili is bean free. I've also done a 5 ingredient chili con carne for those who want something super simple.  This recipe is in the middle of those two. It's not too simple, it's not to complex, it's just right.
So go ahead and make this recipe and let me know what you think. It's part of my Keto for Beginners meal plan which you can check out if you are looking for a free Keto meal plan.
My chili story
This recipe is pretty simple so I don't have any tips or tricks and since the ingredients are so simple, there isn't much to swap out. What I would like to tell you is my story. I didn't know anything about Mexican food or Tex Mex (yes chili isn't authentic Mexican) but anyway in 2011 a restaurant opened in my city, Sanhos. It was supposed to be proper Mexican/Tex Mex food. I mean our knowledge of Mexican cuisine in India would be nachos at best. Now you'll find some bastardized versions of enchiladas and quesadillas in restaurants. We still have no proper Mexican or even Tex Mex food (we have a burrito chain called New York Burrito that doesn't serve beef). Anyway I digress, it was in 2011 at Sanchos that my wife and I shared a bowl of chili with nachos. After that we decided to make it at home and that's how I fell in love with the dish.
On the off chance that you aren't Keto I actually did a 'regular' chili con carne in the initial days of the show. Check out that recipe here.

Nutrition Info (Per serving)
Calories: 293
Net Carbs: 7g
Carbs: 8g
Fat: 42
Protein: 22g
Fiber: 2g
This recipe makes 4 servings. Get this recipe on myfitnesspal. These macros do NOT include the sour cream and the avocado. You can add those manually based on the brand of sour cream and the weight of the avocado. To reduce the carbs in this dish you can reduce the onion and you can use fresh tomato instead of the puree I am using.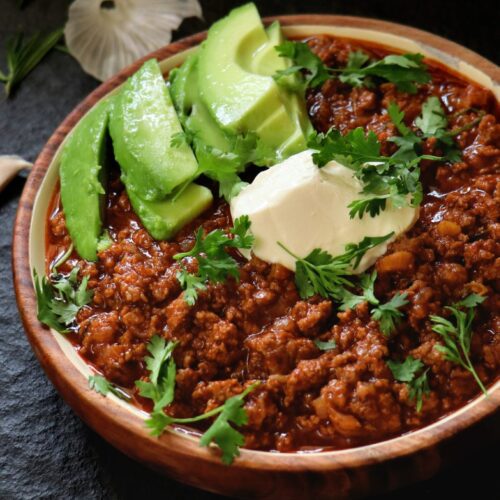 The BEST Keto Chili (No Bean Chili)
Ingredients
500

grams

Ground Beef

Try and get 80-20 ground beef

100

grams

Red onion

Sliced

10

grams

garlic

200

grams

Tomato Puree

You can also use fresh tomatoes or tomato paste and water

1

Tbsp

Avocado Oil

Order online

1

Beef Stock Cube

Or 250ml of beef stock

1/2

Tsp

Black Pepper

1/2

Tsp

Cumin

1/2

Tsp

Paprika

a few sprigs of rosemary

200

ml

Water

if you use beef stock instead of the cube you won't need this much

1/2

Avocado

This is the amount for a single serving of chilli

1

Tbsp

Sour Cream

This is the amount for a single serving of chilli

Coriander

for garnish

Salt to Taste

a few drops of lime juice
Instructions
Heat the avocado oil in the pan and add in the onions and cook on a medium-low heat for about 5-7 minutes till the onion has softened and is starting to get some colour. Add in the garlic and cook till golden brown.

Then add the ground beef and cook for 5 minutes constantly stirring and breaking up any lumps that form. You can then season it with the salt, pepper, paprika, cumin and also throw in the rosemary spring. You can also use any dried herbs you like instead like oregano or marjoram.

Cook the beef with the spices for about a minute and then add in the tomato puree, beef stock cube and water and give everything a good mix and cover and cook for 20-25 minutes. Even 5 minutes just open the lid, give everything a good mix and keep coking.

After 25 minutes the chilli on carne is ready. Slice your avocado and season with salt and the lime juice. Serve the avocado along with the chilli and top with 1 tbsp of sour cream per portion. Enjoy!