It's butter chicken without the chicken
Indian restaurant menus are normally divided into 'veg' and 'non veg' sections. While chicken makhanwala or butter chicken sits proudly as the star of the show, there is the close cousin, often neglected but equally delicious, paneer makhanwala. It's probably the staple dish that vegetarians order at 'Mughlai' or 'North Indian Restaurants' as it's a dish from the North of India. Since I randomly decided to do a meat free week of Keto (mainly to figure out if I am having too much protein) I decided now would be a good time to make this recipe.
So here is my Keto Paneer Makhanwala. Enjoy! And if you do eat meat, I've got a white butter chicken, a regular butter chicken, a bacon butter chicken and a cheat's butter chicken recipe for you.
Vegetarian Keto
I get many questions about vegetarian Keto and YES you can do Keto even if you are vegetarian and frankly speaking you can do it as a vegan as well. I've done vegetarian Keto and I made a vlog about it as well. I covered what I eat in a day as well as grocery shopping. I did the same and made a vegan Keto vlog.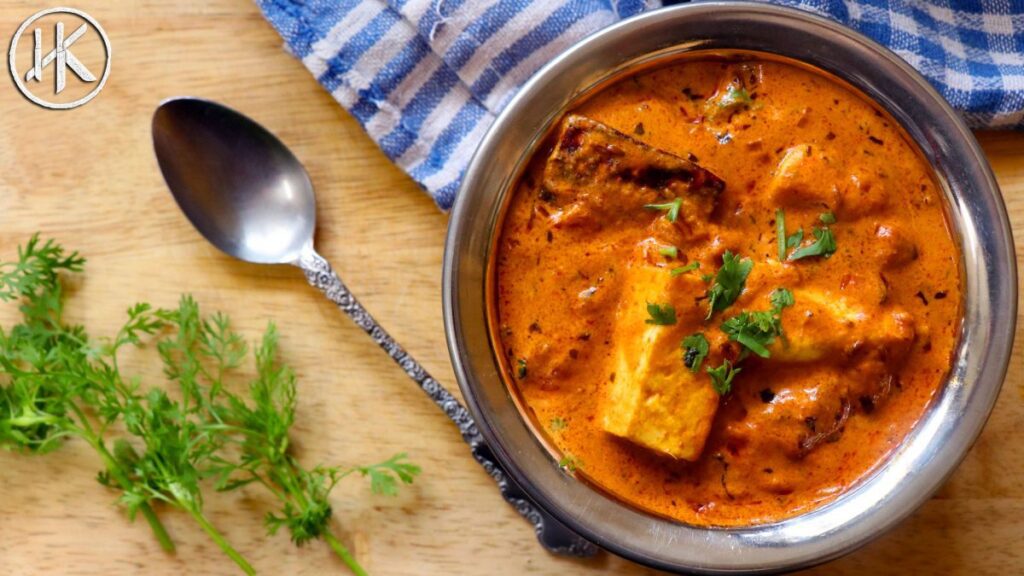 Nutrition Info (Per serving)
Calories: 293
Net Carbs: 4g
Carbs: 4g
Fat: 25g
Protein: 11g
Fiber: 0g
This recipe makes 4 servings. Get this recipe on myfitnesspal.
Keto Paneer Makhanwala
A fresh Indian cheese (paneer) cooked in a rich tomato gravy
Instructions
The first thing you want to do is melt the butter in the saucepan and add in the onions and cumin seeds and cook till the onions turn translucent and soften.

Then add in the spices, tumeric, chilli powder, garam masala and coriander powder along with the ginger garlic paste and cook for 2 minutes.

Then add in the tomato puree and water and mix well and allow to cook for 10 minutes

While the sauce is simmering cut the paneer into bite size pieces and pan fry till golden brown on all sides.

Once the sauce has reduced and the tartness of the puree cooked out then season it with salt and add in the Kasuri methi/dried fenugreek leaves.

Add in the cream and mix well. Finally add the paneer and garnish with coriander.

Enjoy!