Alfredo Chicken Wings (Keto Wings)
Easy Keto wings
I love making Keto wings. I've made all sorts of wings. I've done a butter chicken wing recipe which is super popular. The classic garlic and parmesan wings are loved by everyone and I've even done stuff like peanut butter chicken wings. So it's safe to say I love wings. I've also done a 5 ingredient chicken Alfredo which brings me to the inspiration of today's video. I saw a Youtuber Nick Digiovanni make an Alfredo Chicken wing on his channel and a light bulb went off.
I was like how did I not think of this earlier! So I set out to make a Keto version of these Alfredo chicken wings. Because Nick's recipe uses potato starch and are deep fried and are also brined in pickle juice which has plenty of sugar. Anyway enough jibber jabber let's get cooking.
Winging it!
When it comes to wings, especially Keto wings I prefer to bake them. I find it much more convenient than deep frying. In fact if I am being honest I hate deep frying stuff because there is a lot of oil involved and things splatter and it's just too much work. Also without having that cornstarch or potato starch coating it just doesn't cut it for me personally. I won't even attempt to coat a chicken wing in like coconut or almond flour. No thank you!
This time however I tried to dry brine my chicken wings, just like I did with my 100$ Turkey project. I think drying out the skin will definitely help crisp it up and also season the meat right to the bone. One thing I will recommend is just giving the wings a drizzle with oil and a good mix, that will help them crisp up even more.
As for the sauce, I used Emmental cheese because I couldn't get Parmsesan cheese. I would say this recipe works with pretty much any cheese so no worries if you cannot find Parmesan or it's too expensive.
Nutrition Info (Per serving)
Calories: 225
Net Carbs: 1g
Carbs: 1g
Fat: 17g
Protein: 16g
Fiber: 0g
This recipe makes 12 servings. 1 serving = 1 full wing. 1 full wing = drum + flat. Get this recipe on myfitnesspal.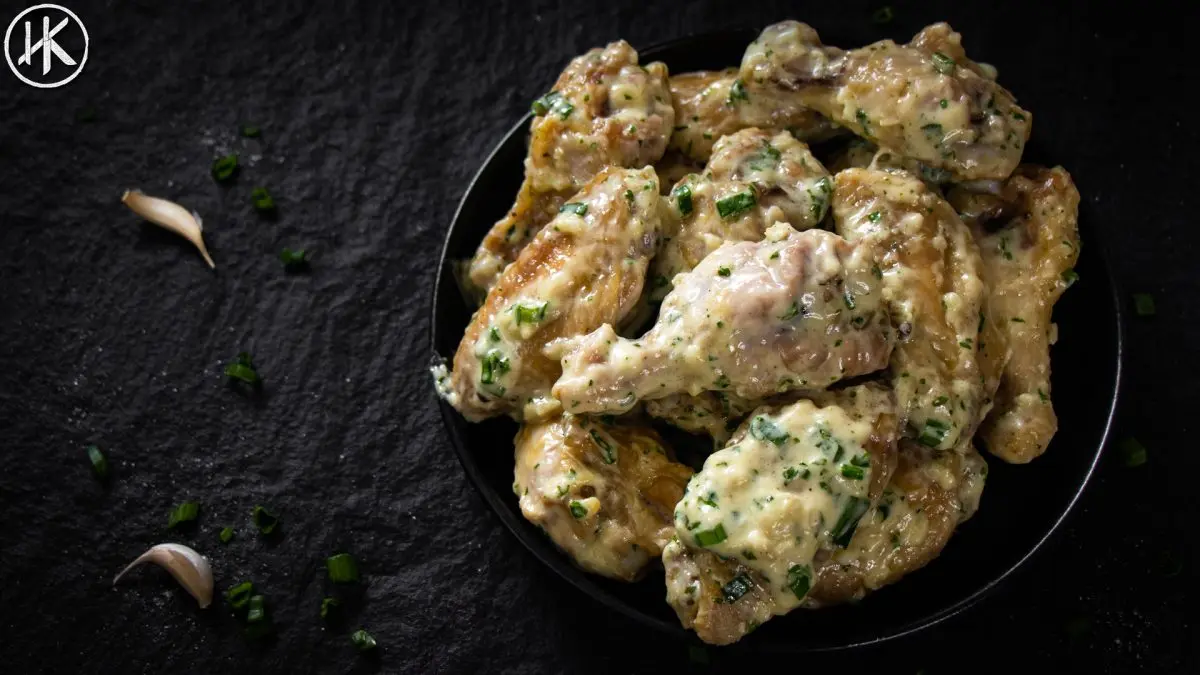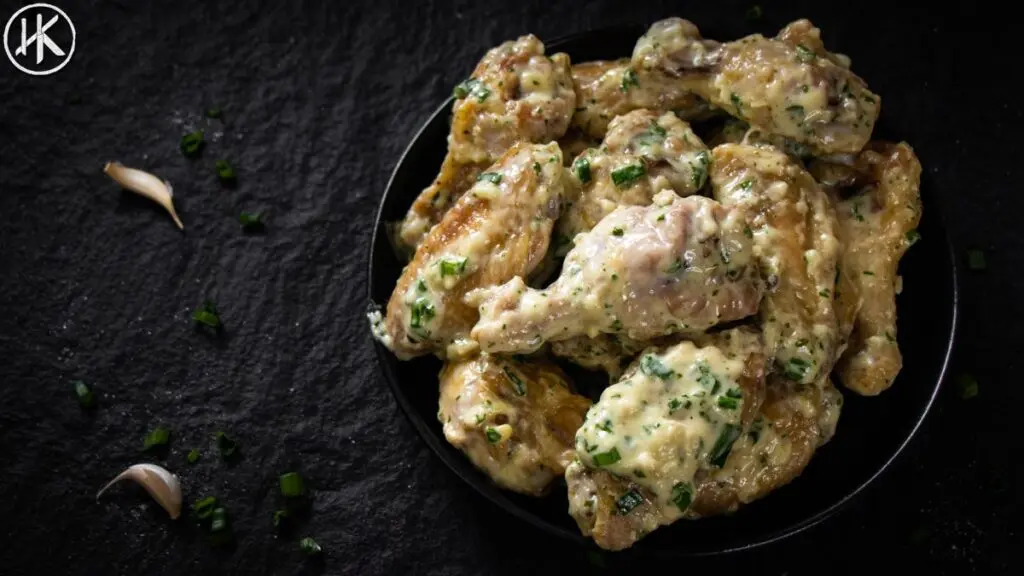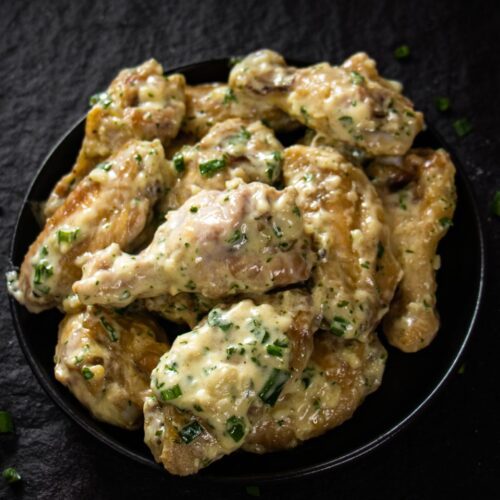 Alfredo Chicken Wings (Keto Wings)
The creamiest, cheesiest most garlicky chicken wings ever!
Ingredients
1

Kgs

Chicken Wings

This was 12 full chicken wings for me. 1 Full wing = flat + drum

100

ml

Heavy Whipping Cream

50

grams

Parmesan cheese

I used Emmental cheese since I couldn't get Parmesan

30

grams

Butter

10

grams

garlic

5

grams

Finely Chopped Parsley

5

grams

Chives

I used spring onion greens since I couldn't get chives

Salt & Pepper to taste
Instructions
Start by butchering the wings and separating the drum from the flat. Keep the wing tips aside for stocks and soups.

Season the wings generously with salt and lay them out on a plate or write rack and keep them overnight in the fridge to dry out. This will help the skin get crispier.

You can skip this overnight drying part but it certainly helps and also ensures a well seasoned wing.

Now place the wings in a baking tray on a wire rack and bake in a pre-heated oven at 220C/450F for 25-30 minutes till the wings are cooked and golden brown.

To make the sauce melt the butter in a pan and add in the garlic and sautee till the garlic is just starting to brown.

Then add in the cheese and heavy cream, lower the heat and give everything a good mix till you get a nice rich, thick and creamy sauce.

Finish with the fresh parsley and season with salt and pepper as desired.

Now add the wings into a bowl and pour the sauce over and give everything a good mix.

Then garnish with the spring onion greens/chives.

You can also pop them in the oven to bake a 2nd time for a crispy cheese chicken wing. But otherwise just dig in.