Keto Cheesy Pork Fried Rice
Keto fried rice with pork and a whole lot of cheesy goodness
If Asian style fried rice and Risotto had a baby, this would be it. If it was a Keto baby, it would be cauliflower instead of rice. That is precisely what this dish is. It is a melting pot of flavours and ingredients. I use the fried rice technique to cook it but give it that creamy taste that you would associate with a risotto. I mean who has ever eaten a fried rice with cream and cheese. In fact you will rarely see any dairy like milk, cream, cheese in Asian food. Anyway I find this to be the perfect dish to make a large batch of and eat it over a couple of days. Definitely a great dish for meal prep. Enjoy the recipe.
Make it vegetarian if you like or use a meat of choice
There is plenty of wriggle room in this recipe. You can swap out the pork for some ground chicken or beef, you can use seafood if you like or you can even use ham or bacon. If you are vegetarian just leave out the meat, you can throw in some paneer as a protein or maybe some assorted mushrooms for a meaty texture. Either way it's a great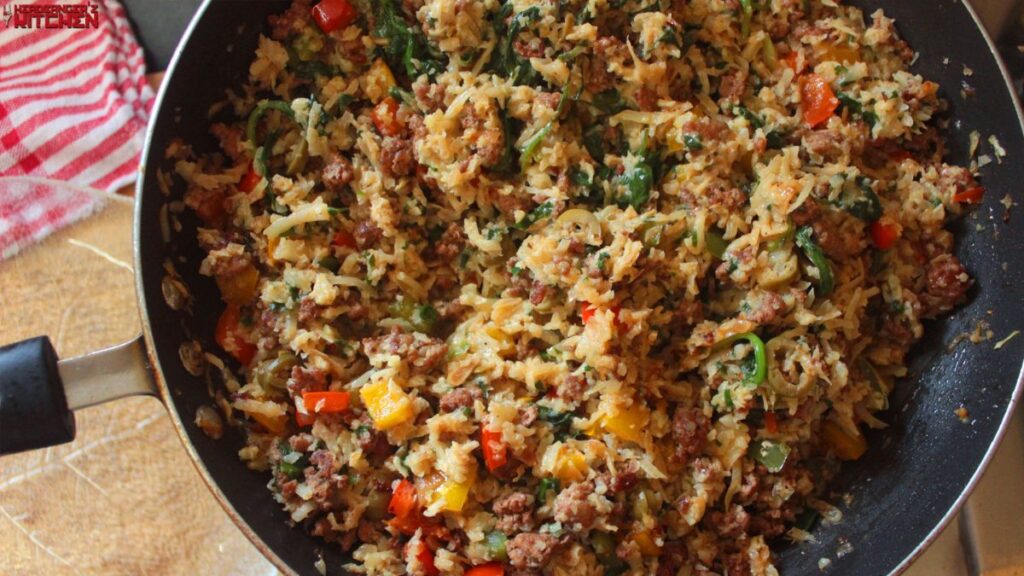 Nutrition Info (Per serving)
Calories: 274
Net Carbs: 6g
Carbs: 11g
Fat: 18g
Protein: 20g
Fiber: 5g
This recipe makes 4 serving. Get this recipe on myfitnesspal.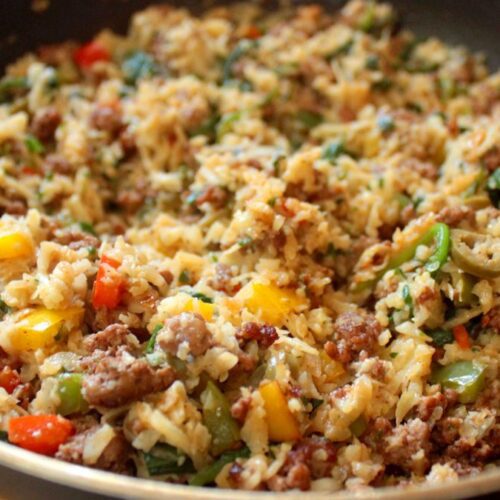 Keto Cheesy Pork Fried Rice (Cauliflower Rice)
The perfect, one pot Keto meal. Pork fried rice with vegetables with a creamy and cheesy finish.
Ingredients
500

grams

Cauliflower (Riced)

250

grams

Pork mince

1

Spring Onion

2

Cloves of Garlic

50

grams

Cheese

30

ml

Heavy Whipping Cream

(2 Tbsp)

100

grams

Chopped Peppers (Colour of Choice)

8-10

Chopped Olives

200

grams

Baby Spinach

1

tbsp

Butter

Try this one

1

tbsp

olive oil

I use this

Fresh Parsley

1

Tsp

Salt

1/2

Tsp

Pepper

1/2

Tsp

Paprika

I use this

1/4

Tsp

Cayenne Pepper

I recommend this

1

Tsp

Dried Oregano

I recommend this

1/2

Tsp

Red Chilli Flakes
Instructions
Rice the cauliflower and cook it in a heavy bottom saucepan with 1 tbsp of butter. Season it right at the end once it is cooked and tender.

Heat the olive oil in a large frying pan along with 1 tsp of butter

Add in the white of the spring onion and the pork mince and fry

Make sure you keep stirring and breaking the pork so it doesn't form big lumps.

Chop the garlic and add it to the pan

Season the pork with salt, pepper, paprika, cayenne pepper, dried oregano and chilli flakes.

Add in the bell peppers and spinach and sautee til the spinach wilts.

Add in the cooked cauliflower rice and give it all a good mix

Add in the cheese, heavy cream, parsley and spring onion green and give it another good mix

Finish it off with the chopped olives and a final good mix

Garnish with some fresh parmesan and parsley

Serve