Keto For Beginners – Free Keto Meal Plan – Week 4
Keto For Beginners
Welcome to Keto For Beginners. It's time for the keto meal plan for week 4 of your ketogenic diet.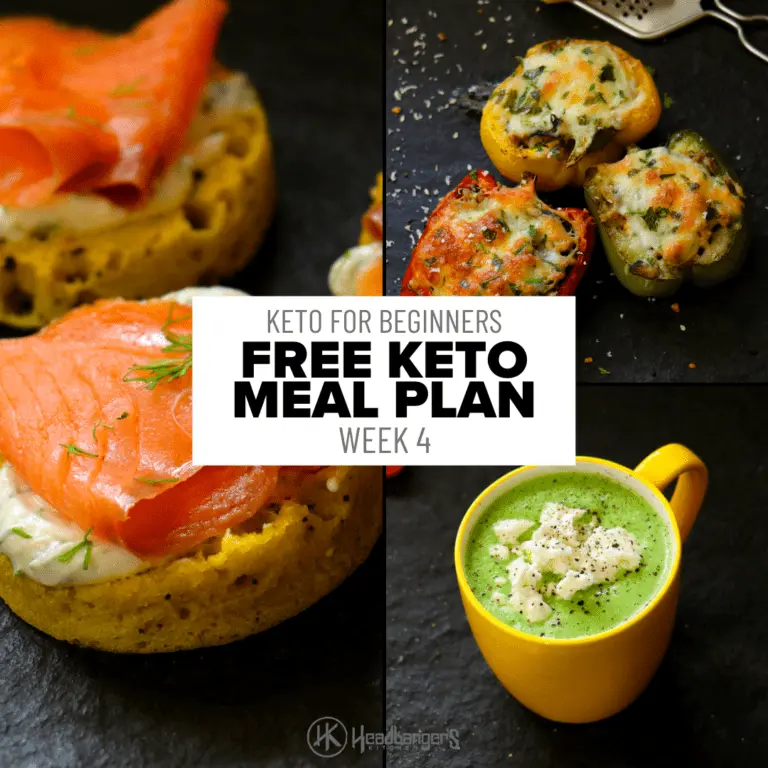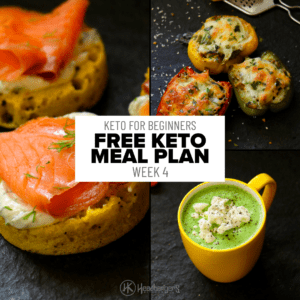 If you are just starting, please read and follow my Week 1 Meal Plan first, then move on to Week 2 Meal Plan followed by Week 3 Meal plan—and then come back to this one.
It's important to remember that I'm NOT a doctor, nutritionist or dietitian. I'm just a musician/Youtuber who has done keto personally so please do not take any of this as medical advice.
If you have pre-existing conditions please consult your doctor or a qualified professional before doing anything. This is simply a complete guide and resource for people who need it.
So, please treat this as a disclaimer before proceeding. Enjoy the video below and then carry on reading.
Keto For Beginners: Food Substitutes & Information
Below you will find the full menu with possible substitutes for the various ingredients These are easy keto recipes meant to help you on your keto journey.
If you are looking for a particular substitute you can leave a comment if you don't find it mentioned.
Eat Only When Hungry
Tracking macros is essential when it comes to any diet for weight loss. However, there is plenty of flexibility to manage weight loss on keto without doing this in the start.
There are many reasons for this which I won't get into. But it's important to still exercise restraint and portion control. So, make sure you don't just eat for the sake of eating.
Eat only when you feel hungry. You don't even need to finish an entire portion of food if you can't. In the event you eat, say a serving of something and still feel a wee bit hungry that's fine, give it 10 minutes or so.
The reason being it takes your stomach about that much time to let the brain know it's full and being a tad hungry is never a bad thing. Of course, don't starve yourself but you have to learn intuitive eating.
Track Your Progress
Hopefully you haven't just weighed yourself at the start of your journey but you also took measurements. I forgot to mention that I also take photographs.
The scale is just one way of measuring progress and often can be deceptive. On keto you might not lose weight but you might lose inches. This is why you measure yourself, take pictures and compare them week after week. Don't get into the habit of checking daily.
The easiest way is to just do it every Monday morning, same time, in your birthday suit, and be done with it. Also, watch my video called 'The Goal Weight Delusion'
Start Exercising
It doesn't matter what exercise you do but it's a good idea to just do something. As the song goes, 1-2-3-4 get your body on the floor. This is important for many reasons.
Even though you can lose weight without exercising—and I did that myself in the start—it's not the best practice.
Exercise has many health benefits and it's also vital to help keep your BMR up. You can choose from a variety of options for physical activity based on how fit you are currently. Whether it's going to the gym, running, cycling, dancing, drumming, or even just walking, it's all good. Just do something!
Keto For Beginners:
Keto For Beginners: The Menu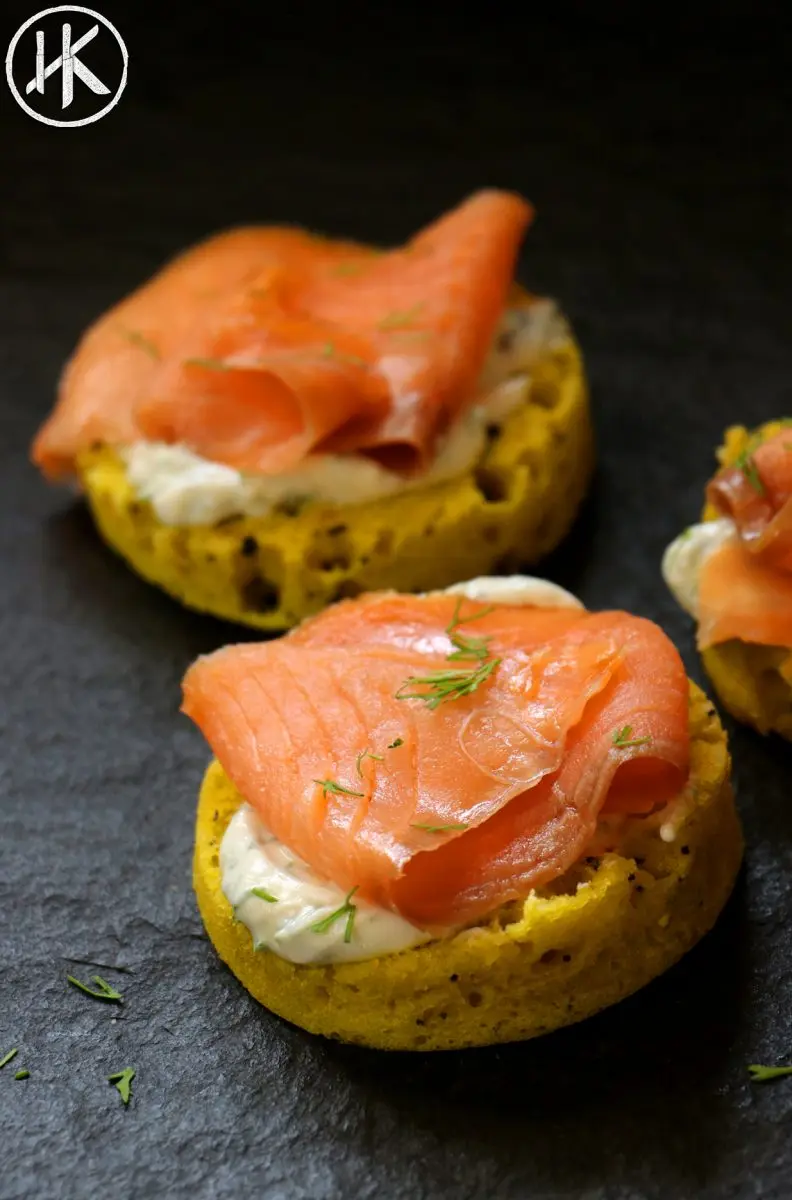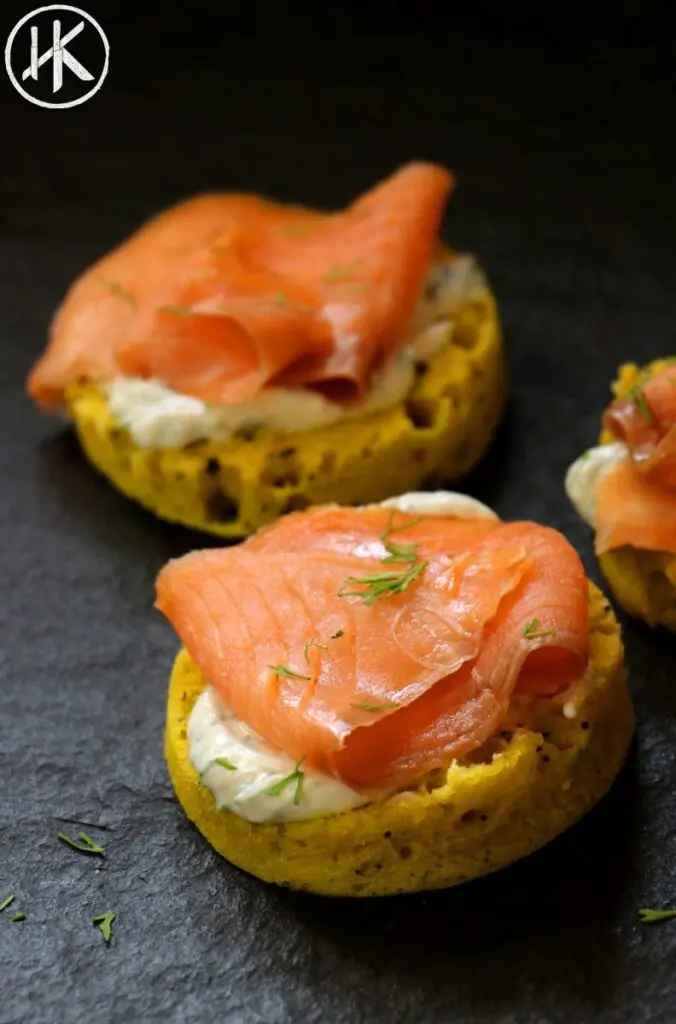 Keto Breakfast – Keto bread with cream cheese and smoked salmon. So I'm giving you the first taste of Keto bread in this meal plan and we use almond flour to make it.
Of course the first question will be if it can be done with coconut flour. The answer is yes it can but the recipe is different. So in case you are allergic to almonds or find that it's too expensive, you can use my coconut flour mug bread recipe instead.
Now the substitute for salmon would obviously be any cold cuts of your choice, maybe some freshly pan seared fish, tuna, ham, salami etc the choice is yours. If you are vegetarian then I personally go with some fresh buffalo mozzarella and my Keto pesto.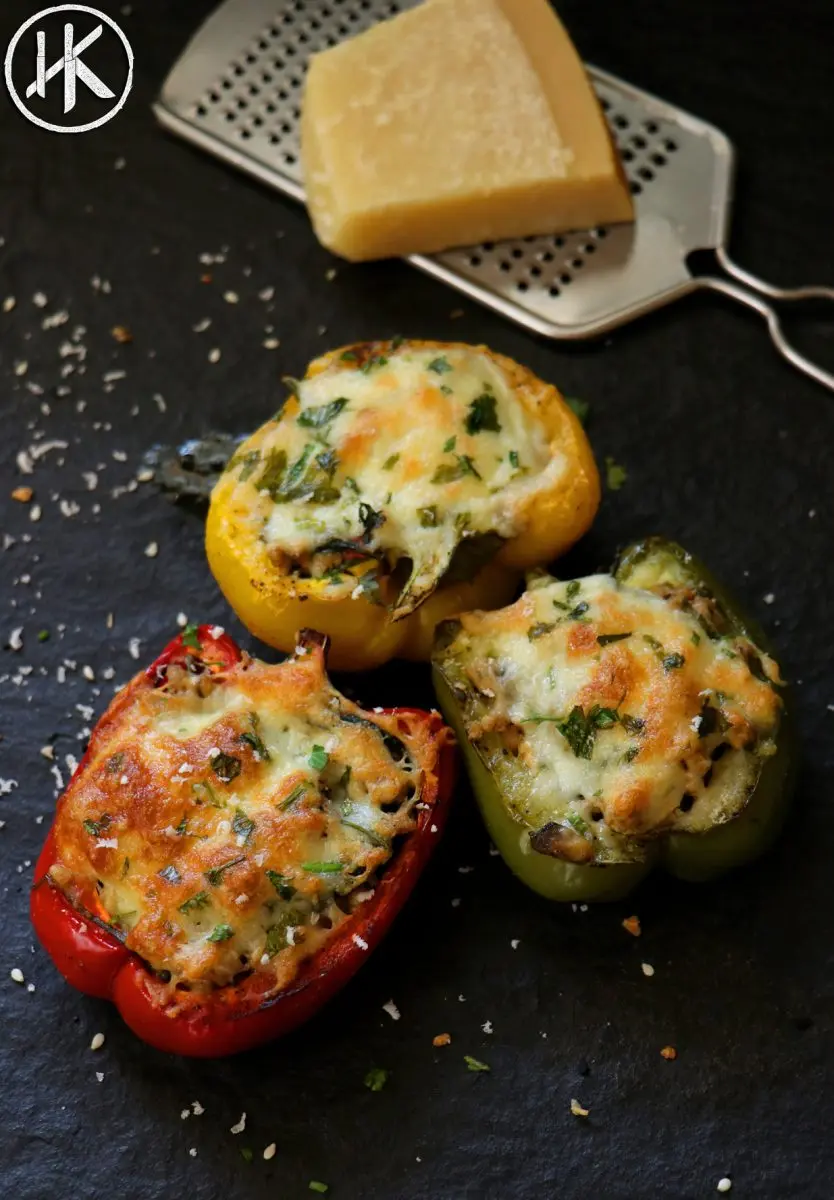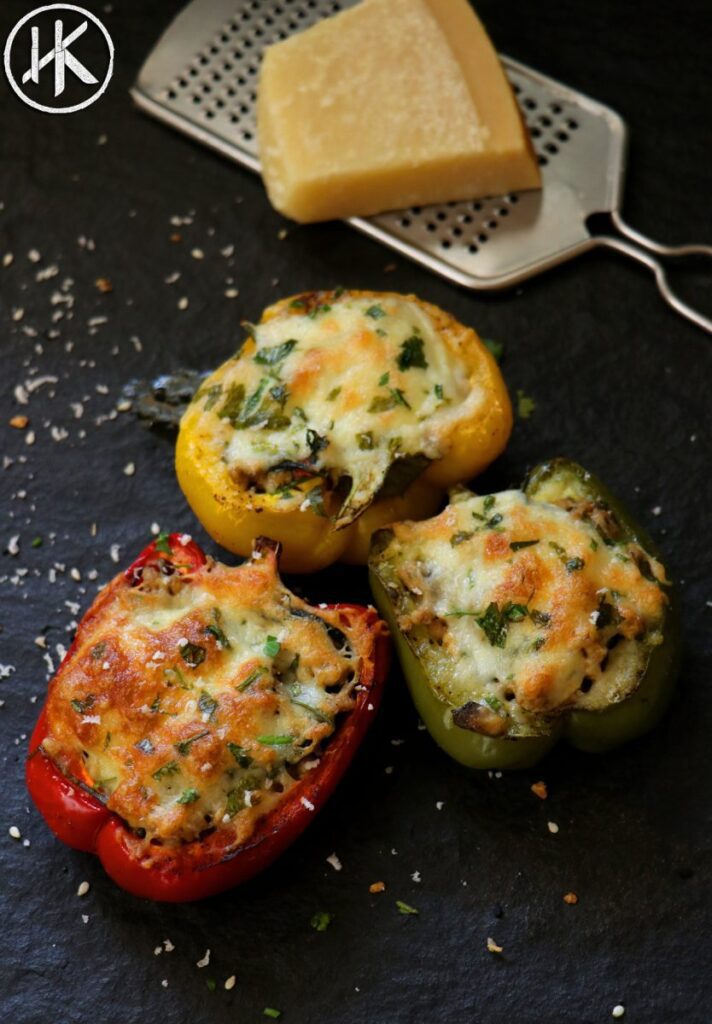 Keto Lunch – Bell peppers stuffed with meat, spinach and mushrooms. I've made this recipe with equal parts of ground chicken and pork. The alternatives are obviously ground beef or lamb or any other meat.
For vegetarians you can make this mixture with paneer and also with ricotta cheese. I would personally also add eggs in that case. Just mix the raw eggs with the spinach, mushroom and cheese mixture and bake it.
For the seasoning I used Everything Bagel but you can just use salt, pepper, garlic powder, onion powder and maybe some sesame seeds as a replacement.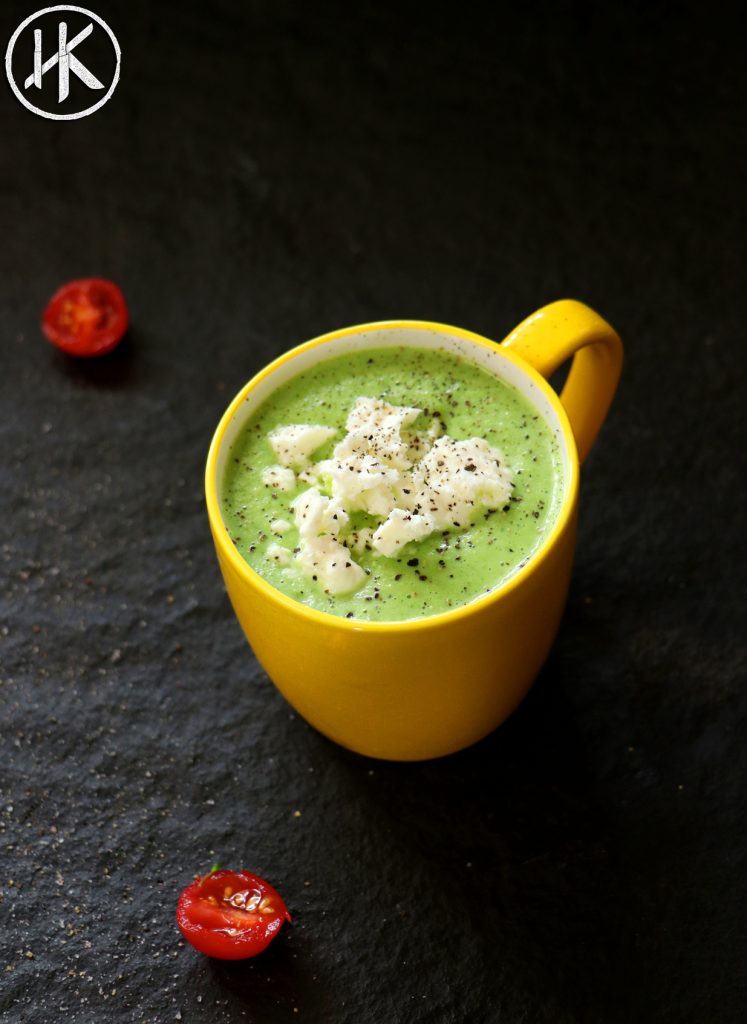 Keto Snack – Creamy broccoli soup. This is pretty simple and easy to do. Now if you don't like broccoli you can just make any one of my other soup recipes as a replacement.
So my spinach soup, mushroom soup, or the creamy cauliflower soup are all options. I used feta cheese to top the soup but you could use any cheese you like. In case you want to skip the cheese, you can throw on some pine nuts or walnuts on top.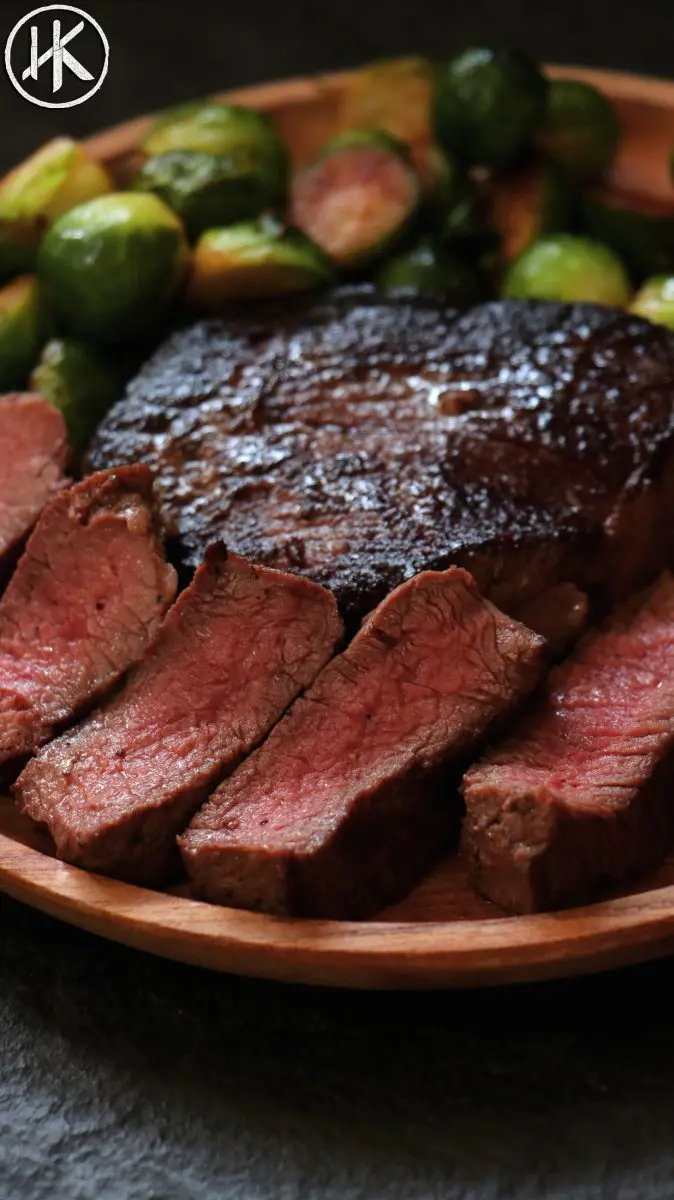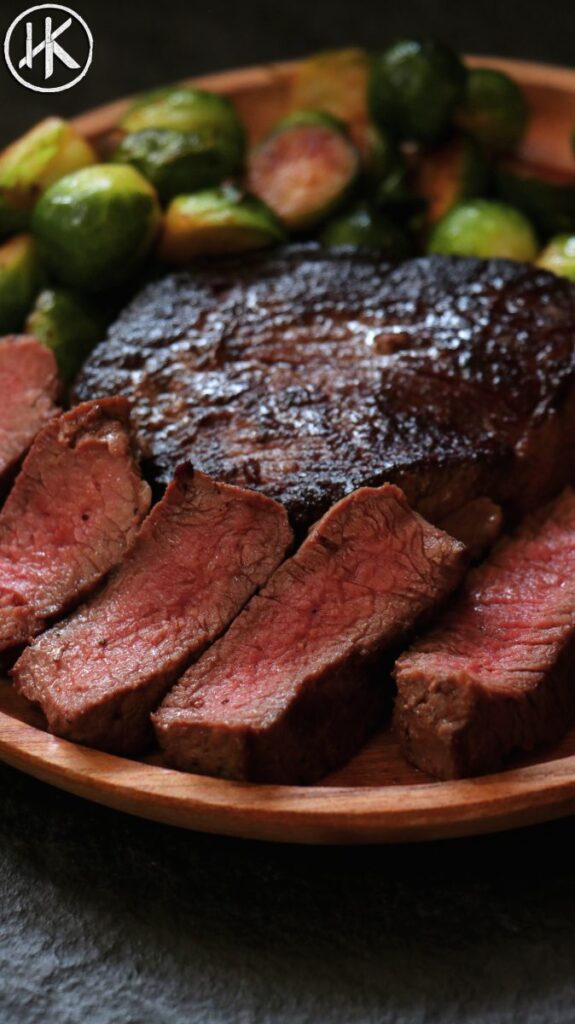 Keto Dinner – Steak and brussel sprouts. The star of the show is the steak. You can use rib-eye, sirloin, flank, t-bone etc. I mean, any will do.
If steak is not your thing you can also do this with pork chops, chicken thighs, or any filet of fish. Vegetarians use paneer as your protein or tofu is acceptable too. What you can also do is add an additional pat of butter on top of your meal.
Keto For Beginners – Additional Info:
Drink Water
Make sure you stay hydrated. Drink at least 2 liters of water during the day as your body doesn't retain water on Keto. This might also lead to a very quick weight loss during the first week.
Don't get excited—it's probably just water weight. But keep a bottle with you at all times and keep sipping.
Salt Your Food
Given that your body isn't retaining water you will also be short on your electrolytes, that's sodium, potassium and magnesium. You can always take a supplement for these but you still want to be generous with the salt on your food.
Try to get some good quality salt. Sea salt, pink salt, etc. are all good. You can also get some low sodium salt which is a great source of potassium.
Prepare For The Keto Flu
Don't panic. It's nothing serious. You might just feel 'bleh' for a couple of days as your body adapts to Keto. This is normal. After all, this is new for your body and also, whenever you try to lose weight it does often result in us not feeling optimal.
A great way you can help remedy this issue is to take some supplements for it for your electrolytes. As I mentioned above, or have enough salt in your food. Both the low sodium salt and regular salt. Sometimes you can drink a glass of water with a squeeze of lemon juice and salt.
This stuff helps. However,  after a day or two of this you should be fine as your body slowly adapts to your new diet. Keto flu is not long term. Remember, good things come to those who wait.
Shopping List
Here are common and helpful groceries you should be able to get at your local grocery store. These staples should be super helpful if you're on a standard keto diet and looking to create a simple keto meal plan.
Just edit the quantities based on your appetite. If you have leftover food you can always freeze it for up to a full month. So this is more just a list, quantities will vary based on how much you eat.
Also, double check if you have any of these things left over from last week's meal prep before buying fresh stuff.
Almond Flour
Baking Powder
Everything Bagel Seasoning
Avocado Oil
Butter
Egg
Capers
Dill
Smoked Salmon
Cream Cheese
Ground Pork
Ground Chicken
Mushrooms
Baby Spinach
Chilli Flakes
Paprika
Heavy Cream
Parsley
Cheddar Cheese
Mozzarella Cheese
Salt
Pepper
Sour Cream (optional)
Bell Peppers
Olives
Broccoli
Feta Cheese
Steak
Brussel Sprouts
Rosemary
Garlic
That should cover everything you might need for your grocery list. Adjust the quantities based on how much you are going to eat. For example, if you eat two eggs a day then that's 14 eggs you need in total.
If you eat say three slices of bacon a day and a packet has 12 slices then buy two packets. You get the idea. And just a reminder for my Indian viewers, check my Shopping guide for Indians for suggested brands.

Keto For Beginners: Cooking for 7 days!
The breakfast recipe is a single serving and you can whip it up in no time. You can, of course, multiply the recipes and get your cooking done well in advance. The lunch recipe makes five servings.
Dinner is two servings and the snack is four servings. My best recommendation is to get your cooking done in one day for the entire week. You can easily reheat these in the microwave.
Anyway, I leave it up to you. If you have any questions please feel free to leave a comment and I'll get back to you as soon as possible. Lastly, enjoy this easy keto meal plan.
And if you're seeking more easy recipes for your keto meal planning, good news, I have a ton more for you. Check out the other delicious recipes listed on my site!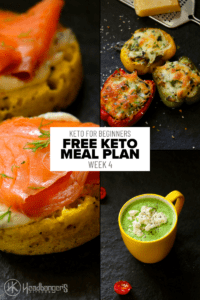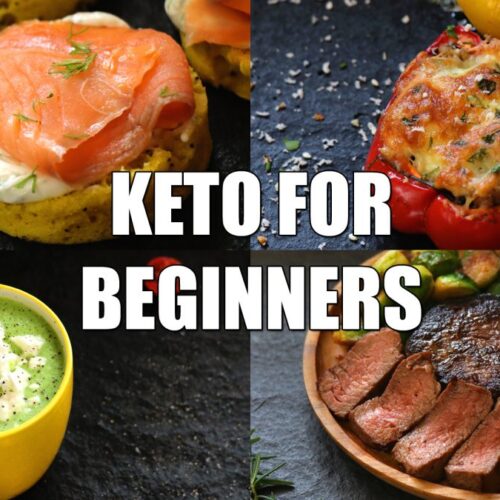 Keto For Beginners - Free Keto Meal Plan - Week 4
Keto meal plan for week 4
Ingredients
Breakfast - Keto bread with salmon and cream cheese.
Lunch - Bell Peppers stuffed with meat, mushrooms & spinach
250

grams

Ground Pork

250

grams

Ground Chicken

100

grams

Mushrooms

100

grams

Spinach

1.5

Tbsp

Everything Bagel Seasoning

I use this

1/2

Tsp

Chilli Flakes

1

Tsp

Paprika

2

Tsp

Fresh Parsley

50

ml

Heavy Cream

50

grams

Cheddar Cheese

50

grams

Shredded Mozzarella Cheese

1

Tbsp

Sour Cream

Optional

30

grams

Butter

I recommend this

5

Bell Peppers

you can use any colour that you like.

2

Tsp

Avocado Oil

Salt & Pepper to taste

50

grams

Olives
Snack - Creamy Broccoli Soup
500

grams

broccoli

30

grams

Butter

50

ml

Heavy Cream

30

grams

Feta Cheese

Salt & Pepper to taste

Water to boil the broccoli
Dinner - Beef & Brussel Sprouts
500

grams

Beef Steak

This should be about 2 large steaks of about 250g raw weight.

250

grams

Brussel Sprouts

1

Tbsp

Avocado Oil

1

Tbsp

Butter

1

sprig

Rosemary

10

grams

garlic

salt and pepper to taste
Instructions
Breakfast
In a large mixing bowl whisk together the almond flour, baking powder and everything bagel seasoning. Then add in the avocado oil and egg and whisk well. Grease the inside of a ramekin or mug with butter and pour in the batter. Microwave for 90 seconds or bake in the oven at 190C for 10-12 minutes or the toothpick comes out clean. Once the bread has cooled, remove from the ramekin and slice. You can either eat it as it is, toast it in the toaster or on a skillet.

For the cream cheese mixture let the cheese come to room temperature and mix with the capers and the dill. You can also use olives instead of capers and parsley instead of dill. Now this makes about 7 servings with each serving being about 15 grams. You want to put 1 serving on each slice of toast.

So spread the cream cheese on your Keto bread, top with a slice of salmon on each and finish with some fresh dill. Enjoy your breakfast. This is a single serving recipe but you will have about 4 servings of cream cheese left which you can store in the fridge and use later.
Lunch
Start by slicing the bell peppers in half vertically and removing the seeds and wriggly bits from inside. Alternatively you can stand the pepper up, cut around the top part and pop out the seeds and stems.

Place the peppers in a baking tray and drizzle the 2 tsp of avocado oil over, you can also use olive oil or you can brush them with butter. In fact you can brush the oil on as well. You want to make sure the open side of the peppers is facing up when doing this. Season well with salt and pepper and bake in the oven at 190C for 10-15 minutes till they start to get tender. In the even you don't have an oven you can cook the peppers on a dry frying pan, on a low heat, covered with a lid, for 10 minutes.

Once the peppers are done flip them over to remove any water that collects in them and allow them to cool.

To make the stuffing heat the butter in a pan and once melted add in your meat and sautee. You want to keep working the meat and breaking it up so no lumps form. Season the meat with the Everything Bagel seasoning and also the chilli flakes and paprika and continue cooking.

Once the meat turns sort of gray and starts to get some colour add in the mushrooms and spinach and mix well. You can also cover it with a lid for 2-3 minutes to allow the spinach to wilt. Both mushrooms and spinach tend to release water so cook that water out and then add in the cheese, heavy cream, sour cream, sliced olives and parsley.

Give everything a good mix and cook the meat till all the liquid in the pan dries up. Then flip the peppers back over and stuff it with the meat mixture, top with cheese, sprinkle some fresh parsley and place in the oven at 200C for about 10 more minutes till the cheese is nicely brown and golden. If you don't have an oven, put the peppers in a dry pan on a low heat and cover and cook with the lid on for 7 minutes. Halfway through make sure to open it up and throw in about a tbsp of water and cover it. This will create some steam that will help melt the cheese.

Anyway garnish with some fresh parsley and serve.
Snack
Separate your broccoli florets from the stem and give them a good wash. You can also make this recipe with frozen broccoli. The stem can be used as 'fake potatoes' in a number of dishes. Alternatively you can use boil it, blend it and use it to thicken sauces.

Get a large pot of water on the stove and season it with salt and bring it to a boil. You want to make it salty like sea water. Once it's boiling add in your broccoli and cook for about 4-5 minutes till the broccoli is nice and tender. To check run your knife through a floret and it should cut through like butter.

Add the boiled broccoli into your blender along with the butter (which should melt from the heat of the broccoli) along with the heavy cream. You also want to add about 200ml or a cup of the water in which you boiled the broccoli.

Then give it all a good blitz, taste for seasoning and add salt and pepper as desired. If you feel the soup is too thick then add some more of the water. If it's too salty then just add some plain water instead. Then to check the portion size you want to pour out the soup into a large bowl and weigh it and divide by 4. Since this recipe makes 4 servings.

Serve your soul in a mug, crumble your feta cheese on top and finish with some freshly cracked black pepper. Enjoy!
Dinner
Remove the steaks from the fridge and allow them to come to room temperature. Then season with salt and pepper on both sides and let it sit for 15 minutes.

Prepare your brussel sprouts by cutting the bottom stem off and then slicing down the middle. Also remove any tough leaves if they are there. You want to wash them thoroughly before cooking.

Bring some salted water to the boil and add in the brussel sprouts and boil for 3-5 minutes. If you want them to have a bit of bite then 3, if you want them softer then 5 minutes. Once done, remove with a slotted spoon and set aside.

Now get your cast iron skillet on the stove to cook the steaks and heat up the avocado oil. Once it's smoking hot place the steaks in the pan and allow them to cook for about 3-4 minutes on 1 side before flipping them over. Immediately add the butter, garlic and rosemary into the pan and then baste the steaks with the butter till they cook on the 2nd side. This should take about 3 minutes.

Remove the steaks from the pan and set them on a plate to rest. In the same pan add in the brussel sprouts and cook them. If there are any resting juices in the plate from the steak pour those in the pan as well. Once the brussel sprouts have some nice colour on them remove from the pan.

Slice your steak and serve it with the brussel sprouts. This recipe makes 2 servings. So 1 steak with half the brussel sprouts is your meal. Just remember the 250g steak is the RAW weight of the steak, it will weigh less once cooked.