Keto For Beginners – Free Keto Meal Plan – Week 3
Welcome to Keto For Beginners – Week 3
Welcome to Keto for beginners. It's time for the Keto meal plan  for week 3 of your Keto diet.
If you are just starting please read and follow my Week 1 Meal Plan first, then move on to Week 2 Meal Plan and then come back to this one.
It's important to remember that I'm NOT a doctor, nutritionist or dietitian. I'm just a musician/Youtuber who has done Keto so please do not take any of this as medical advise. If you have pre-existing conditions please consult your doctor or a qualified professional before doing anything. This is simply a resource for people who need it. So please treat this as a disclaimer before proceeding.  Enjoy the video below and then carry on reading.
Food Substitutes & Information
Below you will find the full menu with possible substitutes for the various ingredients. If you are looking for a particular substitute you can leave a comment if you don't find it mentioned.
The Menu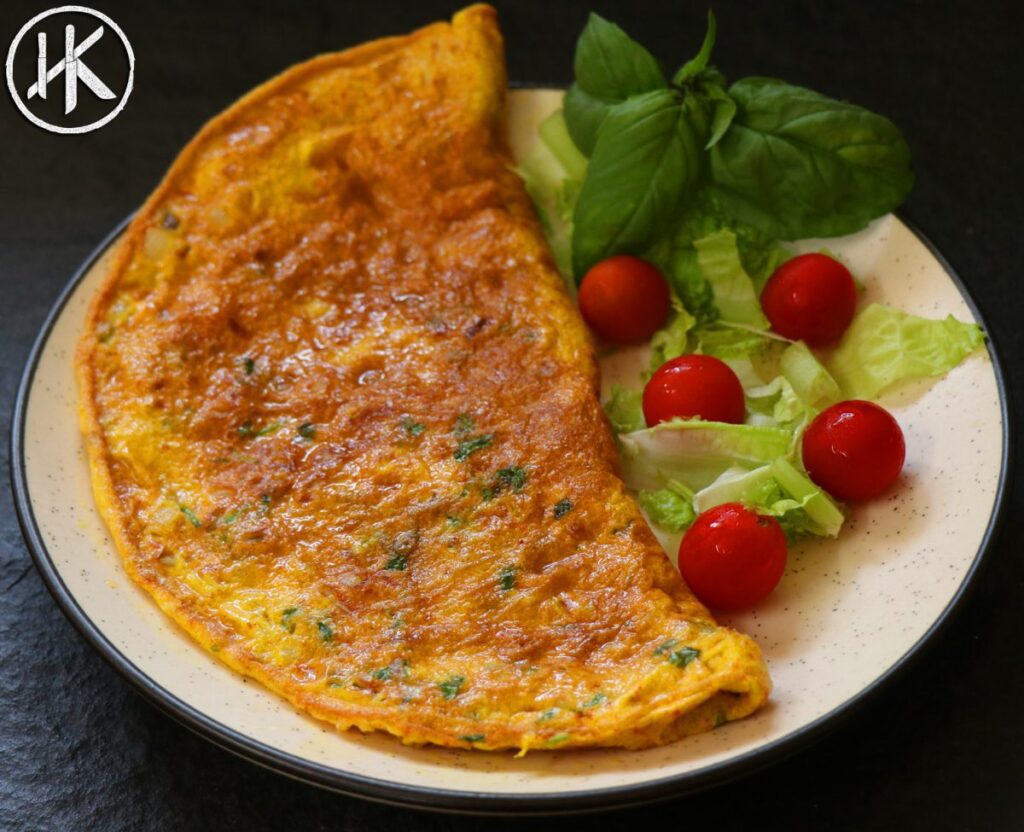 Breakfast – The masala omelet. So you can eat some salad on the side of the omelet actually if you like. Some lettuce, tomato, cumber. I personally don't have issues with carbs from vegetables and I think they are ok. In terms of substitutes here there is nothing. You can omit ingredients if you don't like something. So perhaps you don't like coriander, skip it. You don't have tumeric at home, leave that out. You can also turn this into a scrambled egg instead of an omelet. In terms of cooking fat if you don't have ghee, avocado oil, bacon fat, butter etc are all fine. As for the cheese, use any that you like.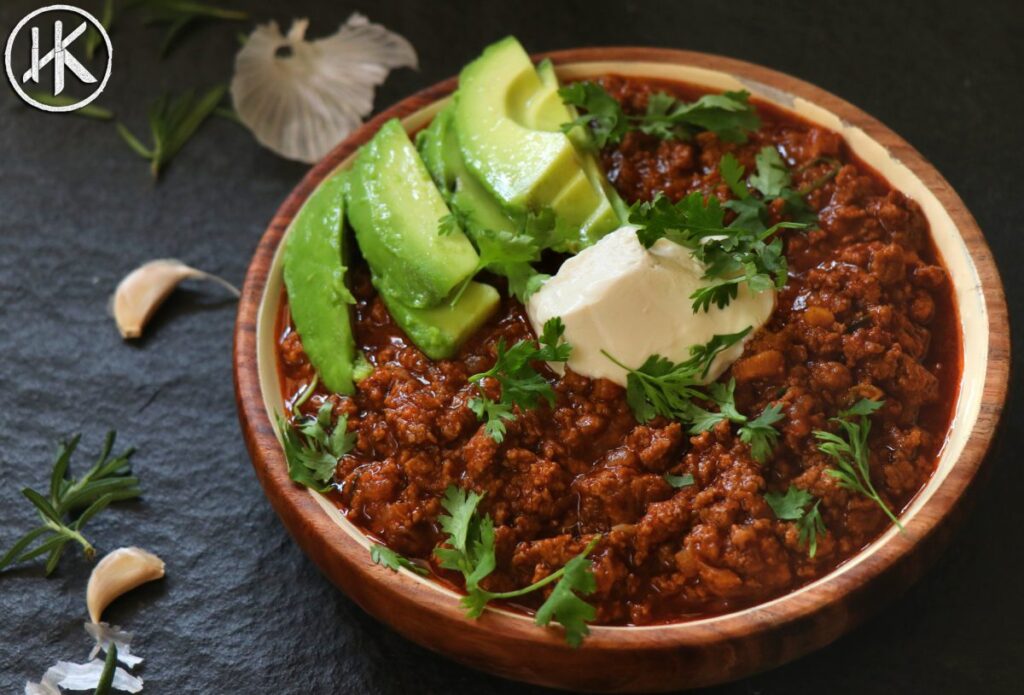 Lunch – HK's Chilli con carne served with avocado and sour cream. The most obvious substitute here is the meat. So if you don't have or like beef you can make this with lamb or chicken or pork. Basically any ground meat works. If you are vegetarian I would recommend you actually make my palak paneer instead and eat that. If you don't like avocado you can swap that out for a side of creamed spinach. So a bag of spinach cooked with 1 tbsp butter and 1 tbsp heavy cream, salt and pepper. That's a good replacement.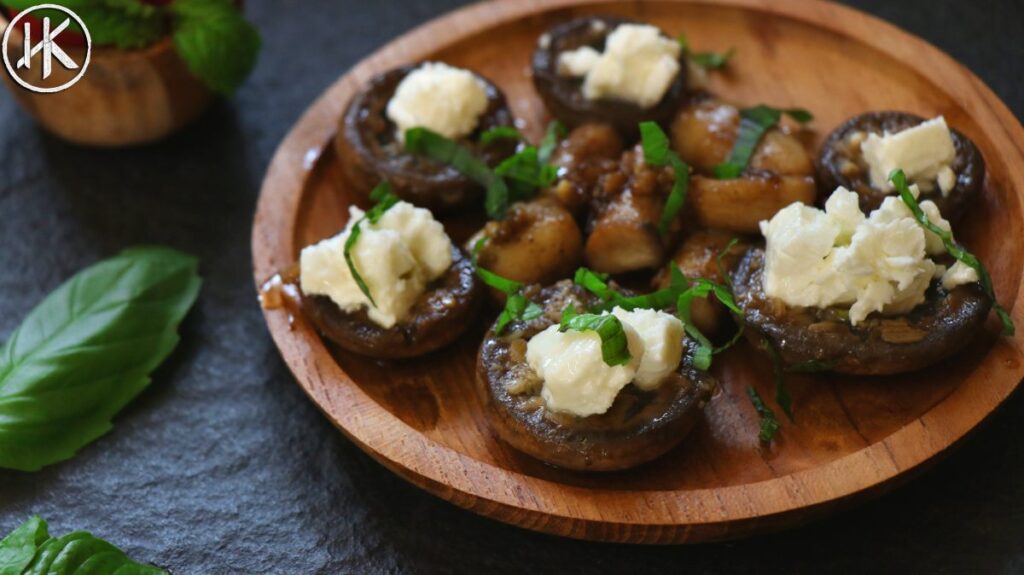 Snack – Sauteed garlic butter mushrooms stuffed with feta cheese. Once again you can use any cheese you like. It's the same with the cooking fat. If you don't like mushrooms you can repeat one of the snacks from week 1 or week 2. In terms of herbs you can use parsley instead. You can also skip the garlic and use garlic powder if you like.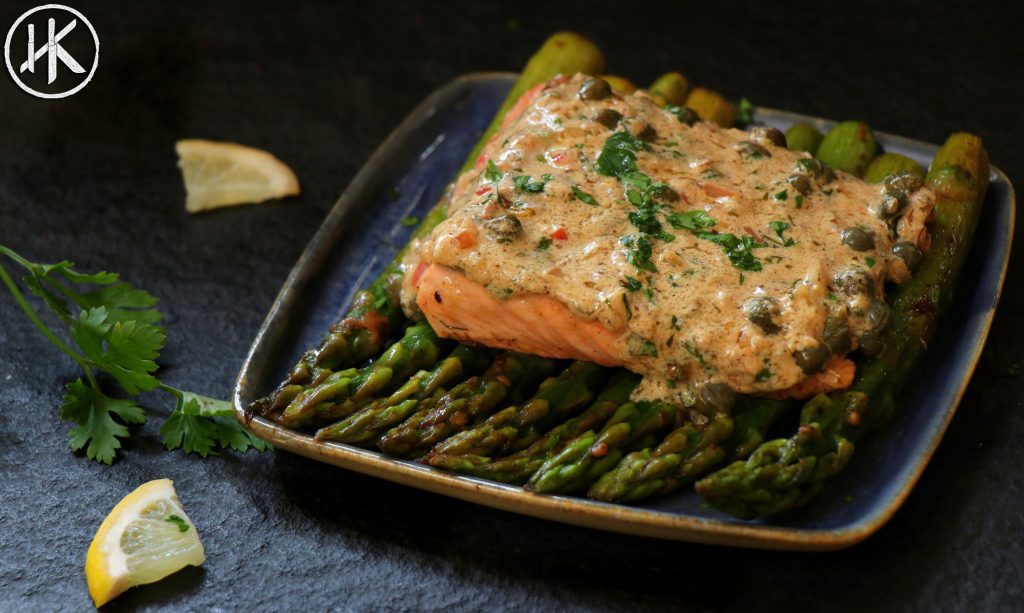 Dinner – Salmon & Asparagus in a creamy lemon sauce. I would definitely recommend Salmon with the skin on so you can get that nice crispy skin, however you can use skinless fillets like I did. You can pretty much use any fish you like, you could also make this recipe with prawns or squid. If you don't like seafood then you can do this with chicken as well. The replacement for asparagus is green beans or broccoli. The idea is more about having a well balanced meal with some meat, veggies and a nice fatty sauce.
Additional Info
Drink Water
Make sure you stay hydrated. Drink at least 2 liters of water during the day as your body doesn't retain water on Keto. This might also lead to a very quick weight loss during the first week. Don't get excited it's probably just water weight. But keep a bottle with you at all times and keep sipping.
Salt your food
Given that you're body isn't retaining water you will also be short on your electrolytes, that's sodium, potassium and magnesium. You can always take a supplement for these but you still want to be generous with the salt on your food. Try to get some good quality salt. Sea salt, pink salt, etc are all good. You can also get some low sodium salt which is a great source of potassium.
Prepare for the Keto flu
Don't panic. It's nothing serious. You might just feel 'bleh' for a couple of days as your body adapts to Keto. This is normal. After all this is new for your body and also whenever you try to lose weight it does often result in us not feeling optimal. What you can do for this is just take some supplements for it for your electrolytes as I mentioned above or have enough salt in your food. Both the low sodium salt and regular salt. Sometimes you can drink a glass of water with a squeeze of lemon juice and salt. This stuff helps. However after a day or 2 of this you should be fine as your body slowly adapts to your new diet.
So that's all folks. If you have any questions please feel free to leave a comment and I'll get back to you as soon as possible.
Shopping List
Just edit the quantities based on your appetite. If you have left over food you can always freeze it for up to a full month. So this is more just a list, quantities will vary based on how much you eat. Also double check if you have any of these things left over from last weeks meal prep before buying fresh stuff.
Eggs
Red Onion
Coriander
Tumeric
Kashmiri Red Chilli Powder (or any chilli powder)
Salt (sea salt, pink salt, table salt whichever one you want)
Black Pepper
Heavy Whipping Cream
Cheese (get any of your choice, cheddar works well)
Ghee
Avocado Oil
Garlic
Ground Beef
Tomato Puree (or tomato paste or even fresh tomatoes)
Beef stock cube or beef stock (bone broth is also fine)
Cumin
Paprika
Rosemary
Avocado
Sour Cream
Lime
Mushrooms
Feta Cheese (can also get goat's cheese or anything you like)
Basil
Butter
Salmon
Capers
Lemon
Parsley
Asparagus
That should cover everything. Adjust the quantities based on how much you are going to eat. For example if you eat 2 eggs a day then that's 14 eggs you need in total. If you eat say 3 slices of bacon a day and a packet has 12 slices then buy 2 packets. You get the idea. And just a reminder for my Indian viewers to check my Shopping guide for Indians for suggested brands.
Cooking for 7 days!
The breakfast and the snack recipes are single servings and honestly are things you can whip up in no time. You can of course multiply the recipes and get your cooking done well in advance. The lunch recipe makes 4 servings. Dinner is a single serving of fish and sauce which you can double or tripple and make a big batch of. The asparagus is about 2 servings. My best recommendation is that get your cooking done on 1 day for the entire week. At least for the lunch and dinner. You can easily reheat the, in the microwave. Anyway I leave it up to you. Enjoy the meal plan.
Keto For Beginners - Free Keto Meal Plan
A full day's meal plan
Ingredients
Breakfast - Masala Omelet
3

Eggs

20

grams

Cheese

20

grams

Red onion

1

Tbsp

Heavy Whipping Cream

1/2

Tsp

Tumeric

1/2

Tsp

Kashmiri Red Chilli Powder

1

Tbsp

Ghee

Salt & Pepper to taste

Coriander
Lunch - Chilli Con Carne
500

grams

Beef Mince

Try and get 80-20 ground beef

100

grams

Red onion

Sliced

10

grams

garlic

200

ml

Tomato Puree

You can also use fresh tomatoes or tomato paste and water

1

Tbsp

Avocado Oil

1

Beef Stock Cube

Or 250ml of beef stock

1/2

Tsp

Black Pepper

1/2

Tsp

Cumin

1/2

Tsp

Paprika

a few sprigs of rosemary

200

ml

Water

1/2

Avocado

1

Tbsp

Sour Cream

This is the amount for a single serving of chilli

Coriander for Garnish

a few drops of lime juice

Salt to Taste
Snack - Sauteed Mushrooms stuffed with Feta
100

grams

White Mushrooms

5

grams

garlic

1

Tbsp

Butter

30

grams

Feta Cheese

Fresh Basil for garnish

Salt & Pepper to taste
Dinner - Salmon with Asparagus in a creamy lemon sauce
150

grams

Salmon Filet

400

grams

Asparagus

5

grams

Capers

2

Tbsp

Heavy Cream/Double Cream

2

Tbsp

Water

10

grams

Red onion

diced

10

grams

garlic

3

Tbsp

Butter

1/2

Tsp

Lemon Zest

1

Tbsp

Lemon Juice

1

Tsp

Parsley

Salt & Pepper to taste
Instructions
Breakfast
Crack the 3 eggs into a bowl and add in the chopped onion, coriander, salt, pepper, tumeric, chilli powder and heavy cream and beat well.

Heat the ghee in a frying pan and once melted add in the beaten eggs. Grate in the cheese and cover and cook for about 4 minutes. Fold the egg and finish cooking.

Serve with a side of salad.
Lunch
Heat the avocado oil in the pan and add in the onions and cook on a medium-low heat for about 5-7 minutes till the onion has softened and is starting to get some colour. Add in the garlic and cook till golden brown.

Then add the ground beef and cook for 5 minutes constantly stirring and breaking up any lumps that form. You can then season it with the salt, pepper, paprika, cumin and also throw in the rosemary spring. You can also use any dried herbs you like instead like oregano or marjoram.

Cook the beef with the spices for about a minute and then add in the tomato puree, beef stock cube and water and give everything a good mix and cover and cook for 20-25 minutes. Even 5 minutes just open the lid, give everything a good mix and keep coking.

After 25 minutes the chilli on carne is ready. Slice your avocado and season with salt and the lime juice. Serve the avocado along with the chilli and top with 1 tbsp of sour cream per portion. Enjoy!
Snack
Separate the mushroom caps from the stalks. Heat the butter in your frying pan and once it melts add in the garlic and cook till it starts to turn golden brown.

Add in the mushrooms, season with salt and pepper and pan fry. The mushrooms will release their water and you want to cook that out completely till the mushrooms start to caramelize and get some colour.

Once done remove from the pan and top/fill with the feta cheese and garnish with chopped basil.
Dinner
Prepare the asparagus by chopping off the bottom woody part of the asparagus which you don't want to eat. Heat 1 tbsp of butter in your pan and add in the garlic. Once the butter has melted and the garlic is tarting to brown add in the asparagus and season with salt and pepper. Add in about 50ml of water and cover and cook with the lid on for about 4-5 minutes.

After 4-5 minutes the water will evaporate and you want to cook the asparagus till it's perfectly tender and has some colour on it. Once you have achieved that remove the asparagus and set it aside.

In the same pan add a tbsp of butter and while it melts season your salmon filet with salt and pepper and then place in the frying pan. Cook for about 3-4 minutes each side till it's perfectly cooked all the way through or to your liking. Remove and set the fish aside.

Then add 1 tbsp of butter to the pan along with the red onion and fry. Add in the lemon zest, lemon juice, capers and 2 tbsp of water. Mix well and let it cook for a minute. Then add in the heavy cream and if it's too thick add some more water.

Taste and season as required and finish the sauce with some fresh parsley. Serve the fish over a bed of asparagus and pour the sauce right over it.