Keto For Beginners – 3 Ingredient Keto Meal Plan #4
Another simple Keto meal plan
Another week and another Keto meal plan. This is a 3 ingredient Keto meal plan. It's part of my larger Keto for beginners series of videos. I started this series because of the 2020 pandemic but quickly realized that for a lot of people these plans took the difficulty out of cooking and meal prep. Meal prep helps you stay on track with your diet and that's why I recommend it.
I must also mention this 3 ingredient special doesn't include basic pantry items of salt, pepper, sweetener and oil for frying. But it's about keeping it simple and clean. If you are just starting out also check out my Keto for beginners playlist with episodes 1-5 which will help you get started.
It's important to remember that I'm NOT a doctor, nutritionist or dietitian. I'm just a musician/Youtuber who has done Keto so please do not take any of this as medical advise. If you have pre-existing conditions please consult your doctor or a qualified professional before doing anything. This is simply a resource for people who need it. So please treat this as a disclaimer before proceeding.  Enjoy the video below and then carry on reading.
Get back to the basics
Eat only when hungry
Tracking macros is essential when it comes to any diet for weight loss. However there is plenty of flexibility to manage weight loss on Keto without doing this in the start. There are many reasons for this which I won't get into but. However it's important to still exercise restraint and portion control. So make sure you don't just eat for the sake of eating. Eat only when you feel hungry. You don't even need to finish an entire portion of food if you can't. In the event you've eating say a serving of something and still feel a wee bit hungry that's fine, give it 10 minutes or so. The reason being it takes you stomach about that much time to let the brain know it's full and being a tad hungry is never a bad thing. Of course don't starve yourself but you have to learn intuitive eating.
Track your progress
Hopefully you haven't just weighed yourself at the start of your journey but you also took measurements. I did forget to mention to also take photographs. The scale is just one way of measuring progress and often can be deceptive. On Keto you might not lose weight but you might lose inches. This is why measure yourself, take pictures and compare them week after week. Don't get into a habit of checking daily. Just do it every Monday morning, same time, in your birthday suit and be done with it. Also watch my video called 'The Goal Weight Delusion'
Start exercising
It doesn't matter what exercise you do but just do something. As the song goes, 1-2-3-4 get your body on the floor. This is important for many reasons. Even though you can lose weight without exercising and I did that myself in the start it's not the best practice. Exercise has many health benefits and it's also vital to help keep your BMR up. You can choose from a variety of options for physical activity based on how fit you are currently. Whether it's going to the gym, running, cycling, dancing, drumming or even just walking, it's all good. Do something!
The Menu & Food substitutions
Here is the full meal plan. I've given some information about each meal along with the substitutes for certain food items. If you can't find one to your liking then leave me a comment below.
Breakfast – A simple Keto pancake. This is a fun breakfast and particularly for those with a sweet tooth. The most common question I guess is can I swap out almond flour for coconut and the answer is yes. However compared to the 50g of almond flour you need only 20g of coconut flour since that's more absorbent.  Also you can swap out the cinnamon for vanilla extract. And when it comes to the sweetener you can either skip it or use any Keto friendly sweetener that you like. You can also make a big batch of this batter and keep it in the fridge for the entire week.
I guess if you are vegan then you can swap out this breakfast from the meal plan with my Keto upma or my Keto poha.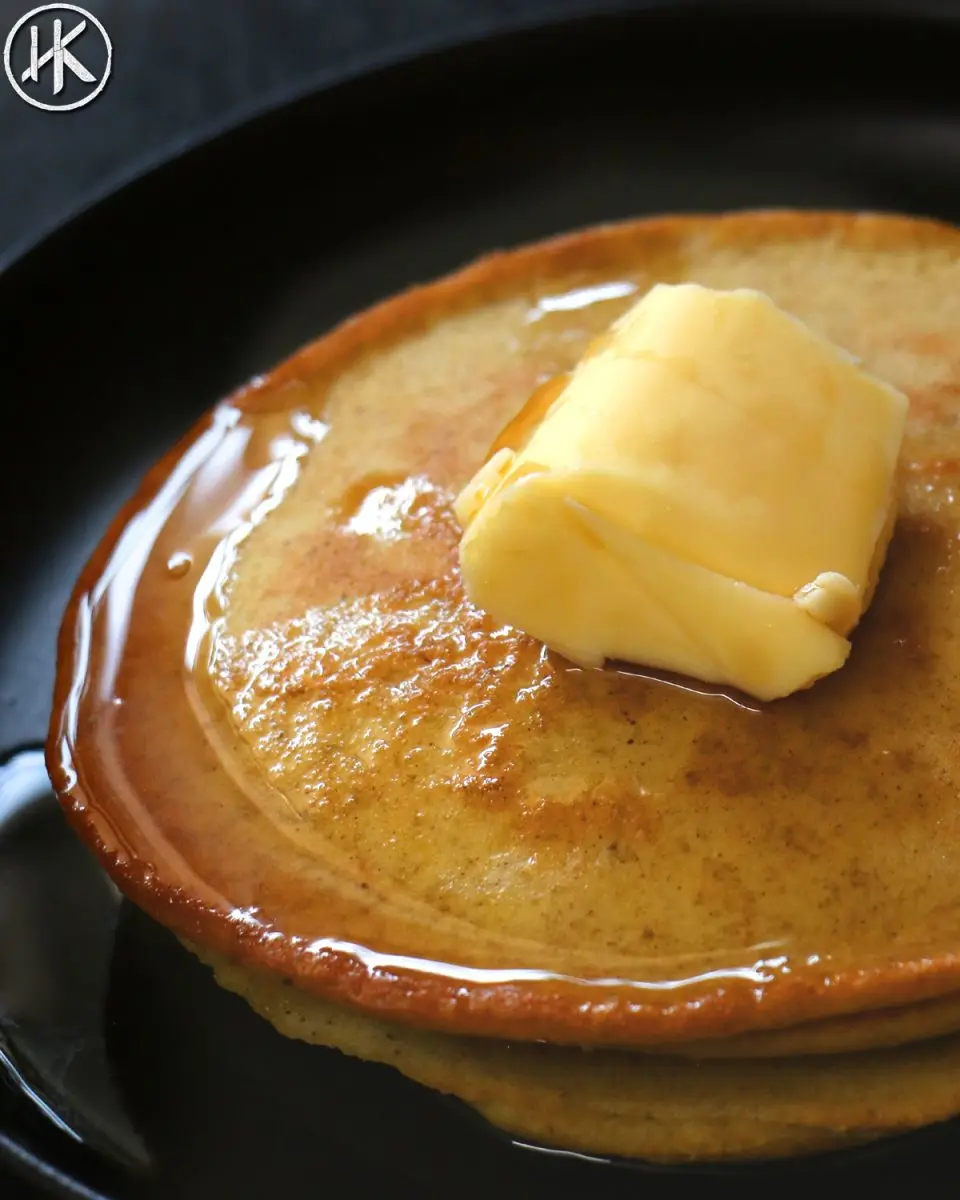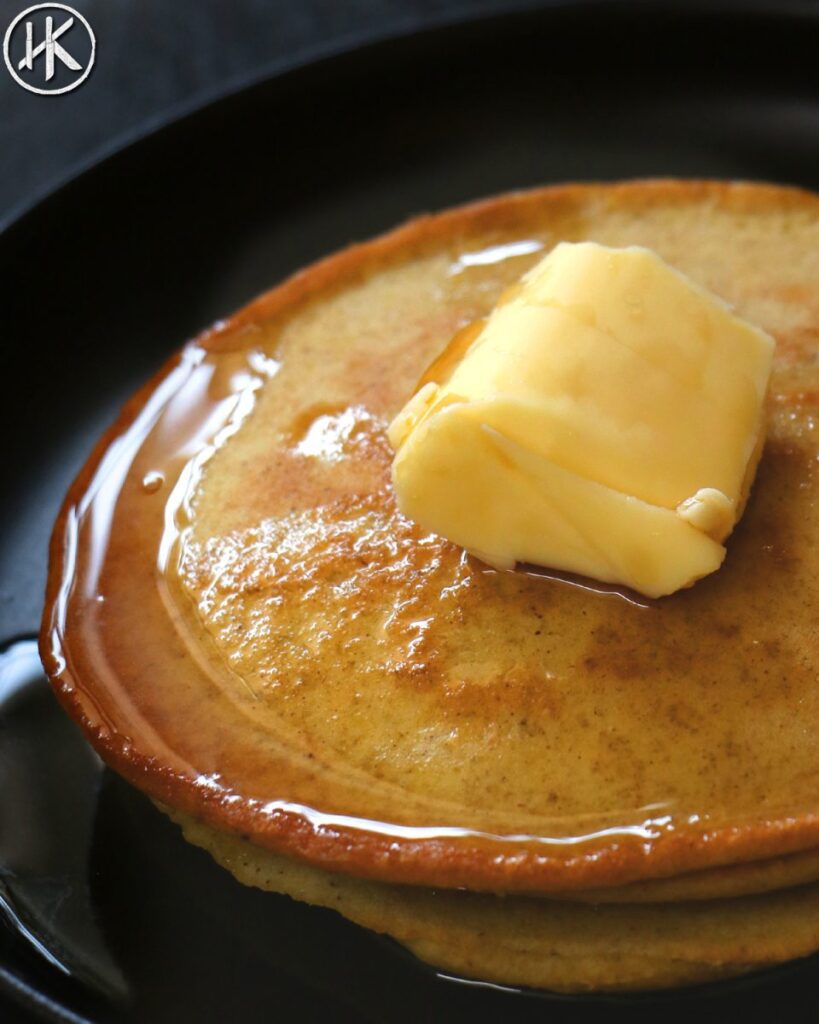 Lunch – The creamiest Thai curry ever! This meal is just so simple and delicious. You can eat it just as it is with a spoon but if you are one of those people who needs something on the side of their curry you can make some cauliflower rice. You can also make my Keto naan but who eats naan with Thai curry? Anyway the usual substitutions can be made, any meat of choice or paneer/eggs for vegetarians. Vegans, it's tofu for you. Coconut cream and coconut milk are interchangeable. And when it comes to the curry paste just buy ANY curry paste you like. Ideally try and find one that has 2-3g net carbs per 1tbsp. It's fine if it has sugar, don't break your head over it.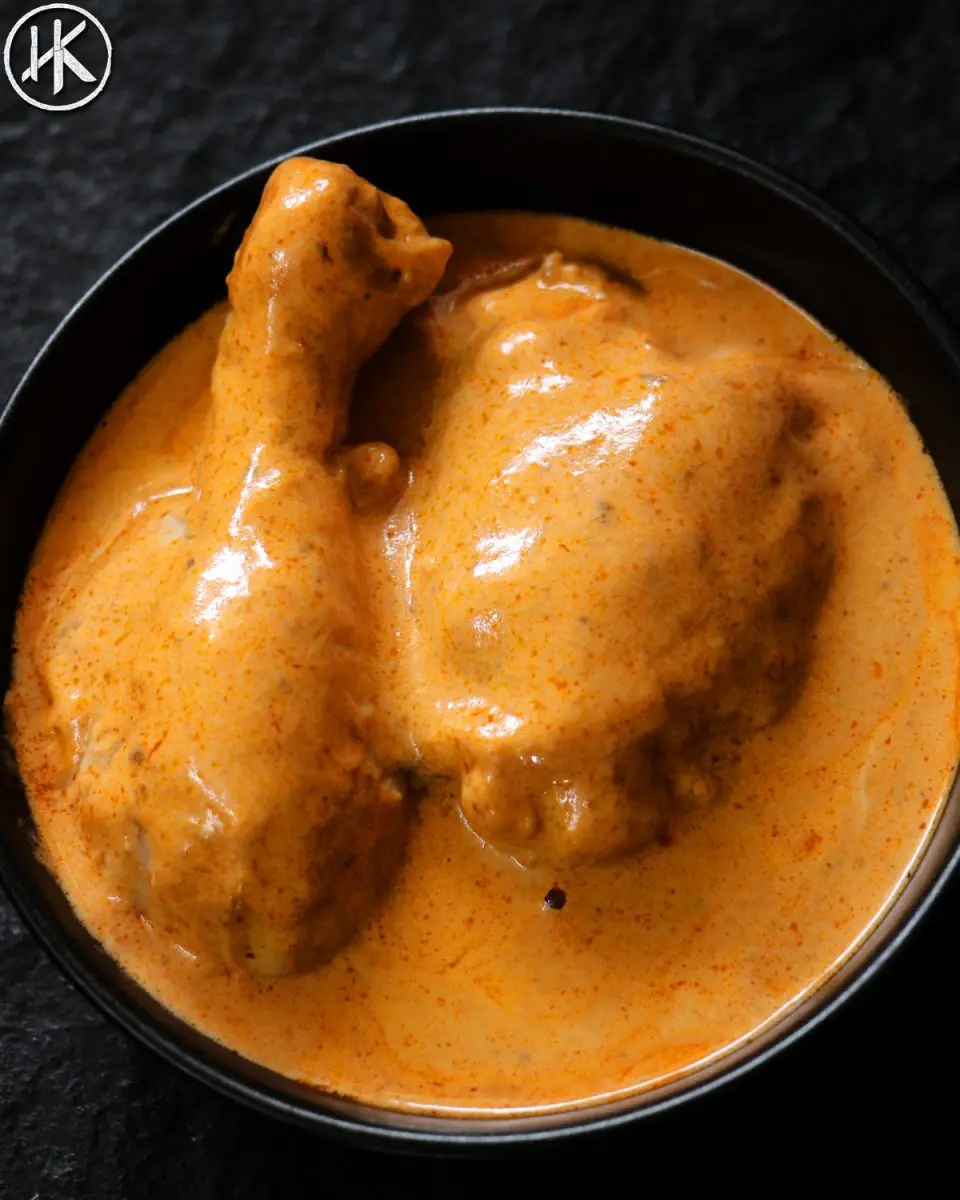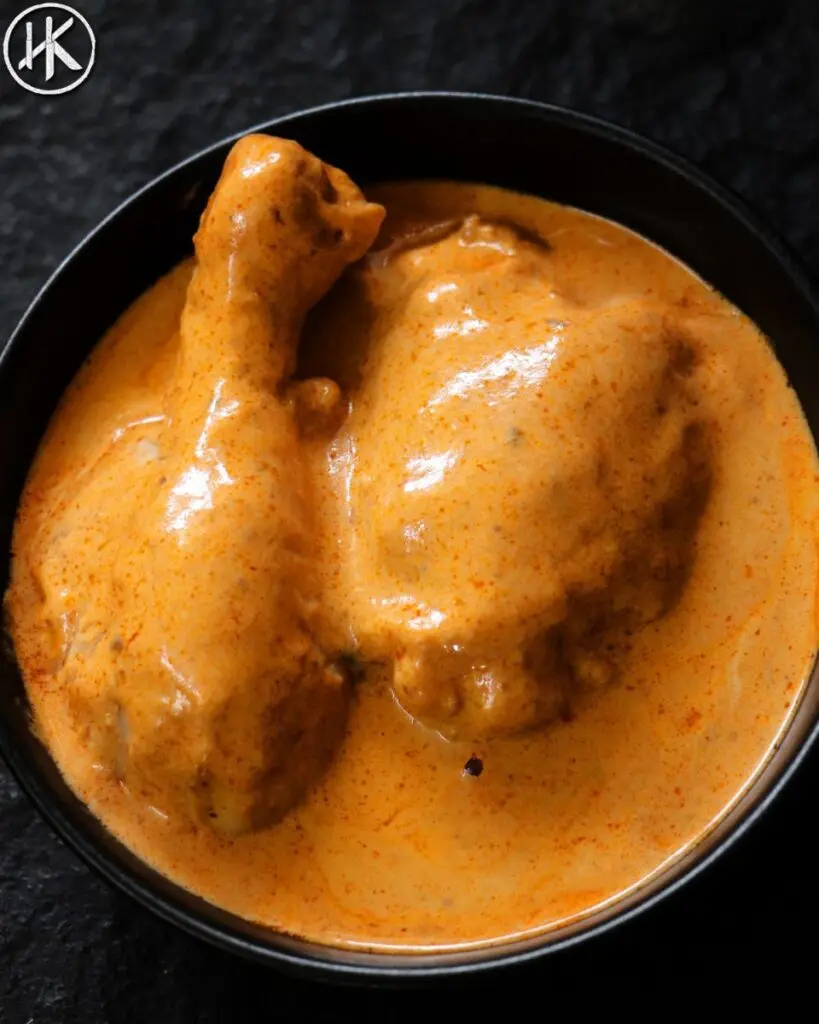 Snack – Tomato soup. I can already hear people losing their minds saying tomatoes are not Keto. Well 100g of tomato has 2.7g net carbs according to the USDA. Drink a smaller portion of this soup if you are being super strict. Anyway if you don't like tomato or just want to avoid it just visit my Keto soups section on the website and pick any soup you like and drink a nice mug of it. About 200ml. You can alternatively skip the soup completely and have a Keto coffee instead. Also you can swap out the garlic for garlic powder or just skip it if you don't like garlic. Heavy cream can be subbed for coconut cream.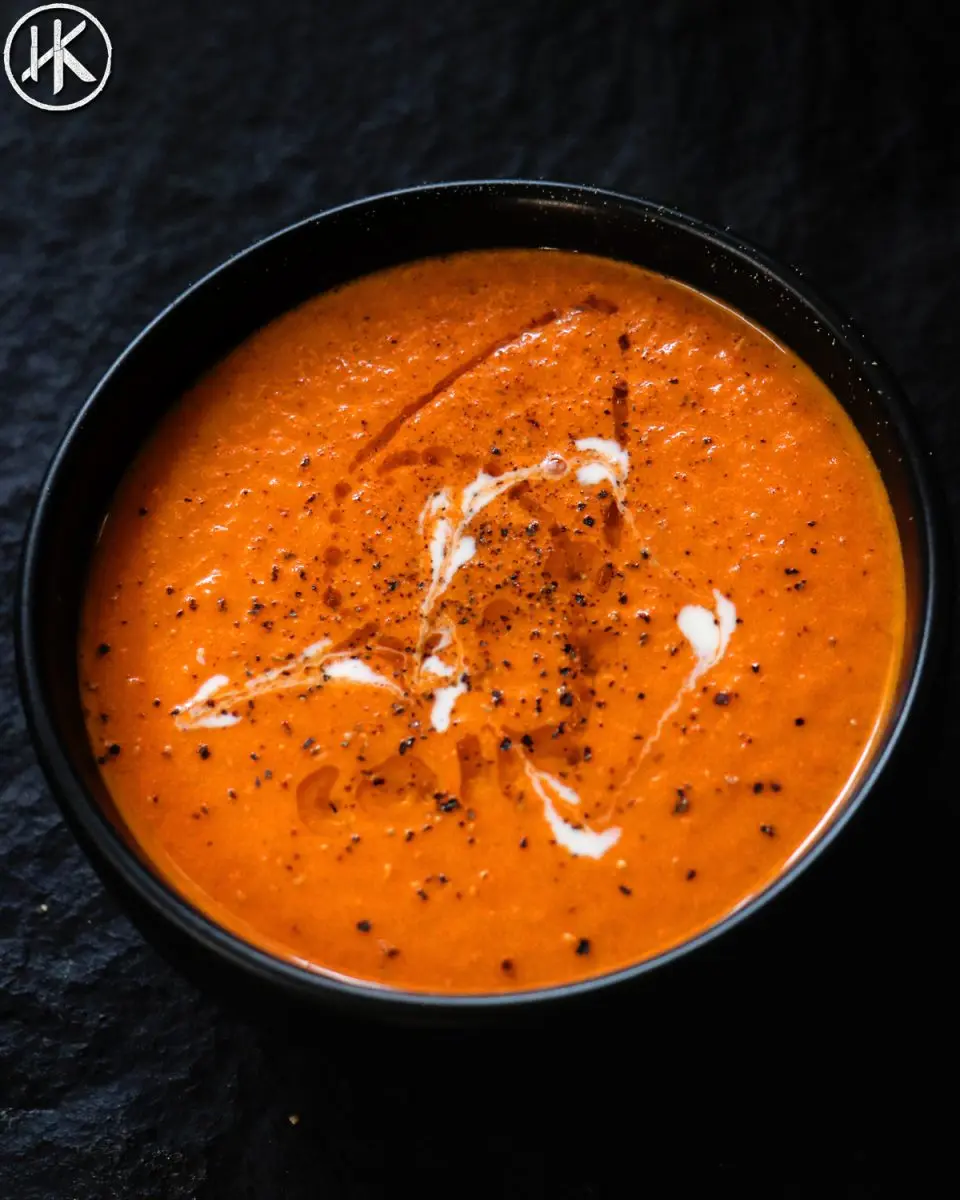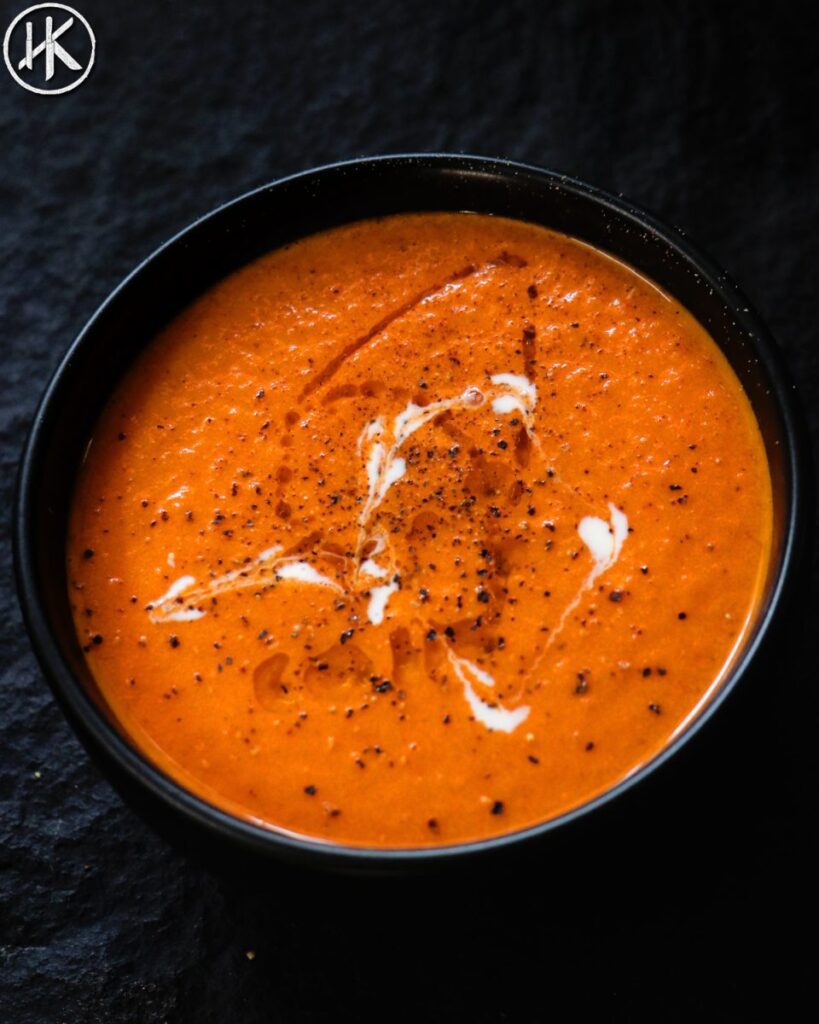 Dinner – It's steak and creamed spinach. Substitutions are simple. Chicken for fish, paneer, tofu, pork, beef etc for the protein. Coconut cream for the dairy. And I mean if you don't like spinach just throw in any vegetable you do like and you are sorted!!!
Shopping List
Just edit the quantities based on your appetite. If you have left over food you can always freeze it for up to a full month. So this is more just a list, quantities will vary based on how much you eat. Also double check if you have any of these things left over from last weeks meal prep before buying fresh stuff.
 Eggs
Almond Flour
Cinnamon Powder
Thai Curry Paste
Chicken for the curry
Coconut Cream
Heavy Cream
Tomato
Garlic
Steak
Spinach
Butter
Olive Oil/Avocado Oil (any Keto cooking fat)
Salt & Pepper
That should cover everything. Adjust the quantities based on how much you are going to eat. For example if you eat 2 eggs a day then that's 14 eggs you need in total. If you eat say 1 chicken breast a day then get 7 chicken breasts. You get the idea. And just a reminder for my Indian viewers to check my Shopping guide for Indians for suggested brands.
Eat for the week
Try and eat the same food everyday and it will help you stay on course or at least 3-4 days in a row. After which you can rotate with another one of my meal plans.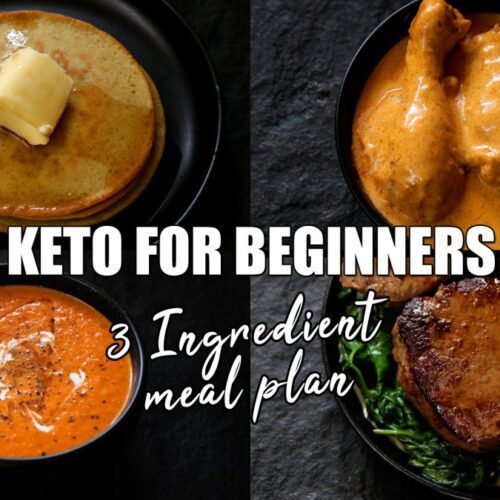 Keto For Beginners – 3 Ingredient Keto Meal Plan #4
A simple and easy plan to follow. Now each recipe makes a different number of servings hence the 2 servings listed, Check the instructions for actual number of servings.
Ingredients
Breakfast - Almond Flour Pancakes
2

Eggs

50

grams

Almond Flour

Order online

1/2

Tsp

Cinnamon Powder

Sweetener of choice to taste

Butter for cooking
Lunch - Chicken Thai Curry
Snack - Roasted Tomato Soup
1

Kg

Tomatoes

60

ml

Heavy Cream

5

Cloves

garlic

4

Tbsp

olive oil

Salt & Pepper to taste
Dinner - Steak & Creamed Spinch
500

grams

Steak

200

grams

Spinach

50

ml

Heavy Cream

2

Tbsp

Butter

Order online

Salt & Pepper to taste

Avocado Oil (for frying)

Order online
Instructions
Breakfast
In a blender add the eggs, almond flour, cinnamon and sweetener. Blend to make the batter. Heat some butter on a skillet or non stick pan and then pour in the batter. You can make 1 large pancake or 3 small ones. I like to cover the pancake and cook for 2 min of a low heat so that when I flip it the batter doesn't fly since the steam cooks the pancake. You can otherwise cook for 2 min on a medium heat before flipping. Serve the pancakes with some butter and Keto friendly syrup.
Lunch
Heat a tablespoon of the coconut cream in a wok till it's frothy and bubbling. Then add in the curry paste and cook till fragrant. Add in the chicken, season with salt and cook for 3-4 minutes. If the paste is sticking to the wok use a bit of water to deglaze the wok. Then add in the coconut cream and cover and cook with a lid till the chicken is fully cooked through.
Snack
Pre-heat your oven to 200C/400F. Chop your tomatoes in half and then add to a roasting tray along with the garlic and then season with salt and pepper and also the olive oil. Mix well and then roast for 50 minutes. If you don't have an oven you can cook them in a saucepan. Then transfer the tomatoes, garlic, oil, juices etc from the roasting tray into your blender and blend to a smooth consistency. Strain the soup into a saucepan and discard any grizzly bits which is mostly skin and seeds. Heat the soup on a low heat and add water to thin it if it's too thick. Also add in the heavy cream, taste for seasoning and add salt and pepper as required. Serve in a bowl with a drizzle of good olive oil and fresh pepper
Dinner
Season the steaks on both sides with salt and pepper. Heat some avocado oil in a cast iron pan and once smoking add in the steaks. Now you can cook the steak to your liking. I like to go by touch and feel but use a cooking thermometer for a more accurate cook. After flipping the steaks over I add in the butter and baste the steaks in the butter. Once done I remove them from the pan and then add the spinach to the same pan. Cook the spinach till it wilts down and then add your cream and season with salt and pepper. Cook longer to dry out the liquid if you prefer it that way or leave it a bit more fluid. Serve the steaks along with the spinach.