Keto Egg & Sausage McMuffin
Kicking up the Keto Breakfast
I'm not a big fan of fast food and only in a worst case scenario will I eat at a McDonalds or Burger King. However their breakfast items are probably better than their actual burgers, however they still aren't great, IMHO. For some reason I felt like making my own and I decided to make 2 of them with a twist. One Asian inspired and one Italian. So enjoy!
Find your flavour
It's all about being creative with this recipe. You can use any of our bread recipes that you like. We have peanut butter bread, 90 second almond flour bread, coconut flour bread all available in loaf and microwave versions. Sausage = Pork, as a purist, nothing else works but if you don't eat or like pork you can use beef or chicken instead. Vegetarians can use Paneer or just skip it. You can literally create any flavour combinations you like, you want to find flavours and ingredients that work together. So Italian seasoning for the sausage goes well with fresh tomatoes, pesto and mozzarella. Maybe you could do some Indian spices and then condiments like red onion, mustard and some cheddar cheese. So go ahead, experiment and enjoy!  Cheers!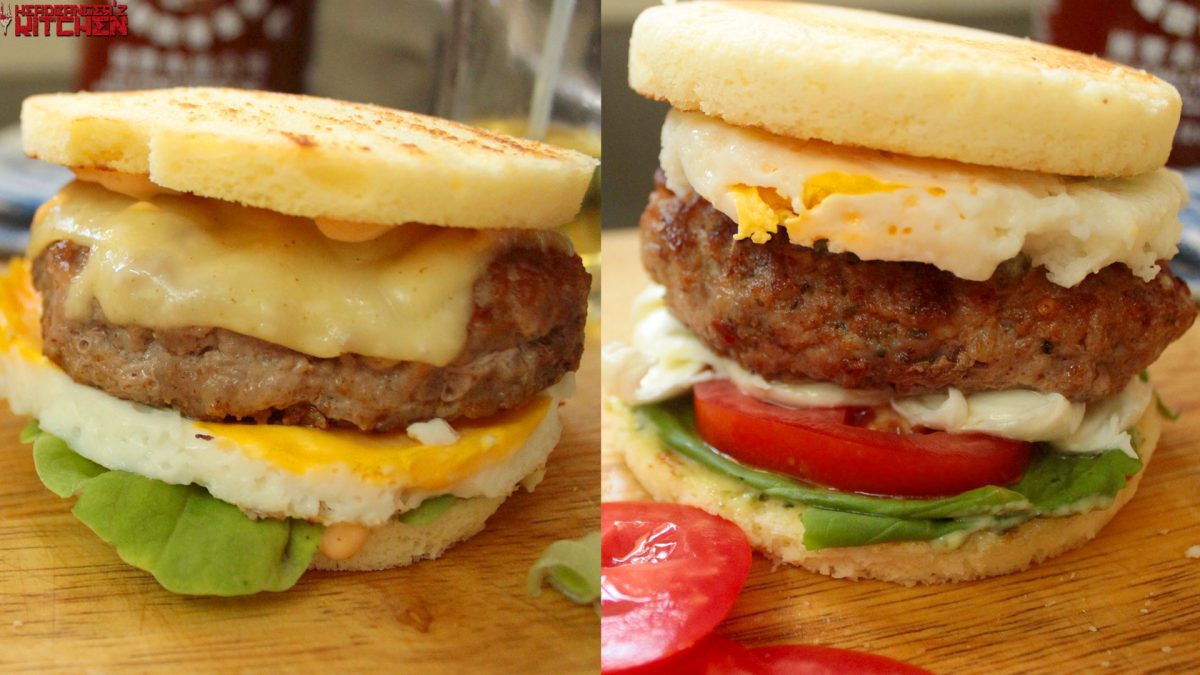 Nutrition Info (Per serving)
Calories: 625
Net Carbs: 5g
Carbs: 10g
Fat: 52g
Protein: 37g
Fiber: 5g
This recipe makes 2 sandwiches. Get this recipe on myfitnesspal.
Keto Egg and Sausage McMuffin
A keto version of the fast food favourite.
Instructions
Make 2 servings of the coconut bread in a ramekin and slice into 4-5 even round muffins

Toast the bread lightly on the pan with olive oil

Fry the eggs in a cookie mold on the pan for a nice even shape, add some water and cover to steam the eggs. Alternatively you can oil a ramekin and microwave the egg in that.

For the Italian version season half the pork with salt, pepper, dried oregano and chilly flakes. For the Asian inspired one season with salt, Sichuan pepper, dried lemongrass and garlic powder

Use a cookie cutter to shape the pork patties and fry in olive oil or butter till cooked through. Also add cheddar cheese on the Asian inspired patty while frying and add some water to the hot pan and cover to steam it and melt the cheese.

Mix half the mayo with pesto and the other half with Sriracha and chopped spring onions to create our pesto mayo and Sriracha mayo

Assembled the Italian one by spreading the pesto mayo on the bread, then top with lettuce, tomatos, fresh Boncconcini, the pork patty, egg and cover

For the Asian inspired one spread the Sriracha mayo on both slices of bread, layer with lettice, the egg, the patty and cover.

Serve!