Curry is easy. No, really!
I know there are so many of you who would nope out of here in a hurry when you see the word "curry". For some, curry invokes a picture of tons of spices you don't have in your pantry, a long complicated process with lots of slow cooking and stirring. Yes, there are curries that have more steps than a witch's brew – eye of newt and leg of lamb and three turns of the ladle counterclockwise on a full moon night – and my wife seems to especially love those that take several days of cooking, but this is not it. This five-ingredient Keto coconut curry is one of the easiest curries you'll ever make, with all the deliciousness of an heirloom recipe.
This Keto coconut curry is very similar to a kerala stew, which means minimal heat but max flavour. It relies on just ginger, curry leaves, coriander and coconut milk to flavour the sauce, and you can use your protein of choice in it. If you want to kick up the heat a notch, consider adding a slit green chilli in it instead of chilli powder which will turn the whole thing a rather odd colour. This keto curry goes well with cauliflower rice, of course, but if you want to really, REALLY enjoy it, I would recommend you make it with my Keto dosa because the two are a match made in Keto heaven.
Keto coconut curry in a hurry
This keto coconut curry literally comes together in minutes, so it's great for a weekday meal. The most time you'll spend on this is to clean and julienne the ginger. You could also slice it up or use ginger paste but I find that ginger matchsticks eat the best. I've used skinless, boneless chicken thigh in this recipe but you can use chicken breast, shrimp or even fish as a substitute protein – just remember that they'll all need different cooking times.
Curry leaves can be a little hard to come by for some people, but I'd recommend you get your hands on it because it gives it a taste that no other herb can quite replicate. In a desperate pinch, half a bay leaf and a pinch of lime zest might do the trick, though if you tell an Indian person that, they'll get after you with a broom. Likewise, if you're one of the unfortunate few to whom coriander or cilantro tastes like soap, just skip it altogether.
Of course, if you're feeling ready for a curry challenge, allow me to direct you to some of my favourite curries – a fool-proof 5-ingredient chicken curry, or the cheat's 5-ingredient butter chicken that no one will believe didn't come from a restaurant. Cheers and keep currying!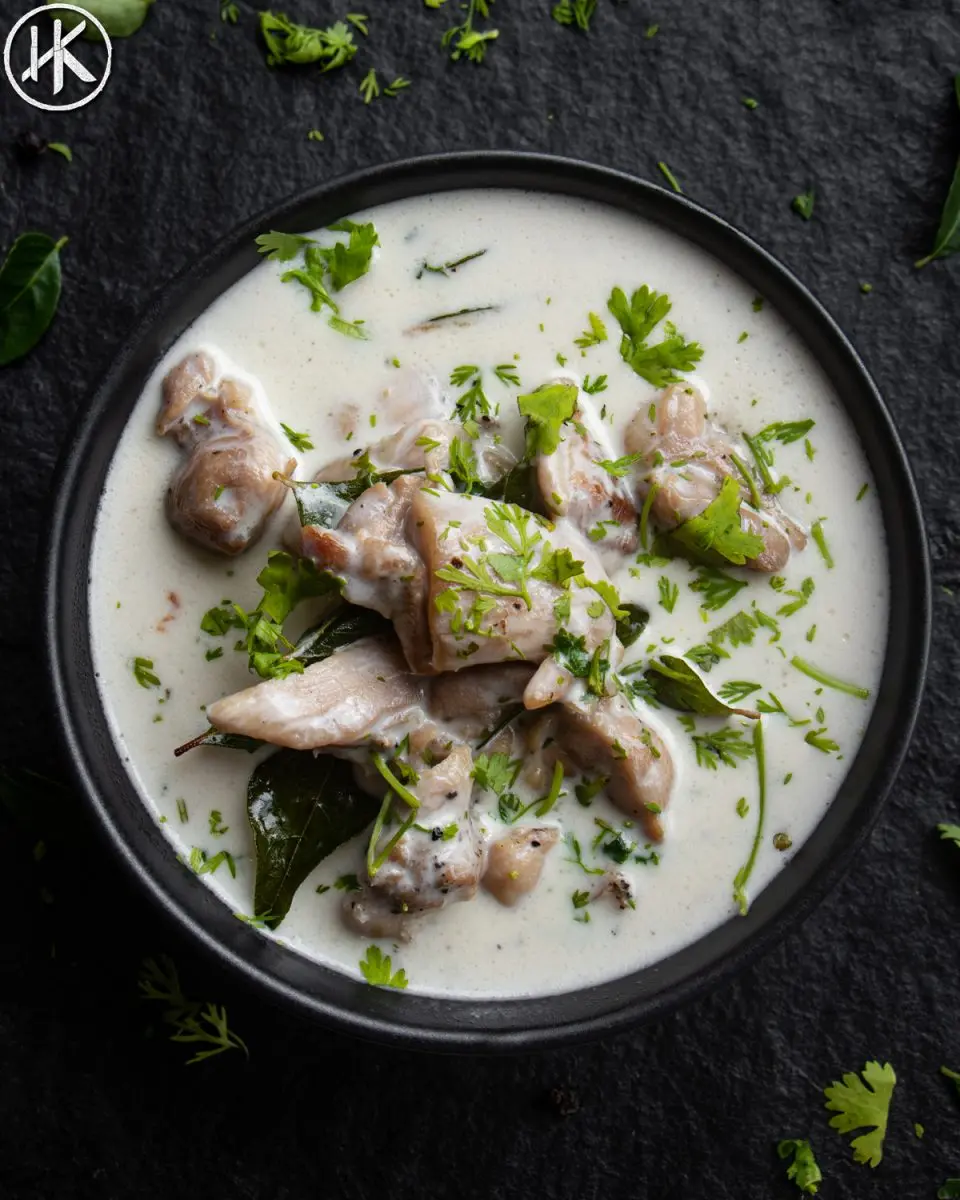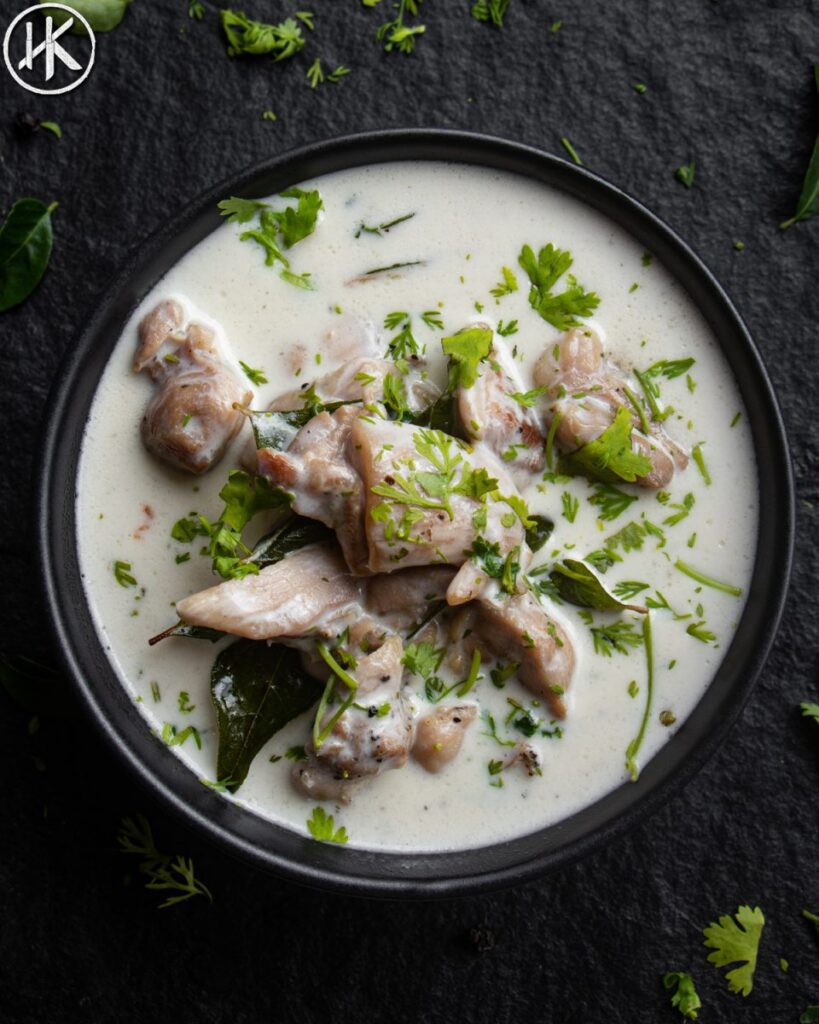 Nutrition Info (Per serving)
Calories: 512
Net Carbs: 2g
Carbs: 6g
Fat: 34g
Protein: 31g
Fiber: 4g
This recipe makes 4 servings. Get this recipe on myfitnesspal.
Keto Coconut Curry
A super easy 5 Ingredient Keto curry
Ingredients
500

grams

boneless and skinless chicken thighs

400

ml

coconut cream or milk

10

grams

Ginger

julienned

15-20

Curry Leaves

1

handful

Coriander

1

tbsp

olive or coconut oil

1

tsp

Salt

1

tsp

Pepper
Instructions
Scrape the papery skin off the ginger with a spoon and julienne it finely – to julienne is to cut into fine matchsticks.

Cut up the chicken into bite-sized pieces.

Roughly chop the coriander.

Get a thick-bottomed saucepan or a wok on the stove and heat up the tablespoon of oil. You can use olive oil but for an authentic taste I would recommend coconut oil.

When the oil is hot but not smoking, add in the julienned ginger.

Once the ginger is sizzling, add in the curry leaves. Careful! They'll splutter like crazy at this point so step away from the stove. Let the curry fry till they're crisp.

Add in the chicken and season generously with the salt and black pepper.

Now let the chicken cook for a couple of minutes on high heat without touching it. You want the chicken to get a bit of golden brown colour from caramelisation.

After about two minutes just give everything a good mix or toss. You should be able to see the caramelisation on the chicken.

Add the coconut cream (or coconut milk), then cover with a lid and cook it for five minutes on low heat.

After five minutes, take the lid off and taste the curry for seasoning. Adjust salt and pepper if needed.

If it's done to your liking, finish it off with the chopped coriander, give it all a good mix and take it off the heat.

Serve piping hot with cauliflower rice or Keto dosa