5 Ingredient Keto Butter Chicken
Easy Butter Chicken
If it isn't obvious yet, I love butter chicken. In fact I love it so much that I have 5 different versions of butter chicken. The first one was made during the old days of the show. I make a 'Sacred Mother Butter Chicken' for guitarist Andy James. I followed it up with some Bacon Butter Chicken during my Bacon Tadka stint. And then once I started making Keto recipes I made three more. A white butter chicken, an easy butter chicken and butter chicken wings.
Today I'm simplifying butter chicken even further with this awesome 5 ingredient version of the dish. So enough jibber jabber, let's cook!
Why this butter chicken?
The world is currently affected by the COVID-19 pandemic. It's made getting our regular groceries a bit hard and there is a good chance people will not have access to all the things they normally do. Butter chicken for me has those essential flavours. Chicken, tomato. cream and kasuri methi. I think more than the butter it's these ingredients that are the hallmark flavours of butter chicken. Based on this I was able to consolidate this recipe to 5 ingredients.
But is it as good as the others? Of course not, it will lack some 'depth of flavour'. Despite my father tasting it in the video and not having a clue, my wife who tried it off camera said it was 'missing something'. I wasn't surprised to say the least. I thought it did the job of being the butter chicken we need. In times like this when you craving that butter chicken this is the one that will fill the void. So enjoy it and feel free to add more ingredients depending on what you have lying around at home.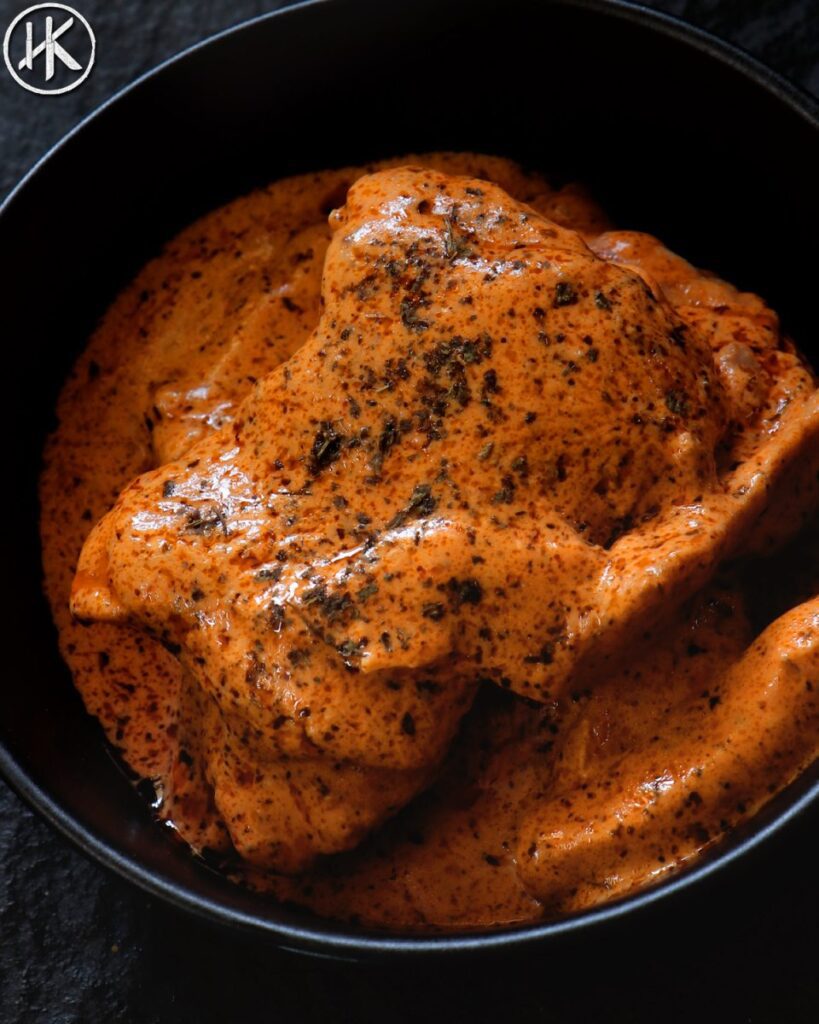 Nutrition Info (Per serving)
Calories: 370
Net Carbs: 5g
Carbs: 5g
Fat: 26g
Protein: 26g
Fiber: 0g
This recipe makes 3 servings. Get this recipe on myfitnesspal. Now the 5g carbs are largely coming from the store bought tomato puree that I'm using which obviously has a few more ingredients in it. However if you use less tomato puree like 100ml instead of the 150ml I used and/or you use just fresh tomato that you puree yourself it will be lower on the carb count.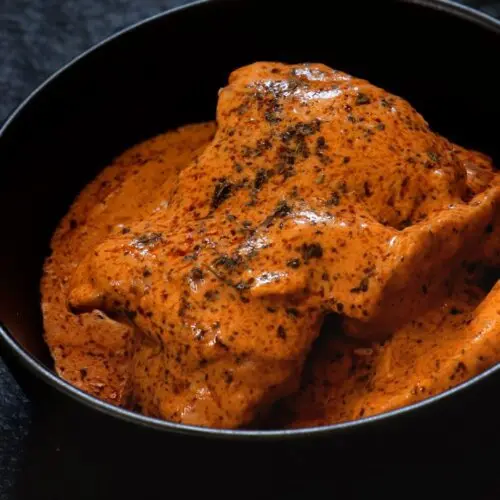 5 Ingredient Keto Butter Chicken
The easiest butter chicken ever
Instructions
Season the chicken on both sides with salt and pepper. Then heat the avocado oil in a pan and once it's nice and hot, pan fry the chicken for about 3-4 minutes on each side till fully cooked. You want the heat up a bit so you can get a nice colour on the chicken. Once cooked set it aside.

In the same pan heat the butter and once it's melted add in the tomato puree and mix well till it emulsifies. Then add in the kasuri methi and water and cover and cook for 5 minutes.

After 5 minutes of cooking the oil should have split from the tomato puree and then you want to give everything a good mix and turn down the heat to low before adding in the heavy cream. Once again give it all a good mix till everything has emulsified.

Then add in the chicken. I have added it whole in the video but I would recommend chopping it up and then adding it to the sauce. Let it just heat through with the sauce for about a minute on a low heat and then take it off the stove.

Serve with cauliflower rice or Keto naan.