A keto take on a British classic
I can't remember the first time I ate shepherd's pie – perhaps it was in India where it's made with mutton or perhaps in its natural habitat, the UK – but what I do remember is the taste and the feeling. There's something innately comforting in that lamb mince enrobed in perfectly mashed potatoes, like a warm, carby hug. Which, of course, makes it entirely unsuited to keto. I needed that hug. I needed a low carb shepherd's pie.
Enter our keto best friend – cauliflower. When swapped for potatoes and treated right (like everything else), a cauliflower mash can – dare I say it – be even better than spuds. This Keto shepherd's pie or low carb cottage pie is a one pot recipe that is hearty and perfect any day of the week. The classic version is made from lamb, but I used beef (water buffalo) and replaced the traditional carrots and peas for spinach and mushrooms. And, of course, that stunning cauli-mash to sit on top of my mince.
Make this low-carb shepherd's pie your own
On this episode of the show, I had a bunch of people come over to taste the pie and the response was outstanding; everyone loved it and didn't mind the missing potato. Mind you, these aren't folks on keto but just regular people eating a keto version of the pie.
Now this dish is slightly higher on protein and lower in fat (in comparison) but I would advise a nice tablespoon of butter or olive oil poured over it to add a good 14 grams of fat to your serving. I find that far more effective than pouring in the fat during the cooking process. Also, since I don't have an option to get beef/lamb mince with a higher fat ratio, I'm stuck with lean meat, which also keeps the fat content lower in the dish. If you can find say 70-30 beef mince with 30% being the fat content it will have higher fat macros as compared to the 95-5 beef mince I use, and a juicier keto shepherd's pie
Still not convinced about cauliflower? Allow us to change your mind with this cauliflower mac and cheese or a cauliflower chorizo pulao. It's deeeelicious.

Nutrition Info (Per serving)
Calories: 311
Net Carbs: 7g
Carbs: 10g
Fat: 16g
Protein: 30g
Fiber: 3g
This recipe makes 5 servings.  Get this recipe on myfitnesspal.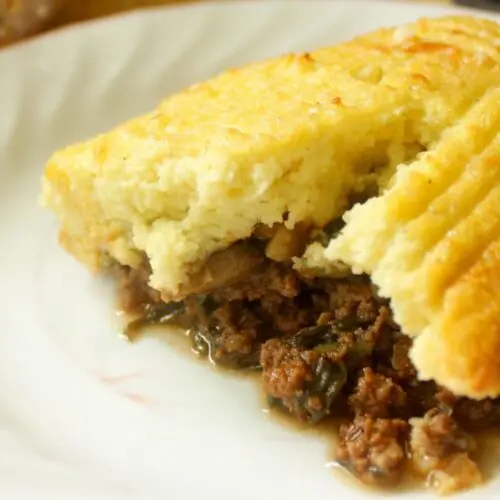 Keto Shepherd's Pie
A keto version of the classic Shepherd's Pie but actually a Cottage Pie
Instructions
Microwave/steam/boil the cauliflower till tender

Add butter and blend in a food processor tills smooth

Add the eggs and cheese and season

Blend till smooth

Use on the pie

Melt some butter and olive oil in a pan

Add and fry the onions till golden brown

Add garlic and fry

Add in the beef and continue cooking

Add in a beef stock cube, worcestershire sauce, tomato puree, rosemary and thyme

Add in the spinach and mushrooms, season to taste

Add water and cook for about 10 minutes

Add to baking tray, cover with cauliflower mash, sprinkle with parmesean and bake for 15 minutes at 200C (390 F) in an oven

Serve
Notes
You can also use fresh rosemary and thyme for a much more robust flavour.