Keto Alfredo Fettuccine with Zucchini Pasta
Alfredo Fettuccine, the quintessential 'white sauce' pasta, loved by all. When done right it's a creamy and cheesy delight. For my Keto Alfredo Fettuccine recipe I'm using zucchini for the fettuccine and it looks exactly like that since I use the vegetable peeler to make the zucchini pasta. The sauce is formed by the simple mixing of cream and cheese over the pasta. I picked crispy bacon and sauteed mushrooms to go into my sauce to give you a perfect combination of condiments in that creamy goodness.
Customize it!
Once again, with this recipe, there are a ton of options and combinations possible. For vegetarians I would highly recommend throwing in some boiled broccoli florets. Frying some oyster mushrooms in butter till they are nice and caramelized will add another dimension to this dish if you add them on top. For meat lovers some shredded roasted chicken or a grilled chicken breast will go perfectly well with this.
In case you've come to a point on keto where you need a bit of a break from the creamy, try our Zucchini Spaghetti Casserole and also our Pesto Zucchini Spaghetti.
Anyway,
Cheers & Keep Cooking!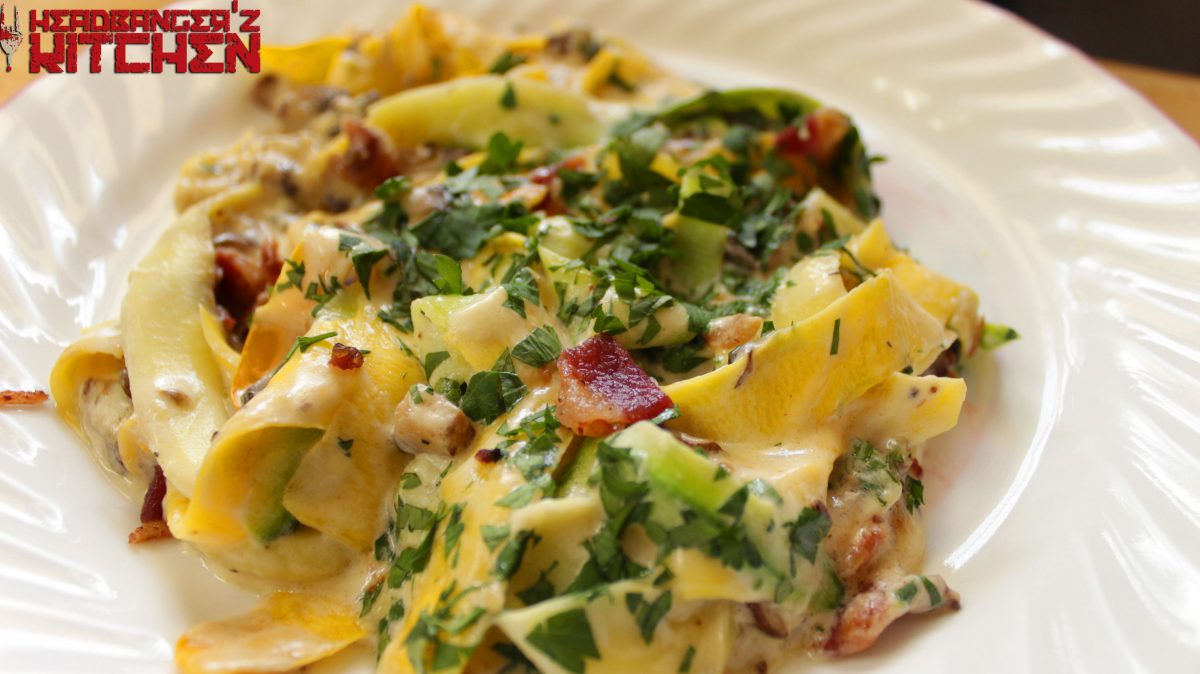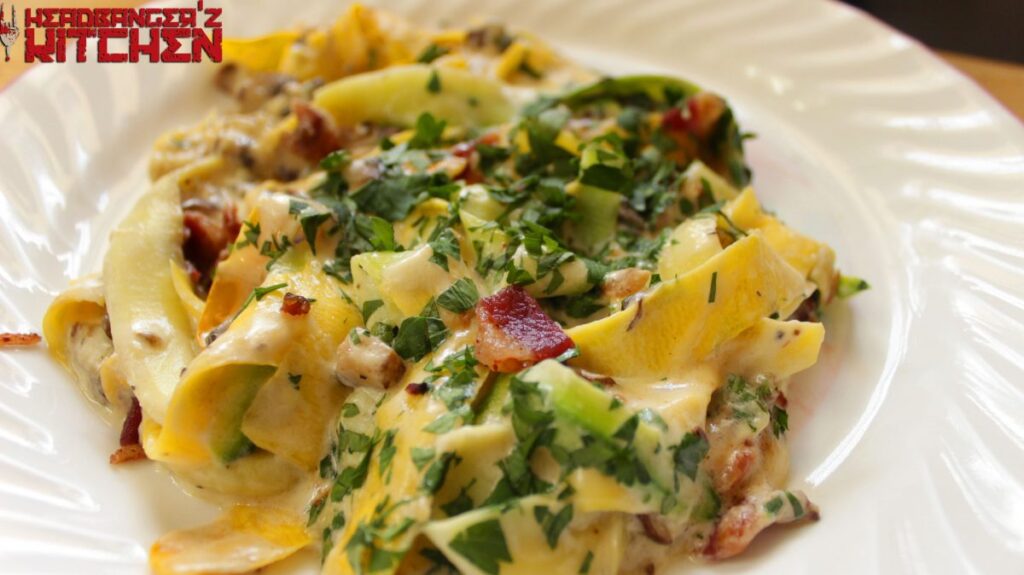 Nutrition Info (Per serving)
Calories: 426
Net Carbs: 7g
Carbs: 8g
Fat: 38g
Protein: 15g
Fiber: 1g
This recipe makes 1 servings.  Get this recipe on myfitnesspal.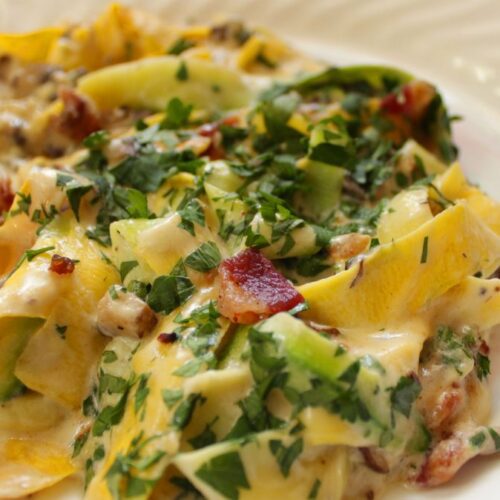 Keto Alfredo Fettuccine
A delicious creamy and cheese Alfredo sauce with low carb zucchini Fettuccini
Ingredients
100

grams

Zucchini Spaghetti

1

Tbsp

olive oil

I use this

5

grams

garlic

30

grams

Cheese

30

ml

Cream

2

Rashers

bacon

2

Mushrooms

1/2

Tsp

Salt

1/2

Tsp

Pepper
Instructions
Fry the mushrooms and garlic in olive oil

Once the water has evaporated add in the zucchini

Add in the cheese and cream and cook till everything forms a nice creamy sauce

Chop and add some fried bacon along with fresh parsley

Serve with some chopped olives