Keto Mascarpone Berry Mousse
Fun and Fruity!
We do a lot of dessert recipes with chocolate here on Headbanger's Kitchen and that's because we do love our chocolate. Sometimes though you just want something more refreshing and well, not chocolaty. One of my go to ingredients for non chocolate desserts these days, is berries. They are the only fruits that are Keto compliant and they are perfect for those light and refreshing desserts to give you a break from the density that comes with most chocolate desserts. In the past I've made my strawberry and lemon cheesecake, Keto panna cotta and a berry swirl cheesecake. I wanted to do something different and thankfully I had some berry compote left over from my Keto berry mug cake recipe.  So here is my Keto mascarpone berry mousse.
Could you do this with cream cheese?
You could perhaps and it will work because cream cheese has a slight tang to it. So you might want to use less of the berry compote to start with and add it to taste. Mascarpone cheese is much sweeter than cream cheese and which is why it's perfect for this recipe. It's also got a good creamy texture which when blended with the whipping cream gives you a nice fluffy mousse. If you don't find Marcarpone cheese easily then just watch my video for How to make Mascarpone cheese at home.
Nutrition Info (Per serving)
Calories: 253
Net Carbs: 3g
Carbs: 3g
Fat: 26g
Protein: 2g
Fiber: 0g
This recipe makes 3 servings. Get this recipe on myfitnesspal. Macros for the grated chocolate on top are not included, add them depending on how much you use and which brand.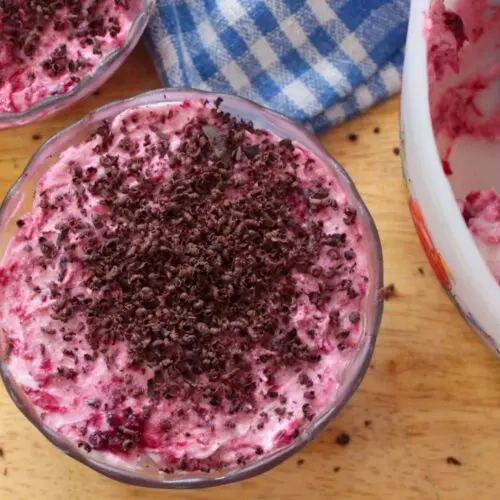 Keto Mascarpone Berry Mousse
A creamy and refreshing berry mousse made with Mascarpone cheese.
Instructions
Using and electric whisk blend together the mascarpone cheese, vanilla essence, Erythritol and heavy cream together till you get a nice fluffy mixture

Add in the berry compote and fold in with a spatula

Portion into small ramekins or bowls and chill for 1 hour in the fridge

grate some dark chocolate over the mousse and serve
Notes
You can also garnish with fresh berries.