A Japanese Omelet Rice Dish
If you are a food lover you've probably seen the Omurice video that has been doing the rounds on social media. It's absolutely mesmerizing how chef Moto Kichi makes that omelet which goes over the fried rice and when he cuts it then it just oozes over the rice and he pours gravy over it all. It's probably taken years of practice to perfect the art of making Omurice the way chef Moto Kichi makes it, so for all us home cooks there is an easier way. Watch the video and find out.
Tomato Ketchup Fried Rice
Wait what? Tomato Ketchup in a fried rice? Yes indeed. So Omurice is a 'western' style Japanese dish, I mistakenly said 'American' in the video. The fried rice is basically tomato flavoured and is made originally using ketchup. Since most ketchup has tons of sugar in it we're going to make ours Keto friendly by using puree and seasoning it with garlic, soya sauce, vinegar and everything else that goes into the fried rice. Anyway this is an excellent dish and if you like egg and Japanese food try my recipe for Oyakodon.
In the macros below I have included the eggs as well, you will have to make 2 separate stuffed omelets. It's not just 1 large 4 egg omelet stuffed with all the rice. You can try doing that but it will be a pain to fold it and get it out perfectly. Also if you want to use more than 2 eggs for a portion you can do that too. Another handy tip is not using the cream in the eggs to make them firmer and less likely to break when folding. You can add an additional tablespoon of butter over the Omurice to hit your fat macros.
Nutrition Info (For 1 serving)
Calories: 519
Net Carbs: 8g
Carbs: 12g
Fat: 35g
Protein: 39g
Fiber: 4g
This recipe makes 2 servings. Get this recipe on myfitnesspal.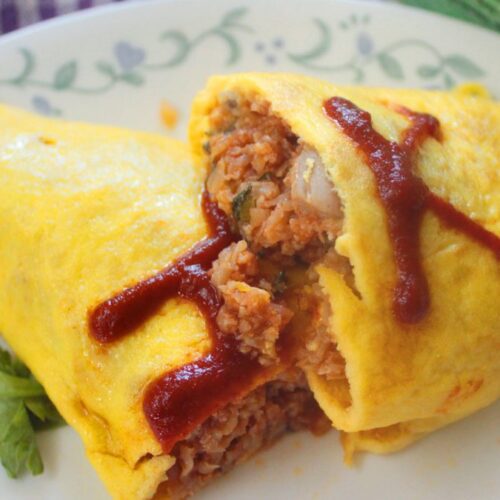 Keto Omurice
A delicious tomato fried rice stuffed in an omelet
Ingredients
200

grams

Cauliflower

Riced

180

grams

Boneless Chicken Leg and Thigh Meat

100

grams

White Mushroms

100

grams

Tomato Puree

I recommend this

30

grams

Spring Onion

10

grams

garlic

30

ml

Heavy Cream

1

Tbsp

olive oil

I use this one

1

Tbsp

Butter

Try this one

1

Tbsp

Rice Wine Vinegar

Try this one

1

Tbsp

Soya Sauce

I recommend this one

4

Eggs

1

Tsp

olive oil

For frying the egg

1

Tsp

Butter

For Frying the egg

Coriander or Spring Onion Greens

For garnish

Salt & Pepper

Stevia or preferred sweetener to taste

Try this one
Instructions
Start by slicing the mushrooms and the spring onion. Also cut the chicken into bite size pices and puree the tomato if you are using a fresh one

Rice the cauliflower using the grater attachment of your food processor. Season with salt and microwave for 5 minutes and then give it a good mix

Heat 1 tbsp of olive oil and 1 tbsp of butter in a frying pan.

Add in the spring onions and cook for a minutes. Then add in the chicken and season with salt and pepper.

Then add in the mushrooms and sautee on a high heat.

Once the mushrooms start to release their water, add in the tomato puree, minced garlic, vinegar, soya sauce and sweetener/stevia.

Cook till the sauce is a nice thick syrupy consistency and then add in the cooked cauliflower rice.

Give it all a good mix and cook for a minute or two and then garnish with the spring onion greens or fresh coriander.

Crack two eggs in a bowl, add a tablespoon of heavy cream and whisk together

Heat up a tsp of olive oil and butter in your pan

Pour in the eggs and scramble using chopsticks and keep moving the pan. Once you have formed an omelet with nice curds add in half the cauliflower fried rice and fold the omelet. Repeat the process for the 2nd one

Serve with hot sauce or just eat as it is.