5 Ingredient Spinach Chicken (Chicken Saagwala)
Saag Chicken or Spinach Chicken
We're making spinach chicken or saagwala chicken. Saag refers to common leafy green vegetables. So it's normally made from a variety of different greens but one of the most common ones is spinach. So this Chicken Saag is basically a Spinach Chicken. We have a rich and delicious gravy made by blending the spinach. Saag Chicken is a popular Indian dish though to be honest it's vegetarian counterpart Palak Paneer is probably better known. Which is great because I have a recipe for that too! But for now try out this epic recipe.
It's a great way to get your meat and vegetables in a one pot dish.
Just eat it!!
This dish goes great with some Keto naan or some cauliflower rice. I also do enjoy eating it with a spoon sometimes. Now you all know palak paneer but did you know this recipe goes absolutely amazing with some fish? Got some nice boneless filets of fish? Make the gravy and then drop those fish pieces in and let it poach in the spinach gravy for 4 minutes and it should be cooked.
You could also use this with eggs or maybe some lamb. It's a great recipe! I hope you will enjoy it!
Chicken Saagwala
Let's deep dive into chicken saagwala because there is a lot to learn. I've called it palak chicken and that's just because I've chosen to simplify the dish. I mean this is a 5 ingredient recipe after all. But what is saag itself? Most people think saag means spinach or spinach leaves. But that's not entirely accurate. Saag refers to leafy green vegetables. This includes but is not limited to spinach, mustard greens, fenugreek leaves and dill.
In my dish I just take fresh spinach and make puree spinach by cooking it down and blending it. This is pretty much the process for saag in general except you can use a variety of green leafy vegetables. In winters I know the mustard greens and fenugreek leaves are used more often. Honestly you can mix and match.
Cooking the curry
But it all starts in the pan heating up some desi ghee. I mean if you cooking Indian food like this ghee adds flavor. Fry your ginger, garlic, onion and spices. Now I just used garam masala in mine you can use the entire gamut of spices. Whole cumin seeds, turmeric powder, red chili powder, coriander powder etc. Of course add green chillies if you like it spicy.
Add in your greens and then cook them down. Some people like to add tomatoes as well to their saag. Always cook on a medium heat so as to not burn anything. Once your greens are wilted down you puree them to make the saag
Most people will fry their chicken pieces and then add the pureed saag to it. If you are cooking a more delicate protein like fish then you can actually poach the fish in the sauce itself. For curries I always prefer chicken thighs over breasts. But you can use either.
Finish it off with some cream and some people like to add a bit of lemon juice or rather lime juice. And your saagwala chicken curry is ready.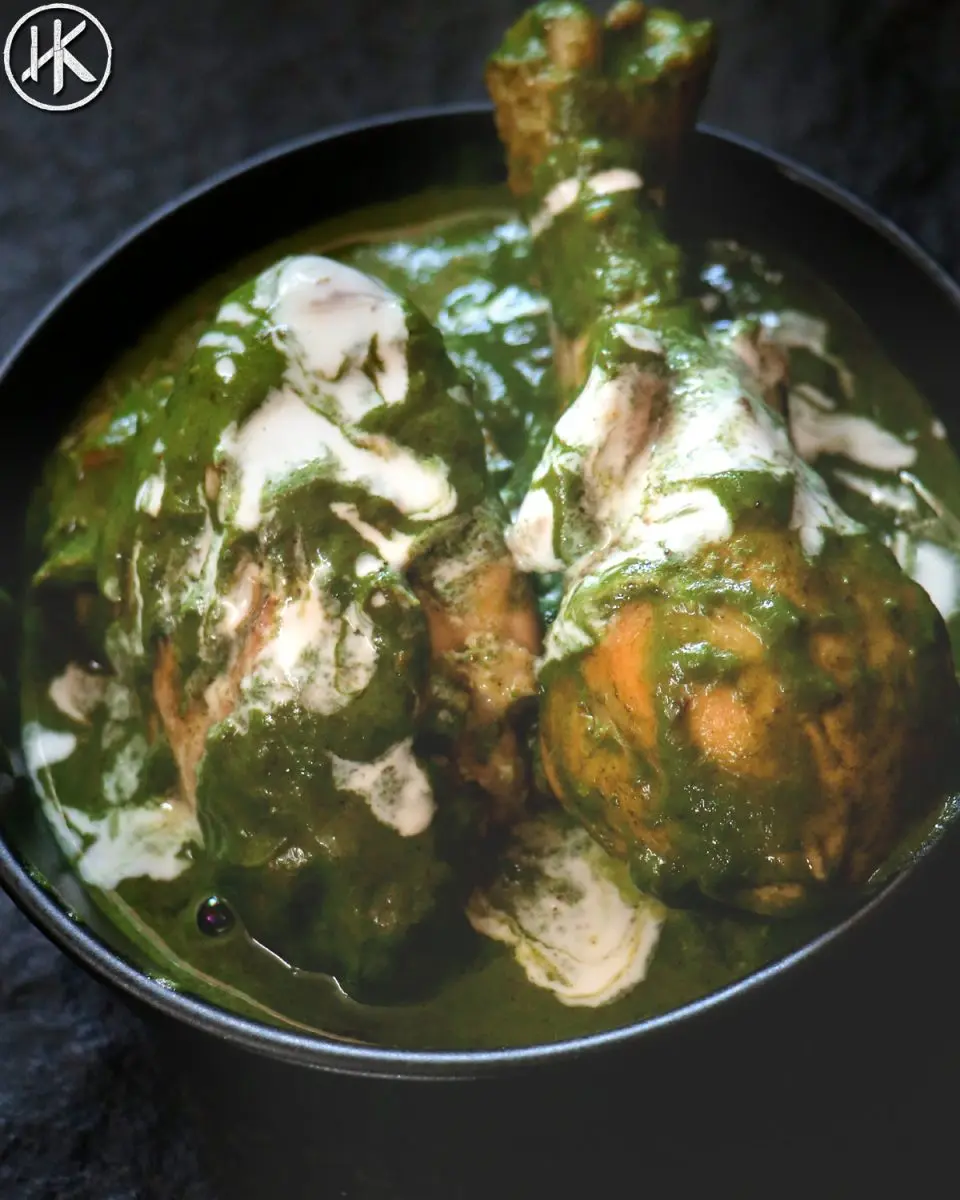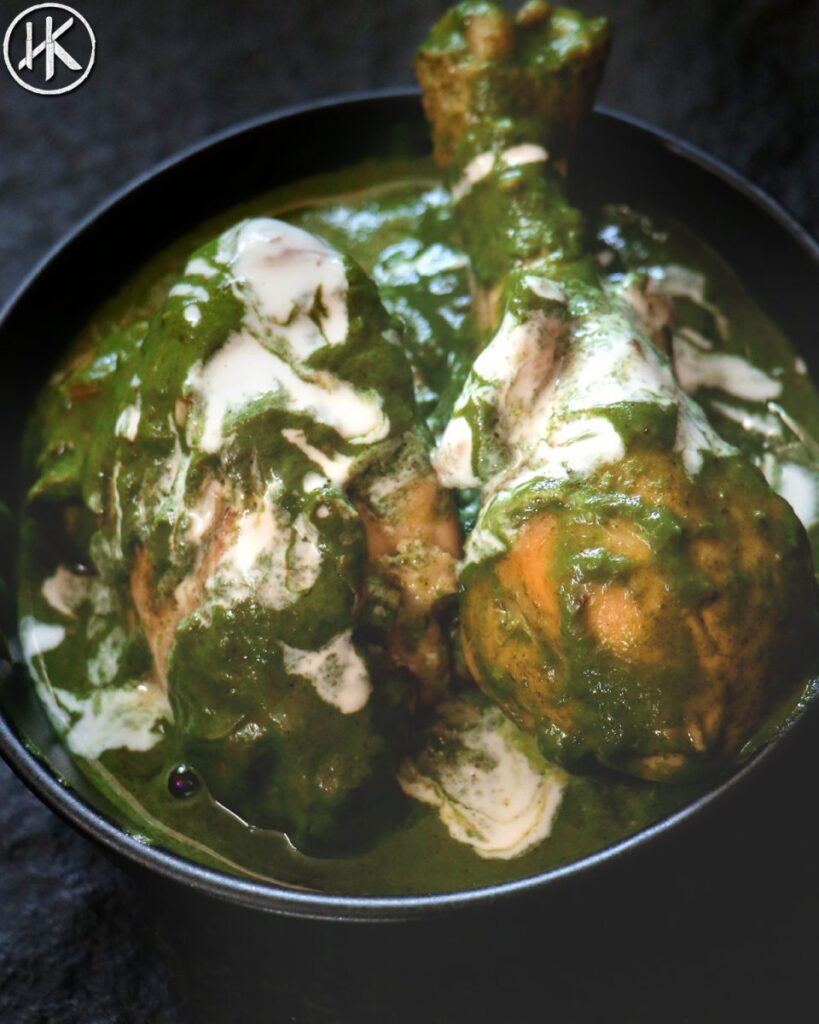 Nutrition Info (Per serving)
Calories: 400
Net Carbs: 3g
Carbs: 5g
Fat: 28g
Protein: 33g
Fiber: 2g
This recipe makes 3 servings. Get this recipe on myfitnesspal.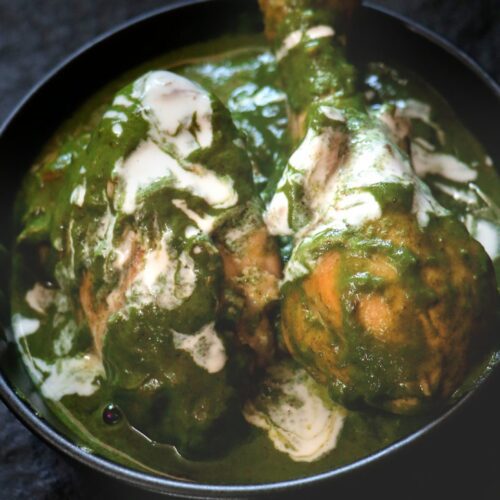 5 Ingredient Spinach Chicken (Chicken Saagwala)
Delicious spinach chicken or saagwala chicken
Ingredients
450

grams

Full Chicken Legs (Skinless)

this is the drumstick and the thigh

250

grams

Raw Spinach

1

Tsp

Ginger Garlic Paste

1

Tsp

Garam Masala Powder

60

ml

Heavy Cream

Salt to Taste
Instructions
In a large saucepan add the spinach with about 30ml of water and some salt.

Cover and cook till the spinach has wilted down.

Transfer the spinach with any liquid from the pan into a food processor and blend to a smooth puree. Add more water if needed to blend.

Then in the same saucepan heat up some ghee and once hot add in the chicken. Season the chicken with salt and also add in the ginger garlic paste. Sautee the chicken till it starts to get some colour and caramelize.

Then pour in the spinach puree into the pan. Don't forget to rinse out the blender, waste none of the puree.

Then lower the heat and cook for 8-12minutes or till the chicken is FULLY COOKED.

Then add in the garam masala and cream and mix well. Cook for a minute before turning off the heat.

Serve with cauliflower rice or Keto naan. This recipe makes 3 servings.