Keto curry sauce!
This chicken in curry sauce will take you to the UK and not to India. I've said this before, we make curries in India and we have many different spice blends that go into dishes. However we do not have anything called 'curry powder'. This so called 'curry power' and curry flavour I discovered in the UK. It was when I ate my first chips with curry sauce. I later discovered it was an Asian invention, either Japanese or Chinese. None the less I did love the flavour and I found some in Bangkok on a vacation.
So I decided to cook us some chicken in that delicious curry sauce I remembered and that's how this dish came about.  Enjoy!
Substitutions & Cooking Tips
I think by now you must have figured out that any meat can replace another meat. So you can do this recipe with pork, beef, lamb, venison, crocodile, emu etc etc. Always try and get a nice fatty cut if possible. If you can't get the skin on boneless chicken that I got you can also do this with bone in chicken or chicken breast as well. If you don't like green beans once again it's the same replacements like spinach, broccoli, asparagus, brussel sprouts.
Now as for the curry powder. You can just buy the one I recommend. However the one I use has the following ingredients, so you can just mix them all and make your own. Tumeric (34%), Coriander seed (30%), Fenugreek seed (12%), pepper (10%), cinnamon (8%), chilli (3%), cumin seed (2%) and galangal (Thai ginger) (1%). Alternatively you can use the same recipe and replace curry power with some paprika, cayenne pepper, cumin and tumeric. Should do just as well.
For vegetarians, paneer and halloumi are good options once again as a replacement for chicken. You could also use eggplant to replace chicken. So pan fry the eggplant in butter or avocado oil and then make the curry sauce. So it's basically eggplant steaks with green beats and curry sauce.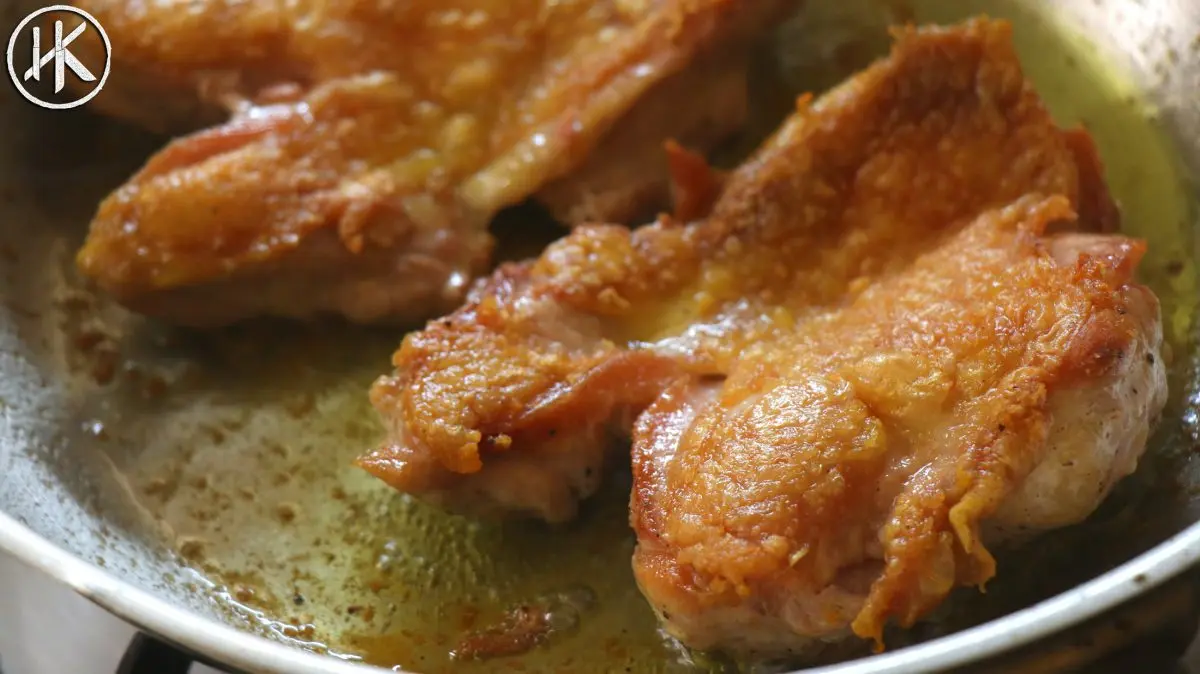 Nutrition Info (Per serving) – Curry Sauce Only!
Calories: 227
Net Carbs: 4g
Carbs: 4g
Fat: 21
Protein: 5g
Fiber: 20g
This recipe makes 2 servings. Get this recipe on myfitnesspal. You can manually enter the chicken depending on what cut you use and whether you use it with or without skin. The curry sauce includes the avocado oil for frying so you don't need to count that separately for the chicken. Again with the green beans just input it manually.
Chicken in Curry Sauce
A wholesome Keto meal of pan roasted chicken with green beans and a Keto curry sauce.
Ingredients
500

grams

Boneless Chicken Leg and Thigh Meat

Skin on if possible

50

ml

Heavy Whipping Cream

5

grams

garlic

1

Tsp

Curry Powder

I recommend this

1

Spring Onion

30

grams

Cheddar Cheese

1

Tbsp

Avocado Oil

I recommend this

250

grams

Green Beans

1

Tbsp

Butter

I recommend this

Salt & Pepper to taste

Water as needed
Instructions
Season the skin side of the chicken with salt and set aside for 15 minutes. This draws out some of the moisture from the skin making it super crispy. Also prep your green beans by chopping off the ends and cutting into halves. Prep the spring onion by cutting the white part, the middle part and the green part and keep them separately.

Heat the butter in a non stick skillet and once melted add in the green beans, season with salt and add some water.

Cover and cook with the lid on a medium heat for about 5 minutes or the beans are cooked to your liking. Once done set them aside and get on to cooking the chicken.

Heat the avocado oil in a pan and once it's smoking hot add the chicken in skin side down. Season the flesh side with salt and pepper and let it cook for 5 minutes on a medium-high heat without touching to ensure a delicious crispy skin.

Once done flip it over and cook for another 3-4 minutes and then set it aside to rest.

In the same pan now add the white part of the spring onion and the garlic and cook till the garlic starts to turn golden brown. Then add in the curry power and cook for 60 seconds.

Your chicken should have had some resting juices by now so pour that along with about 50ml of water and deglaze the pan. Add in the heavy whipping cream and grate the cheese in as well.

Now cook this down till it's to the thickness or your liking, Taste for seasoning and add in the middle part of the spring onion.

Serve the chicken with the curry sauce and green beans and finish with the green part of the spring onion. Ideally just throw that into the sauce as well.

This recipe makes about 2 servings. So half the sauce plus half the chicken and half the beans is 1 full meal. So this is basically 2 dinners.