Classic comfort food
Keto meatloaf, it's great for meal prep and not eating carbs for love. Growing up in India meatloaf was just a band/singer for me. And while 'Bat out of Hell' is still a classic and relevant today, so is the dish. I've actually been making a sort of amped up meatloaf for years without knowing it. I just called it the Bacon Bomb. In fact it's a bit more elaborate and takes more work. I'd save that for a special occasion. Today's Keto meatloaf recipe is more rustic, home-style and perfect for a quick meal.
I'll also make a quick and easy barbecue/tomato sauce to go with it. You could also just pair it with my Keto ketchup or Keto bbq sauce.
Tips & Tricks
A couple of things to keep in mind. With the beef you want to try and get 80-20 which means 80% lean meat and 20% fat. In India we don't get beef with fat so it's about 95-5 the ratio I am using which is why I used a mix of beef and pork. It also provides for an interesting flavour. As I mentioned in the video you can pretty much make this with any ground meat you like. If you plan to use something like chicken, which is more often than not, lean then it cooks much faster than beef or pork. So just keep that in mind.
I also was quite generous with the vegetables in this dish so if you want to reduce the carbs you can totally just use 1/2 the amount of onions, mushrooms and peppers. And again you can play around with the vegetables depending on what you like. If you are more carnivore then you can even skip them all. I use them because it adds some moisture to the meatloaf and doesn't make it just taste like a solid block of meat.
Even with the seasoning I kept it fairly simple. You can play around with the fresh herbs, you can even skip those and go for a more Indian taste. Maybe throw in some cumin, tumeric etc and fresh coriander. The possibilities really are endless.

Nutrition Info (Per serving) – Only the meatloaf
Calories: 351
Net Carbs: 3g
Carbs: 4g
Fat: 28g
Protein: 21g
Fiber: 1g
This recipe makes 10 servings. Get this recipe on myfitnesspal. These macros do not include any sauce at all.
Nutrition Info (Per serving) – Only the sauce
Calories: 32
Net Carbs: 2g
Carbs: 2g
Fat: 2g
Protein: 1g
Fiber: 0g
This recipe makes 10 servings. Get this recipe on myfitnesspal.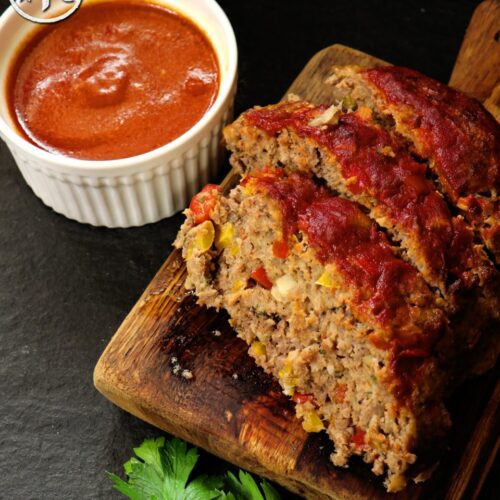 Keto Meatloaf
A classic comfort food made Keto
Ingredients
For the meatloaf
500

grams

Ground Beef

500

grams

Ground Pork

100

grams

Onion

100

grams

Red Bell Peppers

100

grams

Yellow Bell Peppers

200

grams

White Mushrooms

10

grams

garlic

75

grams

Cream Cheese

Try this

30

grams

Butter

Try this

1

Tbsp

Chopped Parsley

1

Tsp

Dried Herbs

1

Tsp

Black Pepper

Try this

Salt to Taste

1

Tsp

Paprika

Try this

2

Eggs

30

grams

Parmesan cheese
Instructions
For the meatloaf
Finely dice all the vegetables and get a pan on the stove and add in the butter.

Once the butter has melted add in the onions and cook for 3-4 minutes till translucent. Then add in the mushrooms and season with some salt and pepper.

The mushrooms will now release their water and you want to cook them till the water dries up and the mushrooms start to caramelize. At this point add in the garlic and cook for a minute or two till it starts browning.

Finally add in the bell peppers and cook for a further two minutes till they start to soften.

Add in the cream cheese and turn off the heat. Give everything a good mix till you have a nice creamy mixture.

In a large bowl add the beef and the pork. Season with salt, pepper, paprika, dried herbs, fresh parsley and parmesan. Also add in the vegetable mixture once it's cooled and two eggs.

Mix everything will till it's nicely combined. Then you want to place the meat in a baking tray and shape it. Alternatively you can use a loaf tin for the meat and then turn it over on your backing tray.

Bake in a preheated oven at 200C for 45-60 minutes till it's fully cooked. Halfway through the cooking you can baste the meatloaf with the BBQ sauce.

Once cooked remove and rest for 10 minutes at least before slicing it. Serve it with some delicious cauliflower mash or creamed spinach. Save all the resting juices to amp up your sauce.
For the sauce
Melt the butter in a saucepan and then add in the tomato puree along with all the other ingredients.

Then cook for 10-15 minutes till it's reduce and nice and thick like a syrup.

Add in the resting juices from the meatloaf and reduce on the stove again till it's the perfect consistency.

Enjoy with your meatloaf.