More Keto Chicken Wings!
Saag Chicken Wings? Why not? I'll be honest. I never ate spinach as a child. But I found a love for it as I grew older. My first proper 'saag' was in the form of my Keto Palak Paneer. From which I created my recipe for Keto Saag Chicken. Chicken wings are another story though. I've always loved them. One of my first Keto recipes on the channel was garlic Parmesan chicken wings.  Since then I've taken butter chicken and turned it into butter chicken wings, I did the same with my tandoori chicken wings. You get the idea.
I've had this idea on my mind for a while to make my Saag Chicken into a wing recipe. So today I'm doing just that. I'm breaking it down into a deconstructed version. A lovely masala chicken with with a cooling 'saag' dip to go with it. Enjoy!
An alternative cooking method
With this dish I wanted to kind of do a more modern play/take on Saag chicken. As I neared the end of the cook I realized there were a few other ways to cook this dish. I served the sauce and the wings separately. What you could do is toss the wings in the sauce when they come out and serve them. You could also toss them in the sauce, pop them back in the oven for 5 minutes and have that sauce cook into the wings.
If you find the sauce too bland, which some people might. You can add a round of spices to the onions as they cook. Use the same spices that I use to marinate the chicken. I chose to let the sauce be nice and cooling and hence it has no masala in it. Either way, try different things and let me know how they turn out.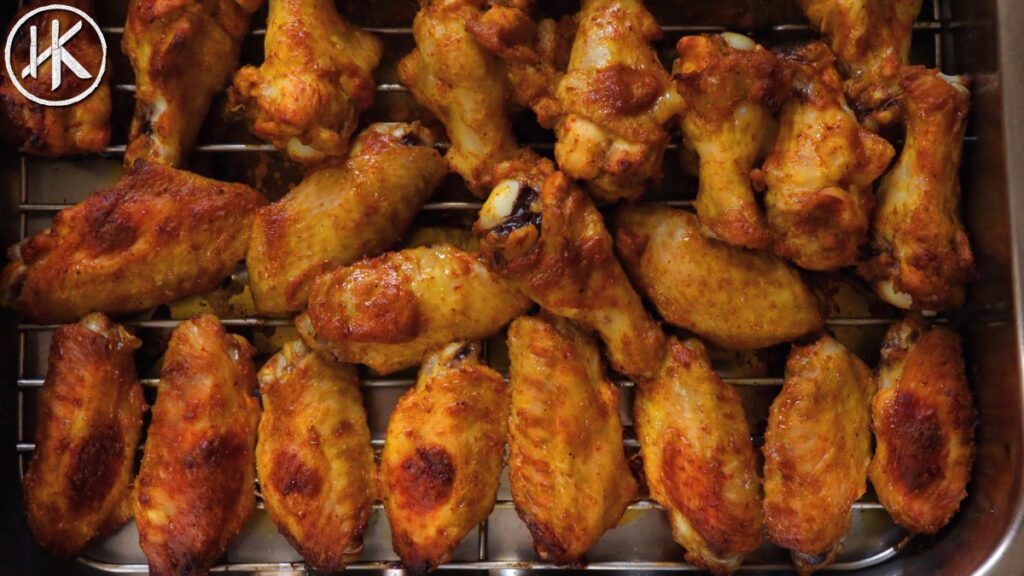 Nutrition Info (Per serving) – For the wings
Calories: 182
Net Carbs: 0g
Carbs: 0g
Fat: 8g
Protein: 25g
Fiber: 0g
This recipe makes 12 servings. One serving = One Wing (flat and drum). Get this recipe on myfitnesspal.
Nutrition Info (Per serving) – For the sauce
Calories: 34
Net Carbs: 1g
Carbs: 1g
Fat: 3g
Protein: 1g
Fiber: 0g
This recipe makes 21 servings. One serving = 15 grams. Cut the cake into 16 equal slices. Get this recipe on myfitnesspal.
For the sauce I weighed it at the end and it was 315 grams. At 15grams (a tablespoon) per serving that was 21 servings. I would strongly recommend that you weigh your sauce at the end because the weight might vary depending on how much you end up reducing the spinach puree. Just keep that in mind. If yours weighs more then your serving size will be bigger, if it's less than the serving will be smaller.
Saag Chicken Wings
A delicious masala chicken wing with an incredibly cheesy saag dip
Ingredients
For the wings
1

Kg

Chicken Wings

This was 12 full wings for me

60

grams

Full Fat Greek Yogurt

1

Tbsp

Ghee

1

Tsp

Salt

1

Tsp

Kashmiri Red Chilli Powder

1/2

Tsp

Tumeric Powder

1

Tsp

Coriander Powder

1/2

Tsp

Garam Masala Powder

1/2

Tsp

Cumin Powder

1

Tsp

Lime juice
For the Saag Dipping Sauce
150

grams

Cream Cheese

150

grams

Spinach

50

grams

Onion

5

grams

Ginger

5

grams

garlic

1

Tsp

Cumin Seeds

1

Tbsp

Ghee or Butter

Salt to Taste

Water as required
Instructions
In a bowl whisk together the yogurt, ghee, salt, red chilly powder, turmeric power, coriander powder, garam masala powder, cumin powder and juice of half a lime. This is the marinade for the wings

Add the chicken wings to the marinade and mix well. Allow to marinate for at least an hour or overnight.

Bake the wings on a wire rack in an pre-heated oven at 200C for 30 minutes. Then for an additional 5-7 minutes at the highest temperature to brown it. You can also smoke the wings or cook on a barbecue. Cooking times might vary based on the size of the wings.

Serve with the sauce or finish over the stove on a papad jali or stove safe wire rack for that extra char flavour.

For the dipping sauce melt the butter or ghee in a pan and fry the onions till they start turning brown.

Add in the cumin seeds, ginger and garlic and fry till the garlic starts to turn brown. Then add in the spinach leaves and cover and cook for 2 minutes till they are all wilted down.

Give everything a good mix, add a bit of water and once all the spinach is wilted transfer into a blender.

Blend everything to a smooth puree, you might need to add some more water.

Return everything to the same pan and rinse out the blender with water. Waste nothing.

Cook the mixture down for a further 5 minutes till it's a nice thick paste.

Whisk the cream cheese in a bowl till it's nice and smooth. Ensure that it's at room temperature before doing this. Also season with some salt.

Pour in the spinach puree and mix everything well. Taste for seasoning.

Serve with the wings.