What happens when you drop chicken in Palak Paneer?
My Keto palak paneer did definitely win me a lot of fans and it's satisfied a rather decent number of people who like Indian food. Since it's Indian food week on Headbanger's Kitchen I've gotten a few comments for a Saag Chicken recipe and I could not refuse. This is a great way for people to get in those greens which are so important on Keto. Spinach is one of the most nutritious foods and while Popeye never convinced me to eat it as a kid, I do love it as an adult. So give this recipe a go.
It's great for meal prep as well and you can cook up a nice big batch like this recipe and you've got 4-5 meals at hand. I used almost a kilo of chicken for this and half a kilo of spinach. If you want to up the fat content in this recipe you can just add a tablespoon of butter on top and you're good to go. Cheers and enjoy the recipe.
Indian Keto Food
One of the things I am most happy about is how the number of Indian people commenting on my recipes saying 'you can't eat onion and tomato on Keto' has reduce significantly. I think people are starting to realize as long as you are counting your macros and eating in moderation you can consume both of them. Of course you can alter the amount of onion and tomato used in this recipe and honestly since it's a very spinach heavy recipe you could even skip the tomato but I wanted to keep it as authentic as possible. I would love to know your thoughts.
Also don't forget to check out my other Indian recipes like the Keto Dahi Rice, Baingan Bharta and even my Keto Chicken Biryani.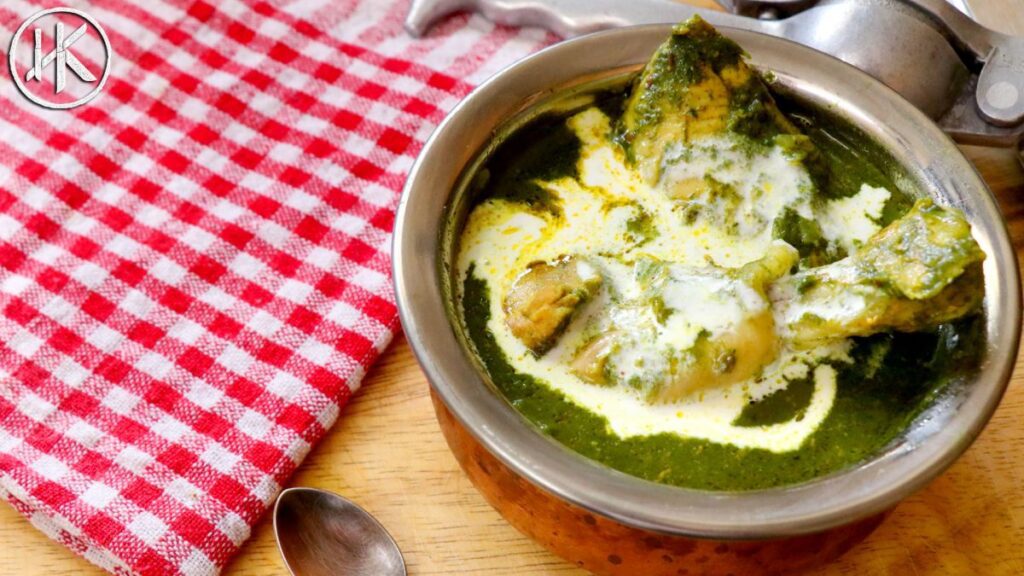 Nutrition Info (Per serving)
Calories: 467
Net Carbs: 6g
Carbs: 9g
Fat: 30g
Protein: 44g
Fiber: 3g
This recipe makes 4 servings. Get this recipe on myfitnesspal.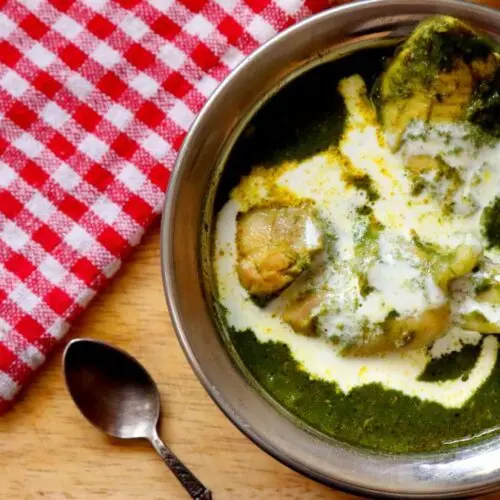 Keto Saag Chicken
Spiced chicken in a rich spinach gravy.
Instructions
Score the chicken legs by cutting gashes into the flesh which will allow the marinade and flavours to penetrate the meat.

Marinate the chicken with the yogurt, salt, chilly powder, tumeric, garam masala, coriander powder and cumin powder and leave for an hour.

In a heavy saucepan add all the spinach along with some water and cover and cook for 5 minutes till fully wilted. Puree the mixture in your blender and set aside for later.

Heat up the ghee in a sauce pan and when hot saute the onions. Once they turn translucent then add in the ginger and garlic and cook.

As the onions start to get some colour on them add in the tomatoes and give it all a good mix and cook for 2 minutes

Then add in the chicken and give it all a good mix. Once the chicken starts to get some colour on it add in the spinach puree (don't forget to rinse out the blender with water) and give it all a good mix.

Turn down the heat and cover and cook for 10-12 minutes till the chicken is done and cooked all the way through.

Finish with heavy whipping cream or double cream and serve.