Keto Tandoori Chicken Wings
The perfect Keto snack
Chicken wings are the perfect Keto snack. They are great if you need something to munch on in the evening or even to share with friends at a party. I've loved the versatility of wings and I love making new kinds of flavour combinations with them. One of my first wing recipes was Keto garlic parmesan chicken wings which were a huge hit on my Youtube channel. I followed that up with my butter chicken wings where I melded Indian flavours with an American food. For today's recipe I decided to bring back those bold Indian flavours and do a Tandoori flavoured chicken wing which I paired with a cheesy green chutney dip. I really hope you guys dig this recipe.
I'm always winging it
Tandoori chicken is red, mainly because of the food colour. If you look around for recipes that are homemade or without colour you'll find that the tandoori chicken looks more brown than red. I've never been afraid to use food colour, probably because I buy the good stuff and use it sparingly. In this recipe I used it for a more authentic look to the dish, so to be honest, it's purely cosmetic, it adds nothing in terms of flavour. This recipe has a few carbs more than it should because I used yogurt in the marinade and the dip as well, you can use a smaller quantity of yogurt but I would recommend not skipping it because it really is an important part of the dish. Full fat greek yogurt is what I would recommend using. Anyway, final thoughts? What flavour should I make next?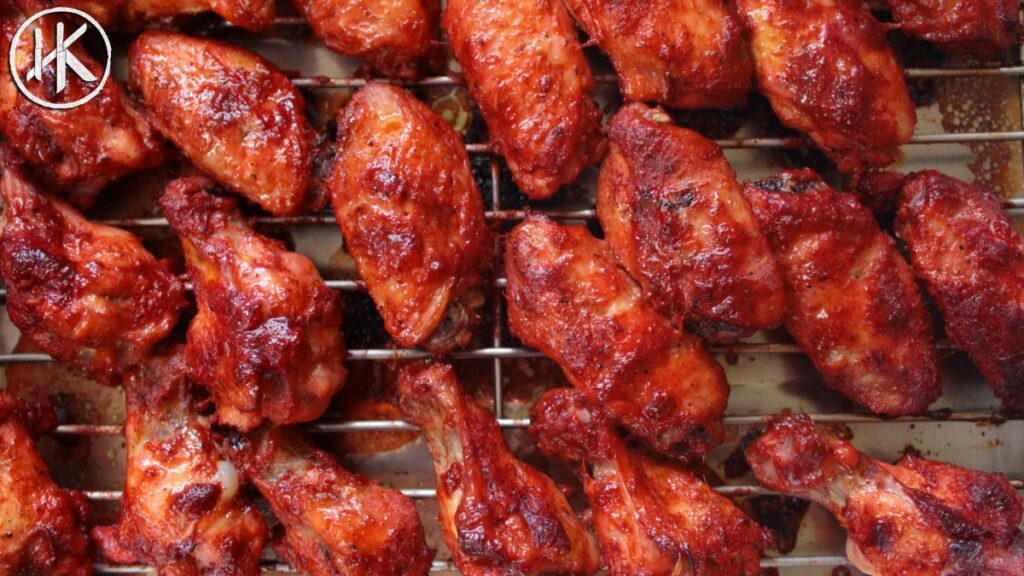 Nutrition Info (per serving for the wings)
Calories: 541
Net Carbs: 3g
Carbs: 3g
Fat: 21g
Protein: 76g
Fiber: 0g
This recipe makes 4 servings. Get this recipe on myfitnesspal.
Nutrition Info (per serving for the dip)
Calories: 84
Net Carbs: 2g
Carbs: 3g
Fat: 7g
Protein: 2g
Fiber: 1g
This recipe makes 4 servings. Get this recipe on myfitnesspal.
Keto Tandoori Chicken Wings
A tandoori chicken wing served with a creamy cheesy green chutney dip
Ingredients
For the Green Chutney Dip
30

grams

Cilantro/Coriander

30

grams

Fresh Mint Leaves

5

grams

Ginger and Garlic Paste

1

Tsp

Salt

1/2

Tsp

Cumin Powder

Try this one

5

ml

Lime/Lemon Juice

75

grams

Yogurt

75

grams

Cream Cheese

Try this one
Instructions
For the wings
Separate the chicken wings into drums and wings and set the wing tips aside to make stock. Also pierce the wings with the knife randomly so that the marinade will penetrate the meat.

In a bowl mix together the yogurt, ginger garlic paste, ghee, food colour, salt and tandoori masala.

Add in the chicken and mix well. Marinate overnight for best results. Minimum 4 hours.

Place the wings on a wire rack and bake in the oven for 45 minutes at 200C

Once cooked all the way through brush with butter and using your tongs give it a final finish on the stove directly over the flame for a smokey flavour. (This step is optional)
For the dip
In a blender add the mint, coriander, mint, ginger garlic paste, salt, cumin powder and lime juice and blitz. If needed add a tablespoon or 2 of water.

In a bowl mix the cream cheese (at room temp or microwave for 30 seconds) and yogurt and then add in the coriander and mint paste as well.

Chill in the fridge and serve with the wings.