The Salad week Swansong
And so salad week comes to a close and I had choice to make if I wanted to make a vegetarian salad or not. I opted to make this delicious pesto chicken salad because let's face it, vegetarians can just skip the chicken or use paneer in it's place. I think my Keto basil pesto is a fairly underutilized condiment given how much flavour it packs and also how much good fat it has. So I thought it was the perfect base for a salad and also I couldn't have pesto and not make this a play on a caprese which is my favourite salad by far. I hope you will enjoy this salad as much as I did.
A quick recap!
I really hope all of you enjoyed salad week on Headbanger's Kitchen. We kicked off with my basic Greek style Keto Chicken Salad, then moved on to a Keto Seafood salad and then finally an Asian Style Keto Beef Salad. Here we are ending it with this delicious Pesto chicken salad. Let me know which salad was your favourite from the 4 and what should be my next 'week'.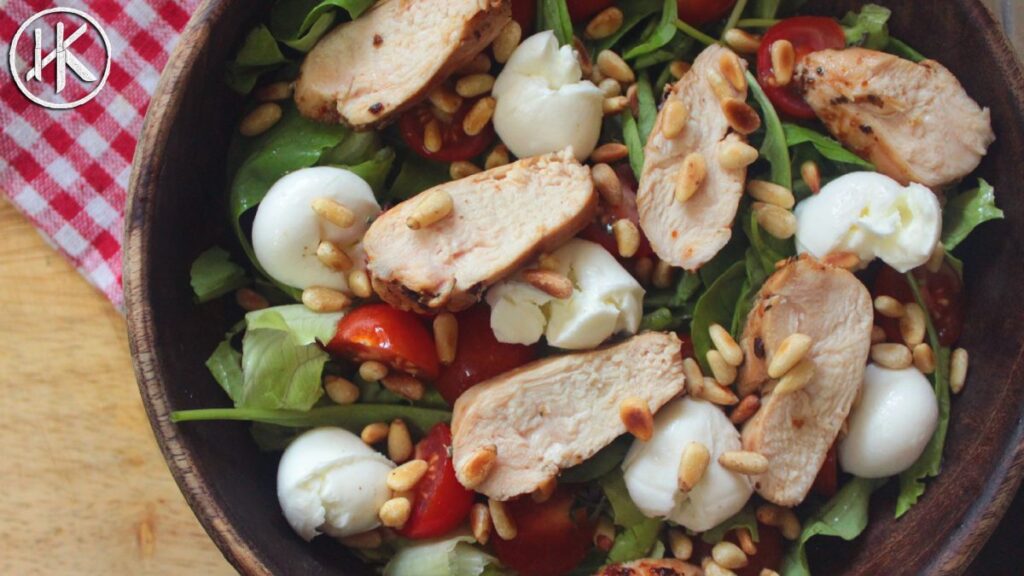 Nutrition Info (Per serving)
Calories: 409
Net Carbs: 2g
Carbs: 3g
Fat: 32g
Protein: 28g
Fiber: 1g
This recipe makes 2 servings. Get this recipe on myfitnesspal.
Pesto Chicken Salad
A refreshing Italian style salad
Ingredients
For the salad
150

grams

Boneless Chicken Leg and Thigh Meat

15

grams

Pine Nuts

Order online

Salt to Taste

1

Tsp

Italian Seasoning

I recommend this

1

Tsp

Olive oil for marinating

Try this one

1

Tbsp

Bacon Fat for frying

100

grams

Mixed Lettuce

50

grams

Cherry Tomatoes

100

grams

Bocconcini
Instructions
Season the chicken with the Italian seasoning, salt and olive oil and leave to marinated for 20 minutes

Toast the pine nuts in a dry pan and set aside once they have a nice brown colour

Fry the chicken in the pan using the bacon fat and set aside.

Make the dressing by mixing the pesto, mayo and the resting juices from the chicken

Assemble the salad with all the ingredients and pour the dressing over.