Eggs are vegetarian!
If you have been following HK for a while you know about my frustrations with Indian viewers constantly asking me for 'eggless' recipes. Now don't get me wrong, I have no issue with anyone not wanting to eat eggs, not liking eggs or anything of that sort. My issue lies with the premise of being an Indian 'pure veg'. Without getting too deep into this, it comes from the horrible Hindu caste system where Brahmins who don't eat eggs and meat are seen as 'pure' and everyone else is 'non veg', yep that's actually a term used in India. I also take issue with people not even knowing how eggs are produced and being unaware that they are not fertilized and hence, vegetarian. Anyway, before I go deep down the rabbit hole let's talk about today's recipe.
It's an Anda Masala that I'm cooking up today. Anda is the Hindi word for egg and this is one egg-celent dish. It's boil eggs cooked in a spiced butter and then cooked further in a gravy of onions and tomatoes. Yes, you can eat onions and tomatoes on Keto and if you have a problem with that please watch my video 'What foods can I eat on Keto'. Anyway, enough jibber jabber and lettuce cook.
Counting carbs & a serving
If you watched the video, you saw 7 eggs. The recipe shows 6 eggs. The reason I did this was because this recipe makes 3 servings which means 2 eggs per person. Imagine dividing 7 eggs into 3 servings, it's just painful maths. I've just simplified it. You can easily up the fat as well by just adding butter on top of your portion and if you wish to reduce carbs just use less onions and tomato. I personally think at 5g carbs for a serving isn't bad at all. So it's your call.
While cooking this you can add more water to it to making it more of a 'curry'. You can blend the masala to make a smoother paste. You can add some cream to this for a richer curry. I think there are plenty of tweaks you can make to this recipe to take it up a notch. I wanted to keep it simple and authentic. Anyway, enjoy!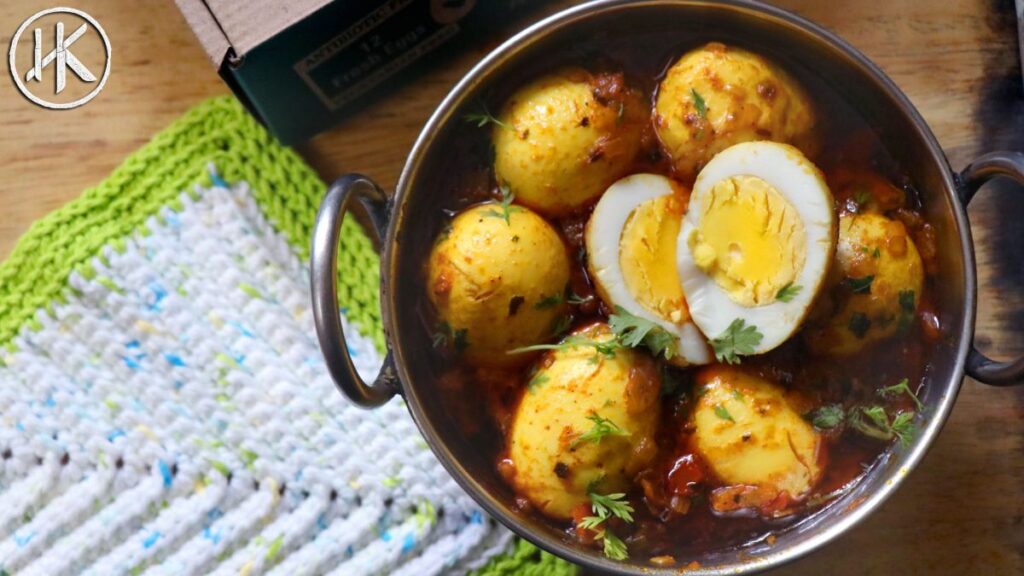 Nutrition Info (Per serving)
Calories: 269
Net Carbs: 5g
Carbs: 6g
Fat: 21g
Protein: 14g
Fiber: 1g
This recipe makes 3 servings. Get this recipe on myfitnesspal.
Keto Egg Masala
A delicious spicy egg curry
Instructions
Start by boiling the eggs and peeling them. Then prick them with a fork.

Heat half the butter in the pan and add in 1/2 the spice powder and fry together for 30-60 seconds. Then add in the eggs and mix well and cook for 3-4 minutes of a low heat till the eggs start to get some colour.

Remove the eggs and set aside. Add the remaining butter and onions. Fry the onions till they turn translucent and add in the ginger garlic paste, cinnamon, cloves, cardamon and season with salt.

Fry and brown the onions and then add in the tomato, the remaining spices and some water and cover and cook for 10 minutes. Stir occasionally to ensure nothing burns. Season to taste

Add in the kasuri methi and mix in well. Add the eggs as well and mix and then cover and cook for a few minutes

Finish with coriander and serve.