Keto Triple Chocolate Ice Cream
Keto chocolate ice cream + chocolate chips + chocolate cake = ka-ching!
Hear me out. Chocolate ice cream? Good. Chocolate cake? Great. Keto chocolate ice cream with choco chips and fat chunks of chocolate cake interspersed through it so you get chunky mouthfuls of chocolate deliciousness with every bite? OMG YES, WHERE HAVE YOU BEEN ALL MY LIFE!
You know when you're not on Keto, eating chocolate ice cream is already a guilt-inducing indulgence. I know it is for me, so adding cake to it just turns it into a sugar-, fat- and guilt-loaded calorie bomb. It's the fastest way to nuke any diet you might even be considering. So imagine my absolute delight when I was able to turn out a Keto version of the dessert that tastes as good, if not better, than the real thing. And it's perfectly diet-friendly!
A cheat's recipe that doesn't cheat on your diet!
Does it already sound like a lot of work? You know the advantage of being a lazy cook – have you met my three-ingredient and five-ingredient recipes? – is that you're always looking for shortcuts to make life easy. The chocolate cake comes together in minutes because we're making a mug cake. There's no whipping and folding and multiple steps for the ice cream component – it's just a one-bowl mix.
I was actually surprised by how not icy the ice-cream was – it was as deliciously creamy as any store-bought, factory-manufactured ice cream. That, of course, is partly because of the Jack Daniel's whiskey added to the mix. Alcohol lowers the freezing point of ice cream so it stays creamier without the formation of those pesky ice crystals. If you don't like the taste of whiskey, you can try a small splash of vodka, or just skip the alcohol altogether if you don't mind a slightly icy final product. And if you feel like you're not ready for the triple threat that is this ice cream, go try my coffee and hazelnut Keto ice cream. It's not only a great starting point, but it's also the perfect base recipe that you can customise as you like.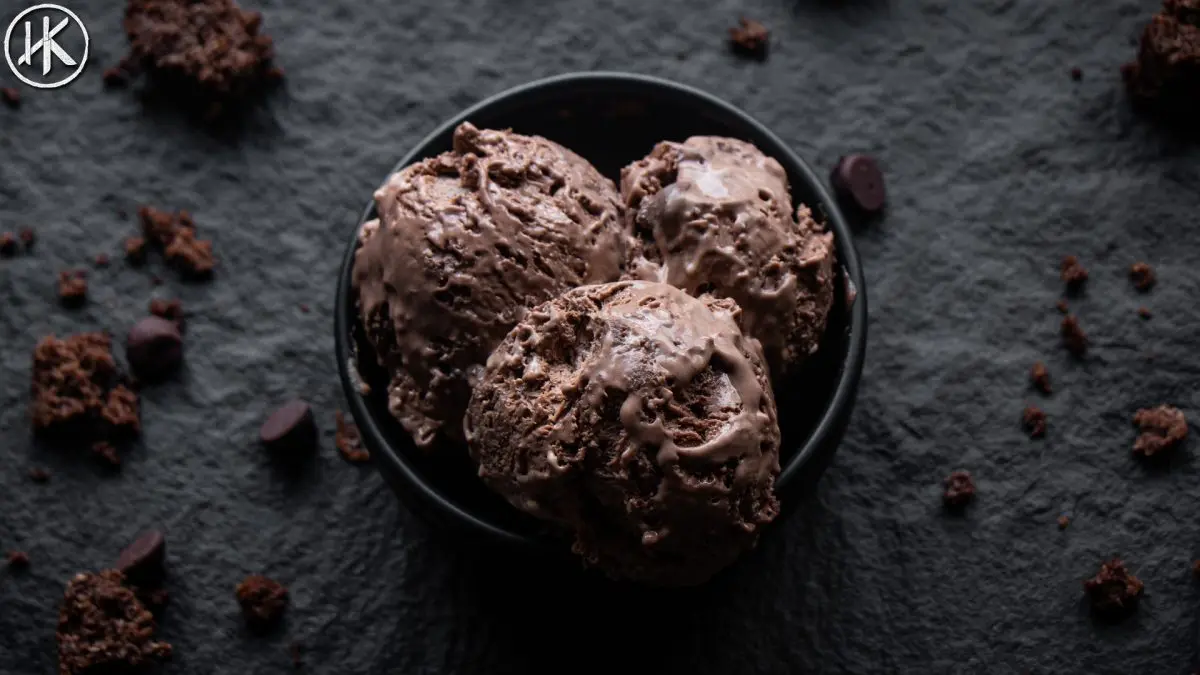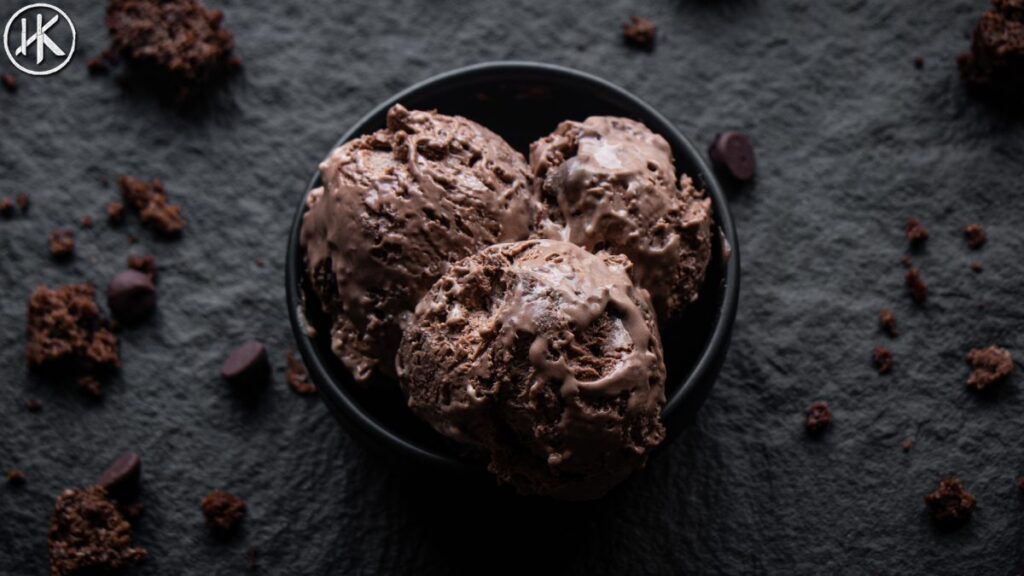 Nutrition Info (Per serving)
Calories: 182
Net Carbs: 2g
Carbs: 5g
Fat: 17g
Protein: 3g
Fiber: 3g
This recipe makes 5 servings.  Get this recipe on myfitnesspal. These macros include using only 1/2 of the mug cake. If you use the full mug cake they will be different.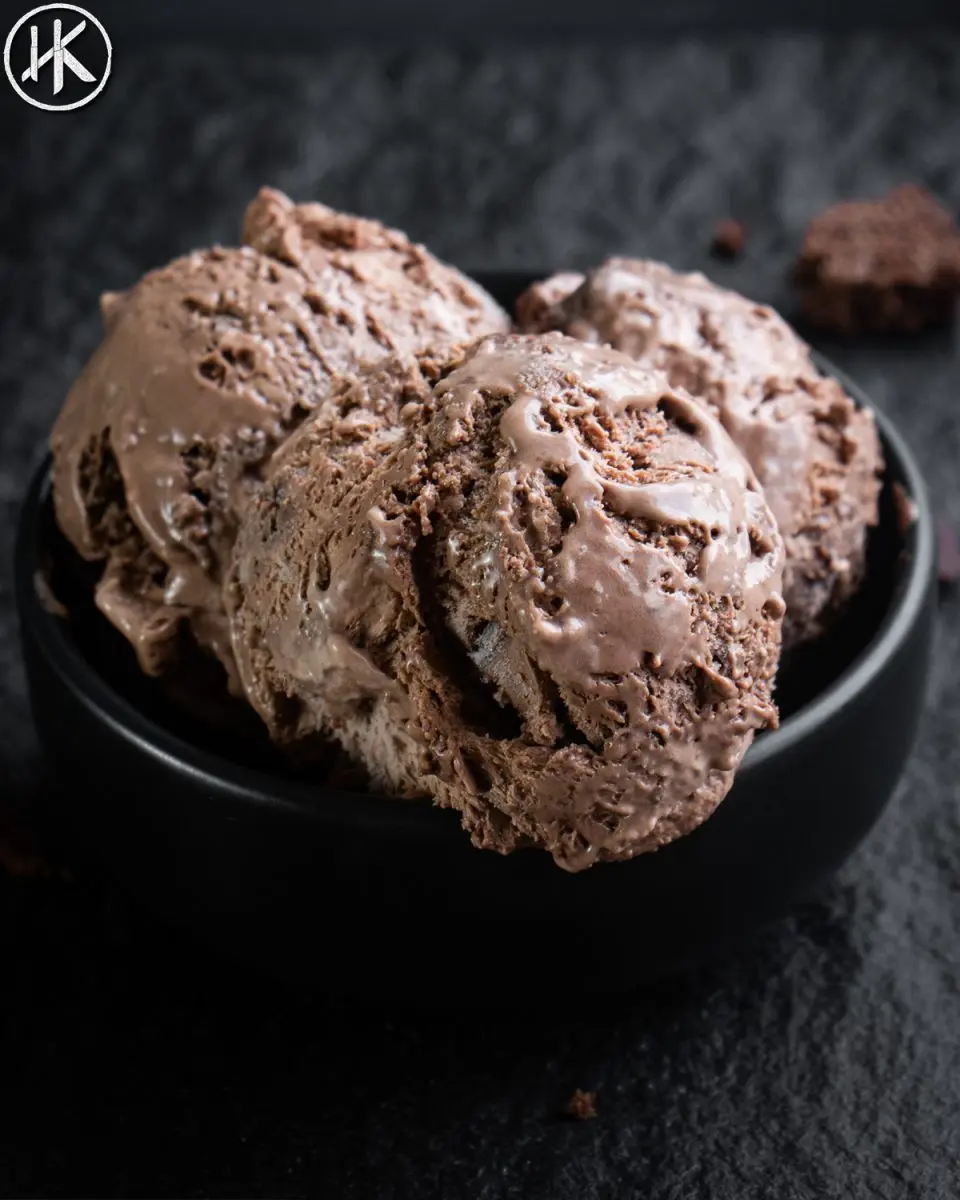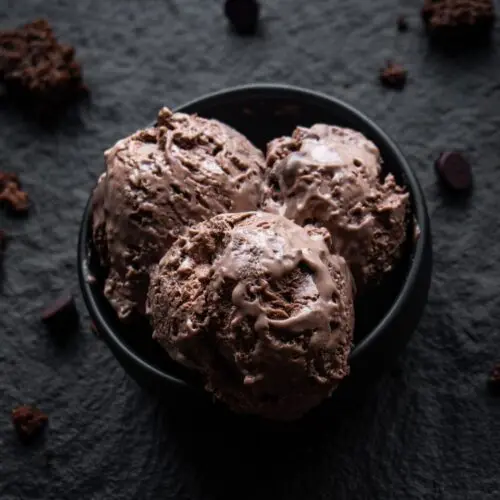 Keto Triple Chocolate Ice Cream
Delicious Keto chocolate ice cream with chocolate chips and pieces of chocolate cake
Ingredients
For the mug cake
25

grams

Almond Flour

15

grams

butter melted

15

grams

Heavy Whipping Cream

1

Tbsp

cocoa powder

1

Egg

1/2

Tsp

vanilla

1/2

Tsp

Baking Powder

2

Tbsp

Keto sweetener

1:1 sugar substitute
For the ice-cream
150

ml

Heavy Cream

1/2

Tbsp

Whiskey

2

Tbsp

Keto sweetener

1:1 sugar substitute

1

Tbsp

cocoa powder

30

grams

Lily's Sugar Free Chocolate Chips
Instructions
Preheat your oven to 180F/350C, if using.

Get a bowl and add in the butter. Pop it into the microwave and zap it for 15-30 seconds till the butter melts.

Add in the almond flour, cocoa powder, baking powder, salt and stevia/erythritol and the vanilla extract and one tablespoon of heavy cream. Crack an egg into it and give it a good mix till it's well combined into a glossy chocolate batter.

Transfer into a greased ramekin and pop it into the oven for 12-15 minutes till a toothpick comes out clean. If you're using the microwave, pop it in for 90 seconds on the highest power.

When the cake is done, set it aside to cool while you make the ice cream mix. You can also pop it into the fridge to help it cool faster.

For the ice cream, add the chilled heavy cream to a bowl. Into that, add the powdered erythritol and whisk together till you just get soft peaks.

Then add in the vanilla extract, the whiskey or alcohol of your choice. Sift in the cocoa powder and whisk it all again until just combined and it's still holding soft peaks.

Take the cake out of the ramekin and cut into chunks. They can be as big or as small as you like. I used half the mug cake for my ice cream, but feel free to use more or less.

Add the cake chunks into the ice-cream mix, as well as the chocolate chips, and gently fold it all together till it's equally distributed. Transfer to a freezer-safe bowl and pop it into the freezer for a minimum of four hours. Scoop and serve!