Keto Kheema – It mince so much to me!
Goats are delicious. We call it mutton and it's the meat of choice for the most decadent Biryani and also curries. For some reason my mutton recipes are the least popular on my channel. It probably has something to do with mutton meaning old sheep in other parts of the world and goat meat not being a staple. You can always substitute mutton with lamb and you should definitely check out my Sindhi style mutton curry, my Kerala mutton stew and even my thrice cooked mutton.  For today's recipe we're using ground meat or mutton mince as we call it and we're making Kheema.
Kheema itself just means 'minced meat' and it's normally cooked with spices, onions and tomatoes. This dish is common across the country but the taste varies depending on where you eat it. There are many versions of this as well and it's really a versatile dish. I will be cooking up a more Keto friendly version with some cheese and cream and making it truly fat friendly. In Mumbai it's often made with peas and served with pav, which is a local bread. I will be skipping the peas and the pav as well. You can always enjoy this with a side of my 90 second microwave bread or a Keto naan. Anyway enough jibber jabber, let's cook.
It's custom shop with these mutton chops
I don't know where to begin. This recipe is literally a blank canvas for you to paint on. You can turn this Indian kheema into an Asian style kheema, Moroccan, Mexican, Spanish, French, or  British one. The saucepan is your playground. It's just a matter of switching around the spices to what suits your palette, edit and adjust the vegetables to your liking, make it your own. I personally would throw in some mushrooms and spinach into this and I would finish it with an egg. I would each just poach and egg and place it on top, alternatively a nice sunny side up fried egg or my most elaborate scheme would throw the white into the kheema as it cooks and place the yolk on top of the serving dish at the end. That's pretty much heaven on a plate.
When it comes to to what meat to choose, it's pretty much an open bar, or butcher shop really. Ground pork, beef, chicken, turkey, lamb, kangaroo, emu, ostrich, there are really no restrictions here. The only thing to keep in mind is the obvious cooking times for each meat, like chicken cooks much quicker than mutton. However since it's ground meat, is there really such a thing as over cooking? I think not. You'd want to get some meat with a decent fat % as always, nothing too lean.
Unleash your creativity and leave me a comment telling me what you did and how you made this dish your own. Happy cooking!
Kheema Pav
I remember paying 8 rupees in my college canteen for kheema pav. It was quite watery and served with some chopped onions on top and pav. Pav is an Indian bread and I've done a recipe for a Keto pav which I first served up with my Keto pav bhaji recipe. The kheema in college had garlic and ginger bits and heavy on the garam masala. Most places will add different ingredients depending on where you eat it. Spices from coriander powder to turmeric powder, whole spices like cardamom, cinnamon sticks and cloves. But you almost always finish the dish with fresh cilantro and a squeeze of lime. I used to love to visit the Irani cafes in Bombay and enjoy a hot kheema pav.

Nutrition Info (Per serving)
Calories: 588
Net Carbs: 3g
Carbs: 4g
Fat: 47g
Protein: 36g
Fiber: 1g
This recipe makes 4 servings. Get this recipe on myfitnesspal.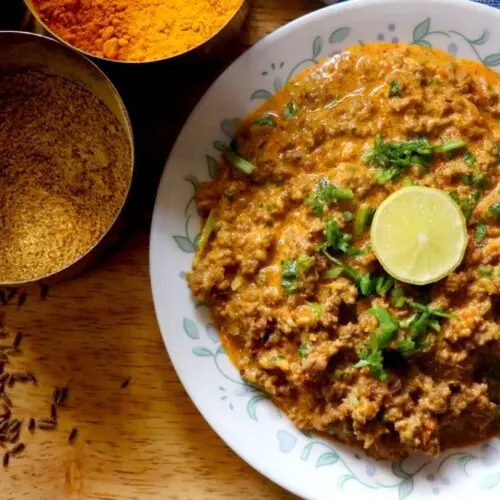 Keto Kheema
A creamy cheesy Indian style minced meat dish
Instructions
Heat the ghee in a sauceman and chop and add the onions. Once they turn translucent add the cumin seeds.

When the onions start browning add in the minced meat and stir well. Keep stirring and breaking the pieces of meat so they do not lump up together. Keep the pan on a high heat.

Once the meat is separated and the moisture is released add in the tomato, ginger garlic paste, salt, tumeric, chilly powder, coriander powder, garam masala and mix well. Then add some water and cover and cook for 15-20 minutes

Keep stirring the meat every 2-3 mintues and once it's reduced to your liking add in cheese and mix well.

Once the cheese is fully melted add in the cream and cook for a further 2-3 minutes after which turn off the gas and finish with the coriander.

Serve with Keto bread or Keto naan.