Keto Chocolate Chip Cookies
Chewy Keto Cookies!
Why am I making Keto chocolate chip cookies when I've confessed to not being a huge fan of cookies? Well the answer is simple. Because they are deeeeelicious! These Keto cookies are super easy to make. In fact I made dozens of cookies over the course of the last 3 months till I was able to perfect this recipe. And now I can finally share a Keto chocolate chip recipe that I'm happy with. In fact it's one that might turn me over to the dark side.
Now since I live in India I don't get sugar free chocolate chips. However I just used some 85% Lindt chocolate instead. I cut them up into nice big chunks so you get nice pockets of melted chocolate in each bite. So go ahead and make these!
Nut Butter
I'm sure there will be a couple of questions about substitutes and replacements. It's a given with most recipes. For starters I've done Keto peanut butter cookies. Which means you can use peanut butter and make cookies entirely with that. You can also substitute the almond butter with peanut butter in this recipe. You can also substitute the almond butter with almond flour but you might want to then use 60grams of butter instead of 30grams. However I think this recipe works because it has the mixture of almond butter and almond flour. Anyway enough jibber jabber.

Nutrition Info (Per serving)
Calories: 179
Net Carbs: 4g
Carbs: 5g
Fat: 16g
Protein: 6g
Fiber: 1g
This recipe makes 10 servings. 1 serving = 1 cookie. Get this recipe on myfitnesspal. These macros are with me using Lindt 85% chocolate. If you use sugar free chocolate chips or 100% chocolate or 99% or 90% the macros will change and the net carbs will be lower. So just keep that in mind.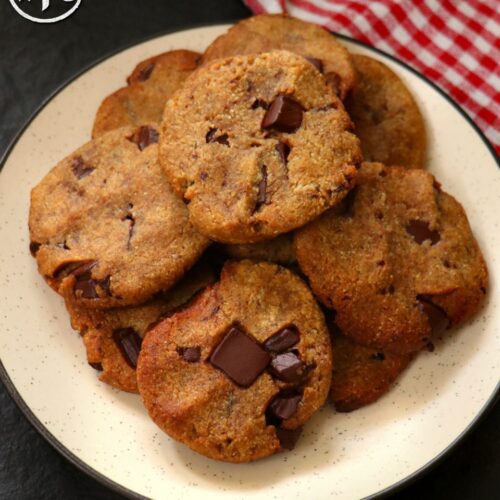 Keto Chocolate Chip Cookies
Delicious chewy chocolate chip cookies
Instructions
In a large mixing bowl add the almond butter, egg, vanilla extract and melted butter. Mix all together using a silicone spatula.

Then add the dry ingredients, the almond flour, erythritol, baking powder and chocolate chips. If like me you don't get chocolate chips then use any Keto friendly chocolate bar and chop it into chunks.

Divide the mixture into 10 equal parts to make the cookies.

Place the cookies on a baking tray lined with parchment paper and shape them. If you prefer thin cookies press them out thinner, if you want a fat cookie don't press as much.

Cook in a pre-heated oven at 175C for 12-15 minutes till the edges are golden brown.

Once cooked allow them to cool COMPLETELY before digging in.

Store in an airtight container on your counter for a week or put in the fridge/freezer to store for longer.