Coffee & Hazelnut Keto Ice Cream
Keto ice cream is the one dessert that has eluded me. It's taken me 4 years of writing and filming Keto recipes to make one. I'm happy to report that I finally managed to work on a recipe I was happy with. I tried the 'mason jar' ice-cream recipe and all I was left with was a soupy mess arm. So I decided to tweak that recipe to work for me. The truth is getting high fat cream in India is not easy. Everything here is 25% fat and at best I've been able to find something with 30% fat.
But it's the 35% and above fat % in cream that helps with a lot of whipped desserts. But I still managed to make things work!
Flavor away!
I guess this recipe serves as the base recipe for pretty much any flavour of ice-cream. Drop in some vanilla for a plain jane. Throw in some coco powder for chocolate. Maybe a few fresh strawberries and some puree for a berrylicious ice-cream. Originally I wanted to do coffee-almond but since I had hazelnuts at home I used those and it was a great combo.
You could also throw in some Keto Nutella and make a Nutella ice-cream. How good would that be? There are endless possibilities. Just vanilla extract or pure vanilla for a plain ice cream. Maybe thrown in some chocolate chips. Endless possibilities. Who said you can't have ice-cream on the Keto diet?
Let's talk sweetener
Living in India I'm limited to what sweetener is available to me. But the market here is opening up and a lot of companies are making new varieties of low carb and Keto sweeteners. I personally use erythritol myself or stevia to sweeten things. However in the past I've used Sukrin Gold, monk fruit and also the Lakanto Maple flavored syrup to sweeten things. I have been told that allulose is a great option as it helps keep the ice cream softer and creamier.
Taste and texture
Since we are not churning the ice cream there is a definite texture difference but it's still nice and creamy. Look this is one of those super simple ice cream recipes. It uses a few ingredients and is fairly fuss free. Mix them all up and pop them in the freezer and you're good to go.
Look you can always go buy brands like Rebel and Halo Top from the store but they aren't the cheapest. So why not make this Keto ice cream recipe where you know exactly what's in it?
Now I've never made a dairy free version but I know for a fact that coconut milk won't whip but you can use coconut cream to create the same whipped cream. It should work the same way to give you a dairy-free ice cream. If you have an ice cream maker that's great but this recipe is great for folks who don't have one.

Nutrition Info (Per serving)
Calories: 152
Net Carbs: 1g
Carbs: 2g
Fat: 16g
Protein: 2g
Fiber: 1g
This recipe makes 4 servings.  Get this recipe on myfitnesspal. The net carb count per scoop of ice-cream is just 1 gram which is pretty good if you ask me. Just remember these are treats, at the end of the day there are still calories in ice cream so just work it into your daily requirements.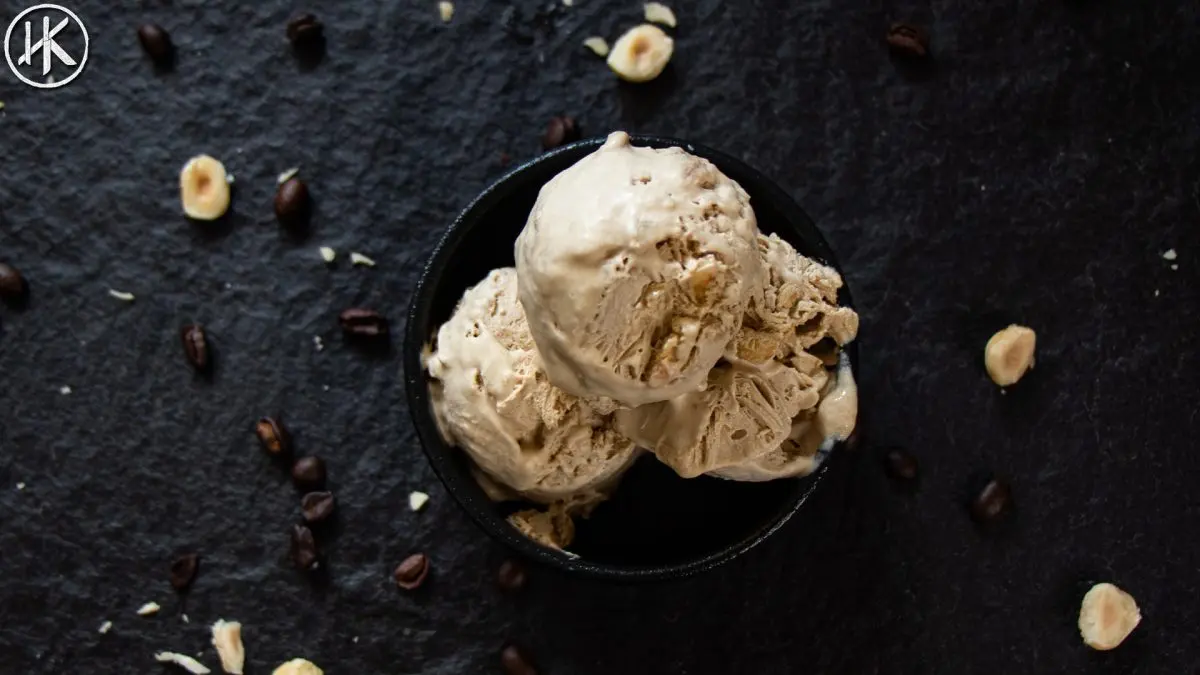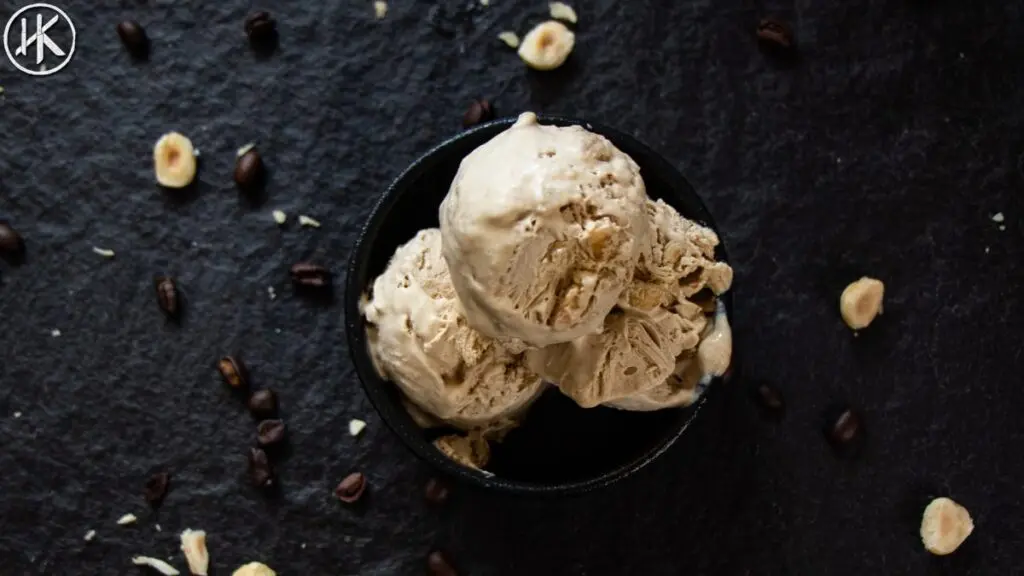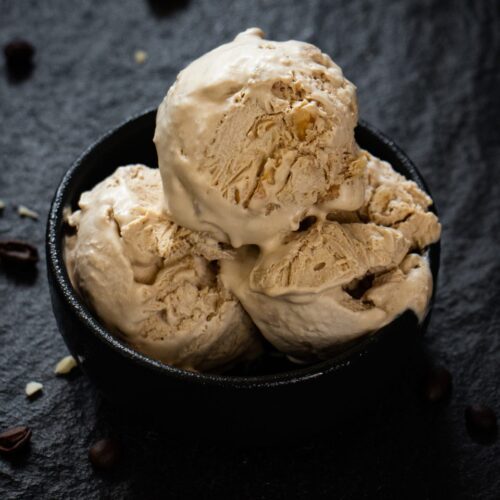 Keto Ice Cream
A delicious coffee & hazelnut Keto ice cream
Ingredients
125

grams

Heavy Whipping Cream

28

grams

Hazelnuts

1

Tsp

Instant Coffee Powder

2

Tsp

Erythritol or Keto Sweetener

This is for a 1:1 sugar substitute.

a pinch of salt
Instructions
Start by toasting the hazelnuts in a dry pan till they start to get some colour on them. Make sure you keep moving the pan so they don't burn.

Once they are toasted allow them to cool and then smash them in a mortar and pestle to make smaller pieces.

To make the ice cream mix the cream, sweetener, salt and coffee powder in a bowl and whip to soft peaks.

Then fold in the hazelnuts and transfer to your ice-cream dish.

Pop in the freezer for 4-5 hours

If the ice cream is too hard allow it to thaw for a few minutes before eating.

Enjoy!