Keto Peanut Butter Cookies
Keto Cookies Finally!
I don't really eat cookies, unless it's a real cookie made from flour and sugar. And only chocolate chip ones made by my wife Deepti. Keto cookies have never really interested me but since I've received a dozen (or maybe 100) requests for a recipe I thought I'd start here. The Keto Peanut Butter cookie is probably the simplest cookie you'll ever make. It's literally 3 ingredients, peanut butter, sweetener and egg.  However I wanted to put my own spin on it and I've done exactly that. So check out the recipe and enjoy!
Any nut will do!
While this is a peanut butter cookie I do believe this recipe will work with any nut butter. In theory it makes perfect sense. However if you do try making it using almond butter or hazelnut butter let me know how it turns out. You could also throw in some sugar free chocolate chips for a chocolate chip cookie.
When it comes to sweeteners I use Sukrin Gold in this recipe. You can use Stevia or Erythritol instead as well, it's completely up to you. What I would recommend is tasting the batter since all Keto sweeteners vary in levels of sweetness.
The base of this recipe is the peanut butter, sweetener and egg as I mentioned earlier. Everything else is option and a flavour enhancer. I was thinking of ginger cookies when I made this which is why I used the cinnamon and grated ginger. The husk is largely to add some texture to it and the vanilla to ensure there is no eggy taste.

Nutrition Info (Per serving)
Calories: 213
Net Carbs: 2g
Carbs: 5g
Fat: 16g
Protein: 10g
Fiber: 3g
This recipe makes 8 servings. One serving = One Cookie. Get this recipe on myfitnesspal.
Now I've made 8 cookies using this recipe but being really honest they were way too big. I would strongly recommend making 16 smaller cookies out of this instead of 8 bigger ones. The macros will be exactly half of what's mentioned here. I think they would possibly cook better as well. Anyway give it a go and let me know.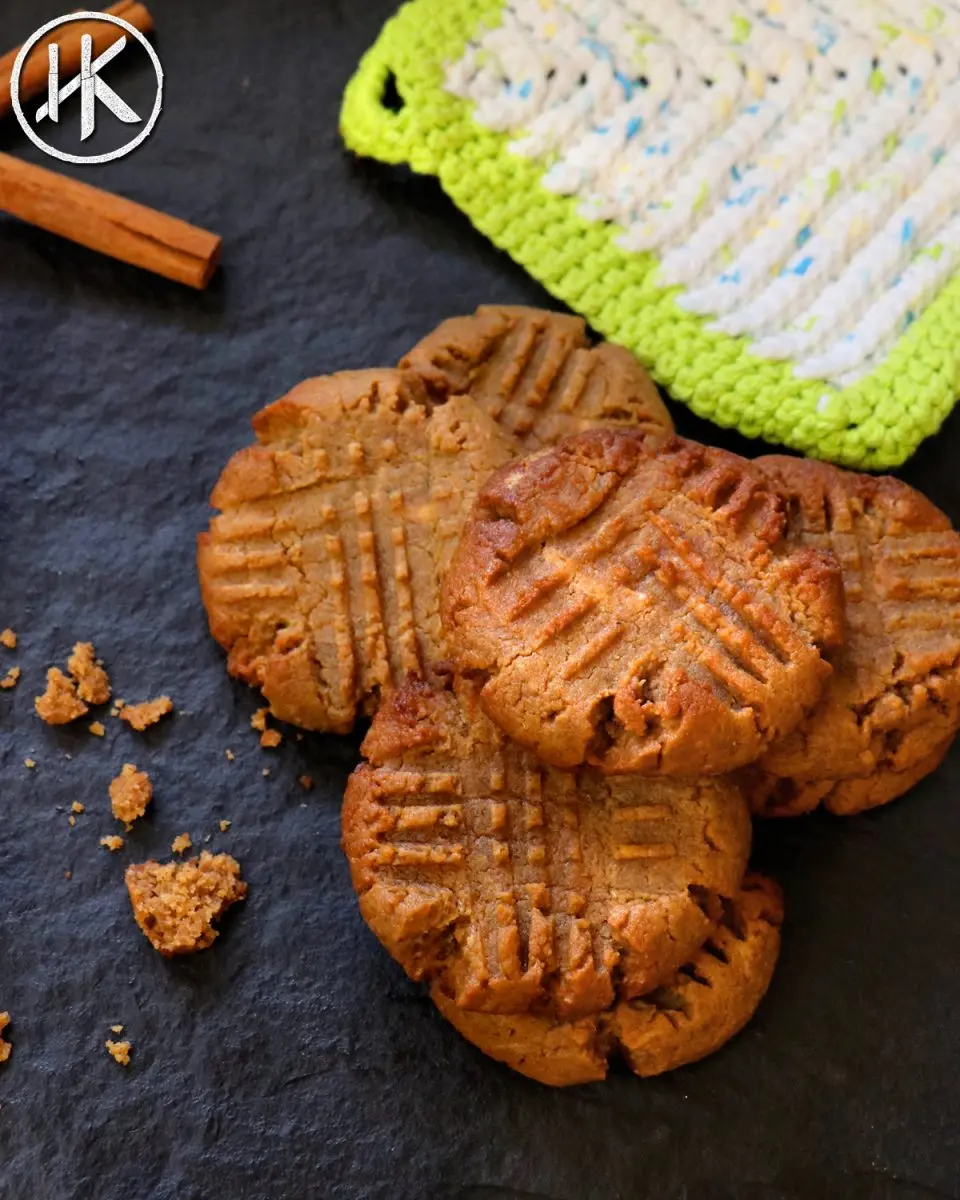 Shopping List
In case you need some of the stuff I used in the video you can use these links to get them
Also check out my blog post 'The Keto Shopping Guide For Indians'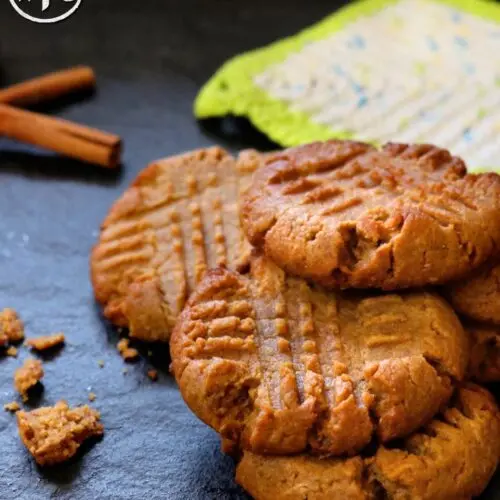 Keto Peanut Butter Cookies
Delicious low carb peanut butter cookies
Ingredients
250

grams

Peanut Butter (Natural and with no added sugar)

Buy Online

70

grams

Sukrin Gold (or low carb sweetener of choice)

Buy Online

1/2

Tsp

Cinnamon Powder

Buy Online

1

Tbsp

Psyllium Husk

I use this

1/2

Tsp

Vanilla Extract

Try this one

1/2

Tsp

Fresh Ginger (Grated)

You can also use powdered ginger

1

Egg
Instructions
Preheat the oven to 170 C

In a large bowl mix together all the ingredients to make a cookie dough

Using a kitchen scale weigh out the dough and divide into 8 equal dough balls. You can alternatively make 16 as well for smaller cookies.

Place them on a baking tray lined with parchment paper or a silpat. Then press down with a fork on the cookie in the center making a vertical indentation and then once more horizontally to give you the criss cross pattern on the cookie.

Bake in the oven for 12-15 minutes till the edges start to brown.

Remove the cookies and let them cook completely!! DO NOT TOUCH THEM!!!

Once they have cooled your can then enjoy them and store the rest in an airtight box for later.