5 Ingredient Keto Chilli Con Carne
Easy Chilli Con Carne
I've been on a roll making 5 ingredient recipes. On today's menu is Chilli con carne. Prior to this I whipped up 5 ingredient versions of butter chicken, cauliflower cheese and chicken Alfredo. Since chilli is one of my fav Keto meals I decided to make it. Chilli is just so easy to make, it's great for meal prep as you can cook a big batch of it and it's one pot cooking. That's all my favourite things. So enough jibber jabber let's cook!
Water buffalo or cow, does it matter?
Chilli is always best with beef in my humble opinion. However you can make this with any ground meat you like. Now I use beef but my beef is water buffalo meat. It tastes pretty much the same as cow meat does. I won't get into the details but it's sometimes also called Buff meat. Now in order to not confuse my large international audience I just say beef because who has time to explain the nuances of this meat madness. Anyway you can also make this with ground pork, lamb or chicken. It's all good.
Where are the chillies?
Now I've never liked spicy food which is why I've always run away from the Jalapenos and other chillies. So it was inevitable that my chilli had no chillies. However you feel free to spice yours up with some hot peppers and chilli flakes and hot paprika etc. It's pretty much your recipe to fool around it. So have fun.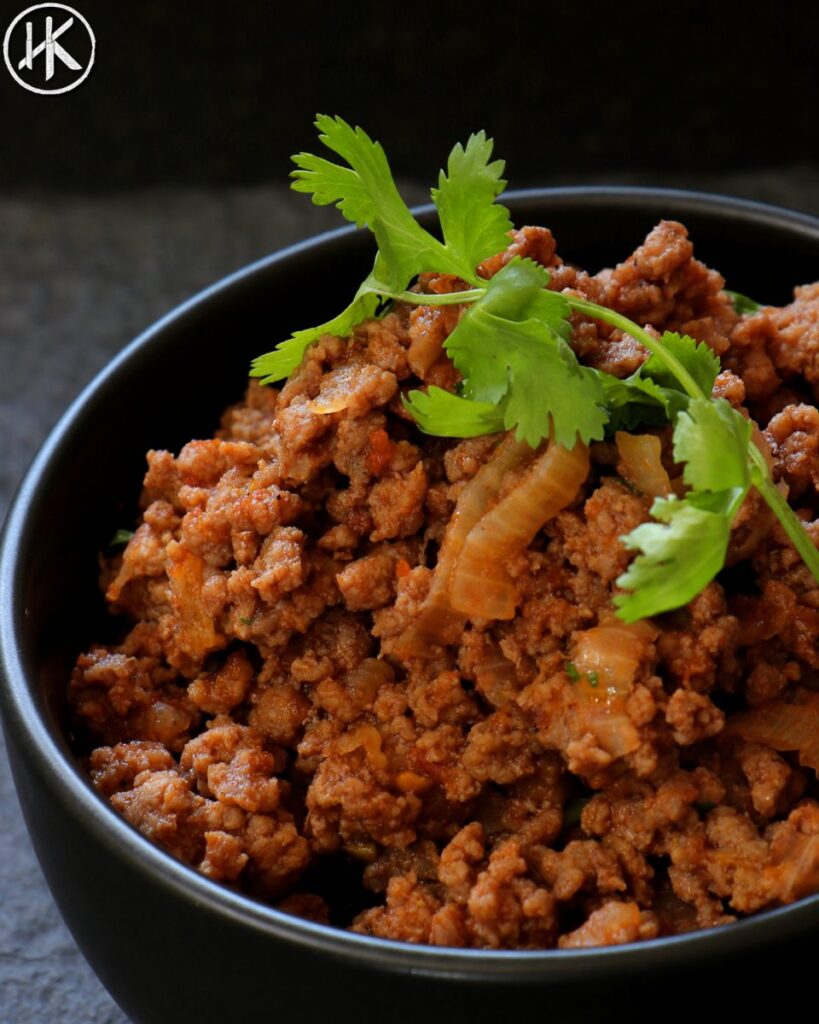 Nutrition Info (Per serving)
Calories: 494
Net Carbs: 6g
Carbs: 7g
Fat: 38g
Protein: 29g
Fiber: 1g
This recipe makes 3 servings. Get this recipe on myfitnesspal. Most of the carbs are from the onion and tomato so you can definitely use less if you want to keep the carbs low. Also I used a store bought tomato puree so you can stick to fresh tomatoes to reduce the carbs even further.
5 Ingredient Keto Chilli Con Carne
A hearty Keto Chilli con carne
Ingredients
500

grams

Ground Beef

100

grams

Onion

150

grams

Tomato Puree

1

Tsp

Cumin Powder

1

Tbsp

Coriander

Salt & Pepper to taste

1

Tbsp

Avocado Oil

Water as needed
Instructions
Start by slicing the onions into half moons, as thin as you can. Then heat the avocado oil in a pan and fry the onions. You want to cook them low and slow for about 8-10 minutes till they get nice and brown

Once the onions are brown add in the ground beef and season with salt, pepper and the cumin. Then cook the beef till it releases it's juices and those dry up and the beef starts browning.

Then add in the tomato puree and a couple of splashes of water and cover and cook for 5-7 minutes.

Finally cook out the liquid if you want it dryer or add some water if you want it soupy and finish by adding in the coriander.

Serve with some sour cream on top or mashed avocado.